Game Day Guide: Boise State looks to regain confidence against North Dakota
Boise State is in need of a momentum-shifting win, but North Dakota is certainly no slouch. The Fighting Hawks fly into Boise with the best offense in the FCS.
AP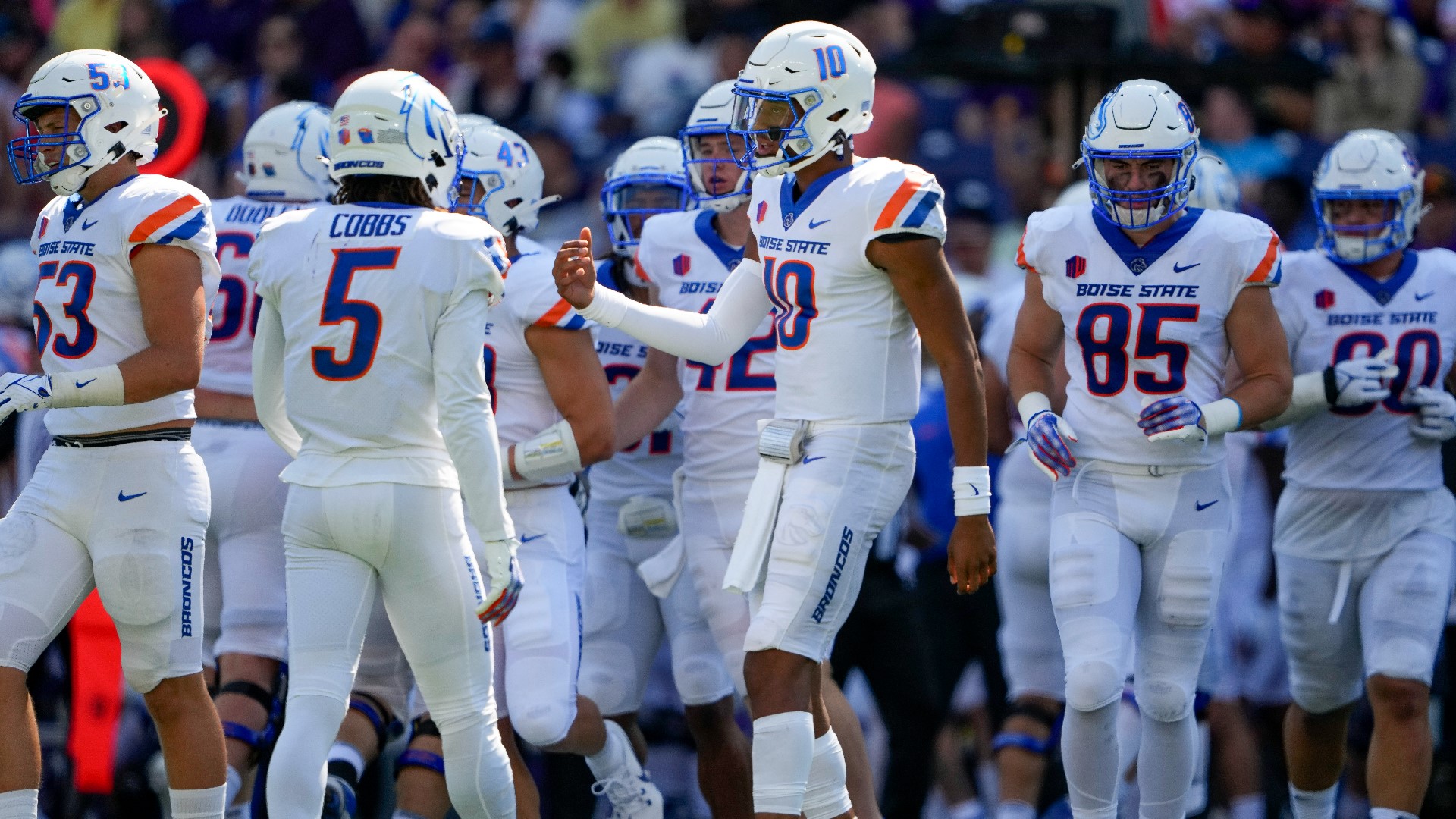 After falling to 0-2 for the first time since 2005 on a last-second kick against UCF, Boise State's emotional team captain and veteran linebacker DJ Schramm said, "everything we want is still right in front of us."
Under head coach Andy Avalos, the Broncos have an annual goal of winning a Mountain West Championship and a bowl game. While those goals are still well within reach with conference play yet to kick off, Avalos' group is in need of a momentum-changing win on Saturday as it welcomes North Dakota to The Blue.
Better yet, Boise State is in need of a dominating win – one that rewrites the script on the 2023 season – and proves its preseason recognition as the conference favorite is legit. Entering week three, the Broncos rank 70th in the FBS in total offense (393 YPG) and fourth-to-last (No. 129) in total defense, allowing 549 yards per outing.
While the Broncos have faced a brutal schedule thus far, the sledding doesn't get too much easier moving forward. Boise State hosts the Fighting Hawks at Albertsons Stadium at 10 a.m. Saturday, before hitting the road in back-to-back weeks to face San Diego State and Memphis.
Before looking too far ahead, though, North Dakota is a force on offense. On paper, hosting an opponent out of the Missouri Valley Football Conference in the City of Trees wreaks of a blowout win for the blue and orange, especially considering Boise State is a winner of 18-straight games against FCS foes.
However, the Fighting Hawks currently lead the FCS with nearly 549 yards of offense per game, and rank fourth with an average of 331 yards through the air. North Dakota posted 55 points in its season-opening win over Drake, before scoring 37 last week against Northern Arizona.
"They're going to come in here ready to rock. They're very well coached. They're a talented group, and they've won two-straight games," Boise State defensive coordinator Spencer Danielson said on Monday. "They obviously had a great season last year, return a lot of players, so they're going to come in loaded. Their offense is clicking on a lot of different cylinders."
Offensively, the Broncos look to showcase their high-powered potential, ideally outside of just standout sophomore running back Ashton Jeanty, who has accounted for 159 of Boise State's 311 yards on the ground (51%), and 206 of its 475 yards through the air (43%.)
Much like the team itself, Boise State quarterback Taylen Green needs a momentum-shifting performance against North Dakota. Entering Saturday's matchup, TG10 is 28-of-58 (48.28%), with 388 passing yards, two touchdowns and three interceptions.
According to Avalos, Green missed the fourth quarter in last week's loss to UCF due to cramps. However, the starting quarterback is back with the first-team offense this week, and Avalos said "he'll be ready to roll" for Saturday's early-morning bout.
The Broncos could get a spark offensively from true freshman running back Jambres Dubar, who made his debut against the Knights on The Blue. Dubar, a well-known four-star prospect out of Texas, flashed with a 24-yard carry last week. A hard-earned touchdown grab from wide receiver Stefan Cobbs could also be a sign of things to come for what was considered one of Boise State's most talented groups before the start of the season.
Scroll down for more information on Saturday's matchup, how to watch and listen to the game, predictions, a breakdown of KTVB's coverage, a fan guide for those headed to Albertsons Stadium and more:
Game Information
:
Broncos vs. Fighting Hawks
Boise State (0-2, 0-0 MW) vs. North Dakota (2-0, 0-0 MVFC)
Saturday, Sept. 16
Albertsons Stadium - Boise, Idaho
Kickoff: 10 a.m. MT
Channel: Fox Sports 1
Weather: Near 70 degrees at kickoff, near 80 degrees at game's end, mostly sunny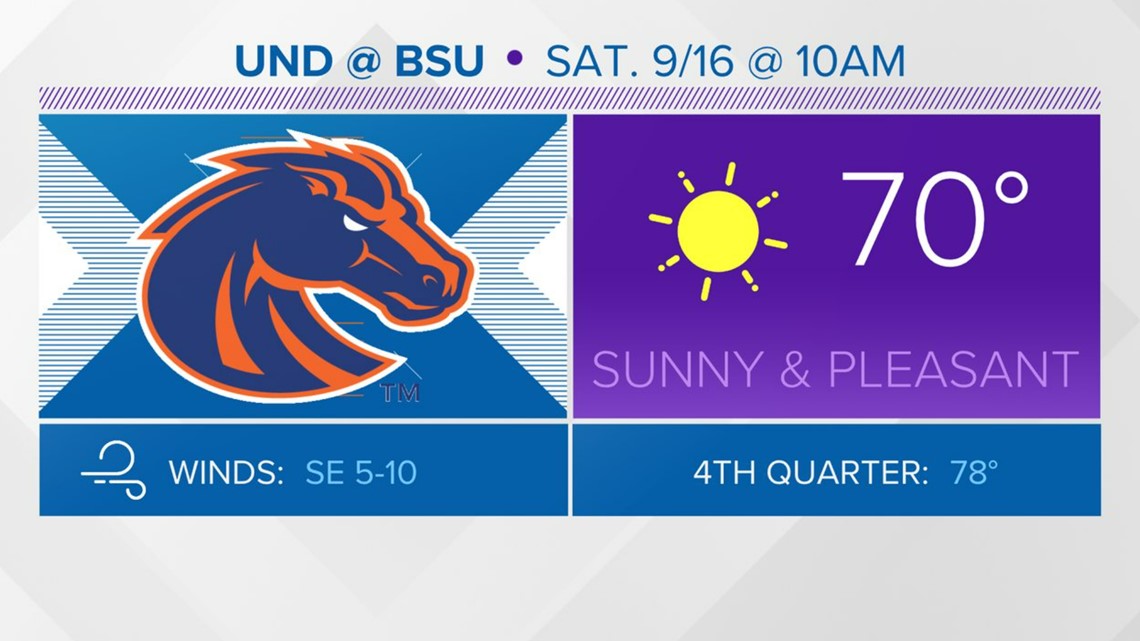 Ways to Watch
:
TV, Radio, Streaming
ON TV
Boise State's non-conference matchup against the Fighting Hawks will be televised on Fox Sports 1, available on the following TV channels:
Sparklight: Channel 146 / 1146 HD
DirecTV: Channel 219
Dish Network: Channel 150
Cox: Channel 78
ON THE RADIO
Fans can listen to the game on the Bronco Radio Network, which can be found online or on the following stations in the Boise area:
KBOI 670 AM in Boise
KBOI 93.1 FM in Boise
KDZY 98.3 FM in McCall
KSNQ 98.3 FM in Twin Falls
Bronco Nation can also listen to Bob Behler and Pete Cavender on SiriusXM Channel 384 and the SiriusXM app. For a compete list of Bronco Radio Network stations in Idaho, Oregon and Nevada, click here.
STREAMING
Streaming for Saturday's bout is available with the FOX SPORTS App. The app is available to subscribers of participating cable and satellite television providers (including Dish Network and DirecTV).
Fox Sports 1 is also available on fuboTV, Hulu + Live TV, Philo, Sling TV, Vidgo, YouTube TV and AT&T TV Now's PLUS package. For more information on streaming FS1, click here.
Eric Collins (play-by-play) and Devin Gardner (analyst) will be calling the broadcast in Boise for Fox Sports 1 on Saturday. The duo also called last week's contest between the Broncos and UCF Knights.
KTVB Coverage
:
Bronco Roundup
BRONCO ROUNDUP GAME DAY
Whether you are tailgating at Albertsons Stadium, attending a game party or watching the Broncos at home Saturday morning, prepare for kickoff with the official TV station for Bronco Nation. Fans can get an in-depth preview and breakdown of storylines surrounding Boise State's third game right before kickoff on KTVB Channel 7.
The Bronco Roundup Game Day Show featuring KTVB Sports Director Jay Tust and sports reporter Brady Frederick airs live from 9 a.m. to 10 a.m. Saturday on KTVB Channel 7, KTVB.COM, KTVB+ on Roku and Amazon Fire TV and the KTVB mobile app.
The exclusive pre-game show will feature interviews, injury updates, players to watch, sights and sounds and more, live from the sidelines of The Blue inside Albertsons Stadium.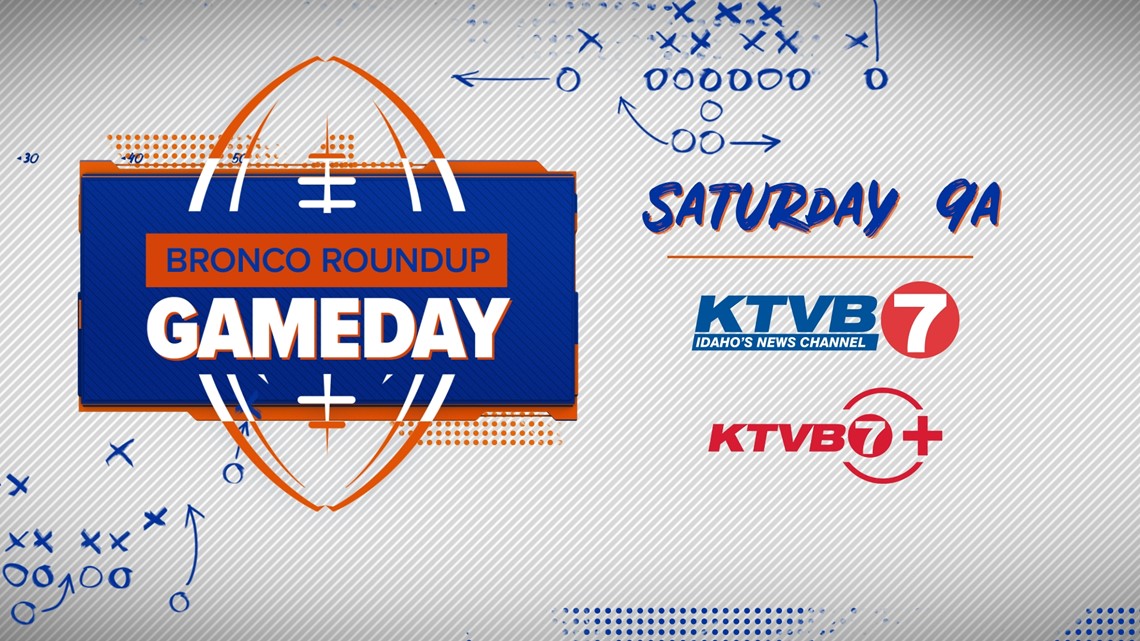 POST-GAME COVERAGE
KTVB will live stream Boise State's post-game press conference on KTVB.COM, the KTVB YouTube channel and the KTVB mobile app Saturday afternoon, immediately following the end of the game. Bronco Nation will hear from head coach Andy Avalos and players, see highlights and get reaction from Tust and Frederick.
Post-game interviews will also be posted online shortly after the press conference ends, so fans can watch whenever and wherever they want. Stay tuned to KTVB.COM throughout Saturday afternoon for a game recap, extended highlights, a photo gallery and comments from Boise State vs. North Dakota.
Leaders
:
Individual Stats
Taylen Green: 28-of-58 (48.28%), 388 yards, 2 TDs, 3 INTS
Tommy Schuster: 43-of-56 (76.79%), 521 yards, 4 TDs, 0 INTs
Ashton Jeanty: 34 carries, 159 yards (4.7 avg.), 1 TD
Gaven Ziebarth: 19 carries, 181 yards (9.5 avg.), 2 TDs
Ashton Jeanty: 9 receptions, 206 yards (22.89 avg.), 2 TDs
Bo Belquist: 15 receptions, 233 yards (15.53 avg.), 2 TDs
Alexander Teubner: 17 total tackles (12 solo, 5 assisted)
Wyatt Pedigo: 12 total tackles (5 solo, 7 assisted)
Jaylen Clark and Marco Notarainni: 2 TFLs each
Wyatt Pedigo: 3.5 TFLs (-4 yards)
Marco Notarainni and Andrew Simpson: 1 sack each
Wyatt Pedigo, Josh Navratil and Elijah Beach: 1 sack each
Alexander Teubner and Jaylen Clark: 1 INT each
Ted Mullin: 1 INT
NCAA Ranks
:
Team Stats
Team: Stat Per Game | FBS or FCS Rank
Boise State: 393 yards | No. 70
North Dakota: 548.5 yards | No. 1
Boise State: 17.5 points | No. 119
North Dakota: 45 points | No. 2
Boise State: 155.5 yards | No. 71
North Dakota: 217.5 yards | No. 15
Boise State: 237.5 yards | No. 68
North Dakota: 331 yards | No. 4
Boise State: .667 - 1 TD, 1 FG | No. 114
North Dakota: .800 - 8 TDs, 0 FG | No. 61 (tied)
Boise State: 31 minutes (avg.) | No. 50
North Dakota: 34 minutes (avg.) | No. 15
Boise State: 549 yards | No. 129
North Dakota: 388.5 yards | No. 58
Boise State: 37 points | No. 119
North Dakota: 14.5 points | No. 9 (tied)
Boise State: 168 yards | No. 105
North Dakota: 139 yards | No. 40
Boise State: 381 yards | No. 129
North Dakota: 249.5 yards | No. 78
Boise State: .700 - 6 TDs, 1 FG | No. 29
North Dakota: .800 - 3 TDs, 1 FG | No. 34 (tied)
Jay's Sports Bar
:
All Things Broncos
Jay's Sports Bar Episode 2
Oh-and-2 for the first time in 18 years, but Ashton Jeanty proving to be elite
On the second 2023 episode of the Jay's Sports Bar podcast, KTVB Sports Director Jay Tust and former Boise State standout wide receiver Shane Williams-Rhodes dive into the following topics:
Despite a historically bad start, Andy Avalos reveals why he's optimistic about this year's team
Why Ashton Jeanty has been one of the best running backs in college football through two games
Where Taylen Green and the passing attack have fallen short so far
Why the Broncos need their transfer portal players to start making an impact on defense
Predictions
:
Home Favorites
After back-to-back weeks as underdogs to start the 2023 campaign, Boise State is finally favored on Saturday against the Fighting Hawks out of the Missouri Valley Football Conference. While North Dakota landed in the top 15 in both FCS football polls earlier this week, experts expect the Broncos to rebound on The Blue.
ESPN's Matchup Predictor, based on the outlet's analytics, gives Boise State a 90.8% chance to win on Saturday. The predictor previously gave the Broncos slim odds to beat UCF (22.4%) and Washington (25.3%).
There is no point spread or over/under among major sportsbooks for the Broncos' home game as of Wednesday evening, which is typical for a matchup involving a FCS football program. For example, there is no line or odds for Idaho at California, or Northern Colorado at No. 23 Washington State.
As noted by Tom Scott in Wednesday's Scott Slant, Boise State is 11-0 against FCS teams in the 21st century, with an average margin of 37 points. However, North Dakota's high-powered offense (545 yards per game) figures to be challenging for a Bronco defense allowing 549 yards per outing, which ranks fourth-to-last in the nation.
Color Scheme
:
Throwback White
The Bronco theme for Boise State vs. North Dakota is the "Throwback Game," and fans are encouraged to wear all-white apparel at Albertsons Stadium. More specifically, Boise State Athletics hopes The Blue will be surrounded by white-colored gear featuring the fan-favorite Bronco + Idaho logo.
The logo was redesigned in 2021 when the Broncos wore all-orange throwbacks. More than 35 years ago, the Bronco + Idaho logo appeared on the center of Boise State's Blue Turf as the program gained national recognition. As featured by KTVB last fall, the 2021 update altered the original logo, with bolder lines around the Idaho outline and a sleeker-looking Bronco.
On Thursday, Boise State football unveiled its fit for Saturday's game. The Broncos will rock a white helmet with the retro logo, as expected. Instead of the all-white uniforms, the combination features blue uniforms and a clean blue and chrome facemask. The white paints are paired with 'Broncos' in blue down the leg, along with white cleats:
According to Boise State Athletics, the Broncos have only worn blue jerseys with white pants and helmets once – in a blowout 54-13 win at Albertsons Stadium over UTEP in September 2021.
To view apparel and shop for Bronco gear based on fan color schemes for the 2023 season, including Saturday's white out, click here. A full schedule of what to wear for each game at Albertsons Stadium is shown below: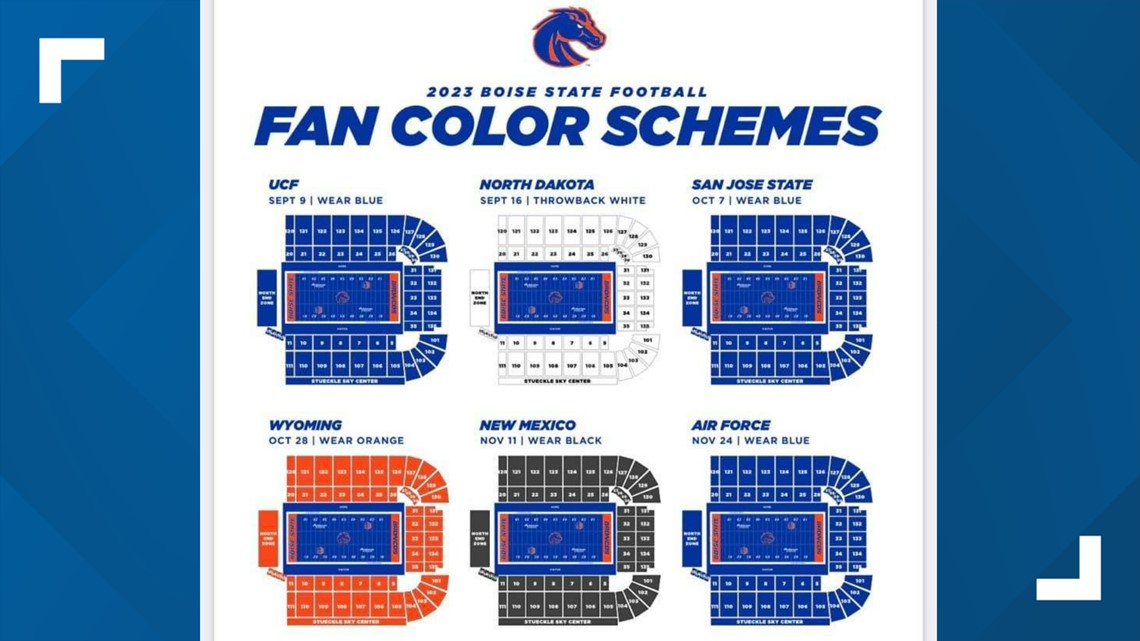 Tailgating
:
Pre-game Info
FORD FAN ZONE
Prior to kickoff, Bronco Nation can enjoy activities and live music in the upgraded Ford Fan Zone. The fan space is free to enter and includes food trucks, concession stands, a Bronco Kids Club booth with inflatables and sports gardens with alcohol sales.
Located along Bronco Lane between DeChevrieux Field and the Larry and Marianne Williams Plaza, the Ford Fan Zone opens four hours before each home game, or 6 a.m. on Saturday. Going live at 7 a.m. Saturday is the two-hour Bronco Tailgate Show on the Hall of Fame Plaza.
The Ford Fan Zone gives Bronco Nation a front-row seat to the Bronco Walk.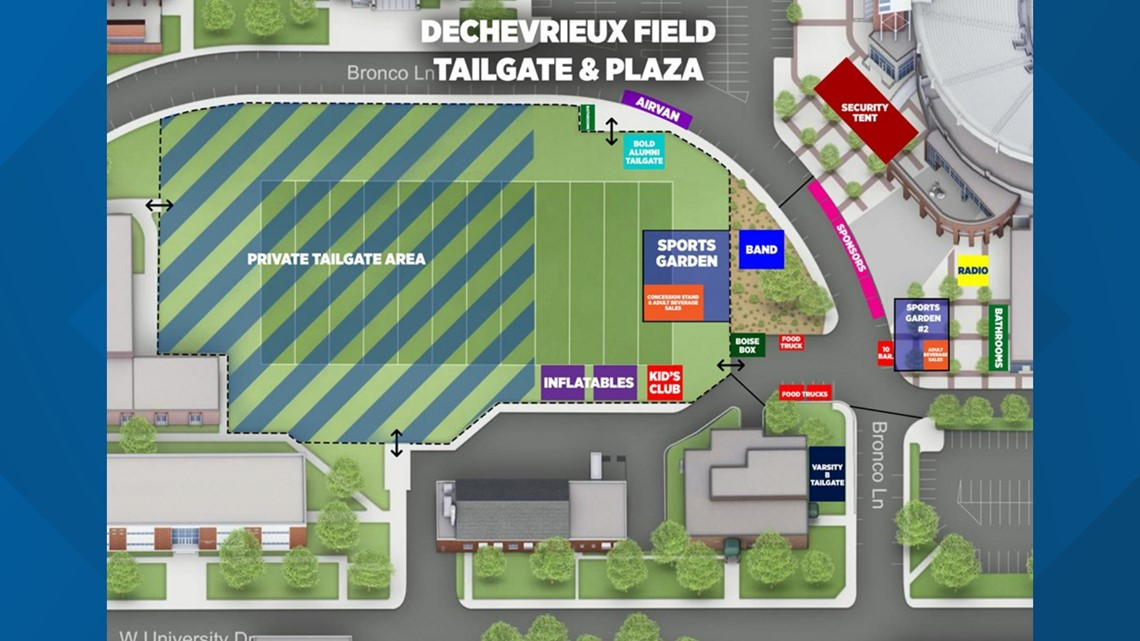 BRONCO ALLEY
Also opening four hours prior to kickoff each week is the Bronco Alley, located on the east side of Albertsons Stadium. The area will be open from 6 a.m. Saturday through halftime. Bronco Alley consists of food trucks, beverage stands and extra restrooms.
Food trucks coming to the alley on Saturday include Bolton Brothers, Buenos Aires and Sugar Rush.
BRONCO WALK
The Bronco Walk, a tradition outside Albertsons Stadium prior to Boise State home games, is scheduled to begin two hours and 40 minutes ahead of kickoff, or 7: 20 a.m. Saturday, and goes from the Student Union Building, along Bronco Lane, and through the Larry and Marianne Williams Plaza to the Allen Noble Hall of Fame.
Get hyped for kickoff and help the Blue Thunder Marching Band and Boise State's cheer team send Bronco players and coaches into game preparation in style!
10 TO 10 ZONE
According to the Boise Police Department, the 10 to 10 Zone remains in place for home games this season. It specifies off-campus areas where people over the age of 21 may consume alcoholic beverages from 10 a.m. to 10 p.m. on Boise State home football game days only.
Alcoholic beverages are allowed in opaque plastic cups within the zone. Glass containers, beer cans and types of liquor bottle and cups with alcoholic labeling are not allowed.
The 10 to 10 Zone begins at Broadway Avenue and Myrtle Street, extends south down Broadway to Beacon, turns west along Beacon, north up Oakland Avenue, west on Potter Drive, north again up South Joyce Street, and then west along University Drive all the way to Capitol Boulevard.
The boundary extends north along Capitol and turns east onto Cesar Chavez Lane, crosses Friendship Bridge north, and leads into Julia Davis Park. In the park, the 10 to 10 Zone boundary is the area east of Zoo Boise to Broadway Avenue, and south of the Julia Davis pond.
A map of the 10 to 10 Zone is shown below. For more "2023 Bronco Game Day Reminders" from Boise Police, click here.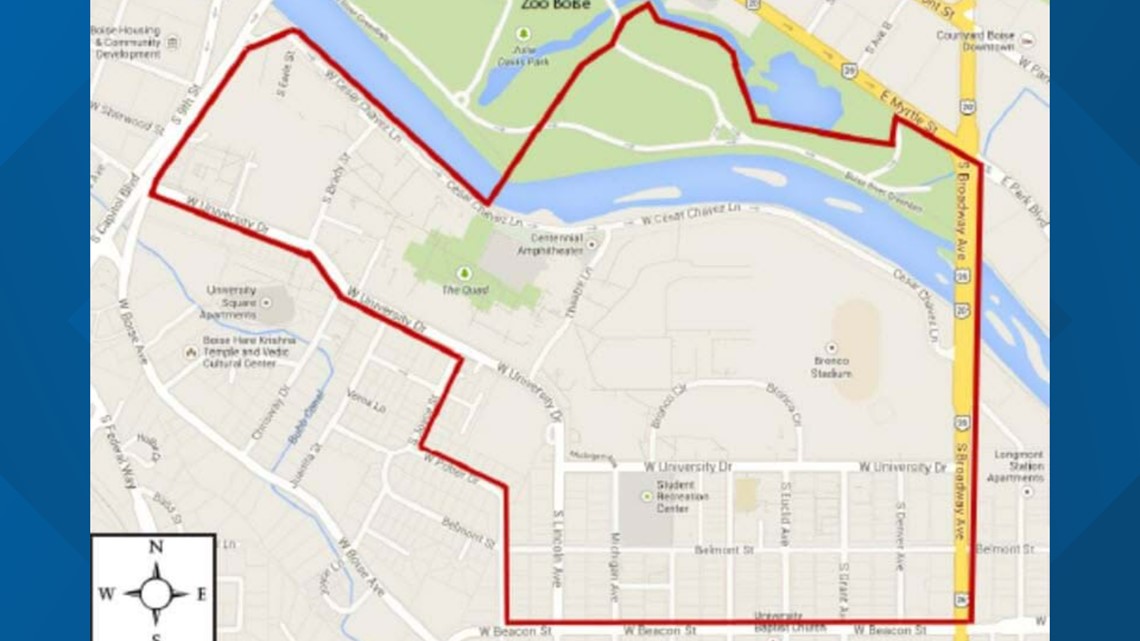 Transportation
:
Parking, Traffic, Shuttles
Expect increased traffic on all roads surrounding Boise State before and after the game. University Drive, from Capitol Boulevard to Broadway Avenue, will be congested throughout Saturday morning and afternoon. Due to limited public parking on-campus, fans are encouraged to park off-campus and walk/bike or use a shuttle to get to the game.
Parking is allowed in designated parking spots within Julia Davis Park, Ann Morrison Park, Idaho Fallen Firefighters Memorial Park and Kristin Armstrong Municipal Park. Parking for Boise State home games is free on a first-come, first-served basis.
Towing will be delayed at all city parks until 9 a.m. the day after each home game, regardless of kickoff time.
Officers will be on the lookout for parked vehicles blocking sidewalks, crosswalks and fire hydrants, as well as those parked too close to intersections or stop signs. Most parking tickets for vehicles, motorcycles and scooters have a fine of roughly $60. Your vehicle may be towed if it is blocking a driveway, access way, fire hydrant or parked illegally in an alleyway.
Valley Regional Transit introduced a new resource for Boise State football game days – a free to ride service which will operate for the six home games and stop seven times on its way to Albertsons Stadium.
The Game Day Shuttle will go through Main Street Station, downtown parking garages and other areas, VRT said in a press release prior to the home opener. The shuttle will run two hours before the game and one hour after the game, with stops every 10 minutes.
Locations for the shuttle's seven stops on its way to the stadium are listed below, in addition to a route map from VRT. The eighth and final stop is Caesar Chavez and Broadway, taking fans right on campus:
Idaho & 6th
River & Pioneer
Front & 9th
11th & Main
Main & 8th
Main & Capitol
6th & Broad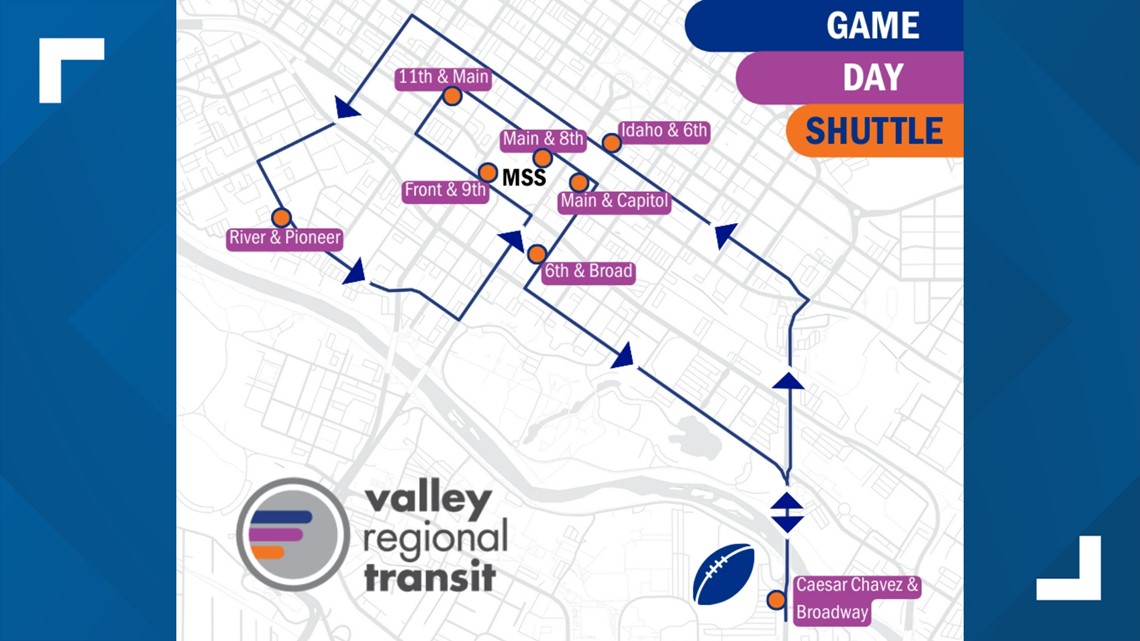 Stadium Entry
:
Gates, Security, Tickets
ENTRY PROCEDURES
Tickets for 2023 Bronco sporting events are digital and screenshots no longer work, according to Boise State Athletics. Fans should use the Boise State Broncos Athletics app and their Boise State Ticket Account Manager to have full access to tickets on a smartphone. Tickets can also be saved to the wallet app before arriving to Albertsons Stadium and should be pulled up before the ticket scanner area.
New this year, each digital ticket will provide a recommended entry point and gate (see map below). However, fans outside of the Stueckle Sky Center and student section can enter through any gate. VIP fans will have an expedited entry process by going through gates labeled 'Stueckle Entry.'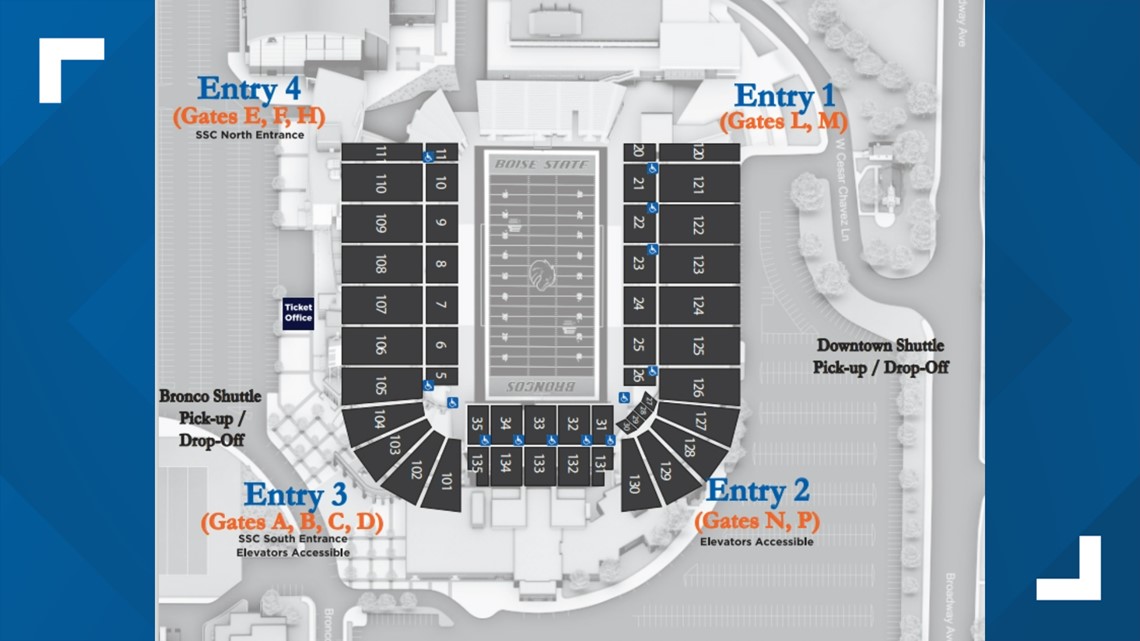 Gates L, M (Main Student Entry)
Gates N, P (ADA Accessible Entrance)
Gate A (ADA Accessible Entry Only)
Gate B (Player Pass List Entry Only)
Gate C (Stueckle Entry Only)
Gate D
Lyle Smith Society @ Hall of Fame
Gate E
Gate F (Stueckle Entry Only)
Gate H
Bronco fans should arrive early. The only bags allowed in Albertsons Stadium are included below with maximum sizes:
Clear plastic or vinyl bags: 12 x 12 x 6 inches
Clear plastic freezer bag: One gallon
Purse, bag or clutch: 4.5 x 6.5 inches
Prior to entry, fans will pass through metal detectors, and any bags carried in will be subject to search. Remember to leave prohibited items behind, including all weapons, alcohol, glass, and coolers. For a breakdown of permitted and prohibited items, click here.
GAME TICKETS
As of Tuesday afternoon, there are 32,218 tickets out for Boise State's second home game against North Dakota. The total number of tickets "out" typically combines single-game tickets sold, season tickets, giveaway and free tickets, and so on.
Having more than 32,000 tickets out this early in the week is great news for Boise State Athletics. One week ago, on the Wednesday ahead of the Broncos' home opener against UCF, there were approximately 33,500 tickets out. The athletic department will likely provide another update closer to kickoff to update Tuesday's total.
Tickets for Saturday morning's bout start at as low as $45, with plenty of options still available in the upper sections. For more information on tickets for all Boise State sports and to purchase tickets, click here.
Full-time and part-time students had the opportunity to reserve a free ticket to the game on Monday at 8 a.m., which is the process for any Bronco football home game. For more information on student tickets, click here.
Concessions
:
Stadium Options
Boise State Athletics and Boise State Dining have released their concessions menu for the 2023 football season, featuring local businesses and products. Designated stands will bring back favorites such as Hammer Frys, mini donuts, pizza cones and Blue 32 BBQ sliders, in addition to options from Meraki Greek Street Food and La Tapatia.
Of course, the classics like hot dogs, hamburgers, nachos, pretzels, popcorn and candy will be back for Bronco Nation. Boise State Athletics announced Albertsons Stadium will have six Mashgin self-checkout kiosks this year. The locations of the self-checkout kiosks are described below:
Two adjacent to the west Locals Corner concession area
Two near the east Locals Corner concession area
Two at the Double R Ranch concession area on the east side of the stadium
In addition to bottled water, Coca-Cola products and selections from Anheuser-Busch such as beers and seltzers, Boise State will also offer options from local vendors this season. Lost Grove Brewing, Meriwether Cider Co., Payette Brewing, Sockeye Brewing, Woodland Empire and Western Collective will be represented at games starting Saturday.
Western Collective's Horseshoe Golden Ale will be available at Albertsons Stadium, with a portion of the proceeds going to The Horseshoe Collective, supporting Boise State student-athletes. Fans are required to show proof of identification to receive a wristband to purchase alcoholic beverages.
Albertsons Stadium concession map: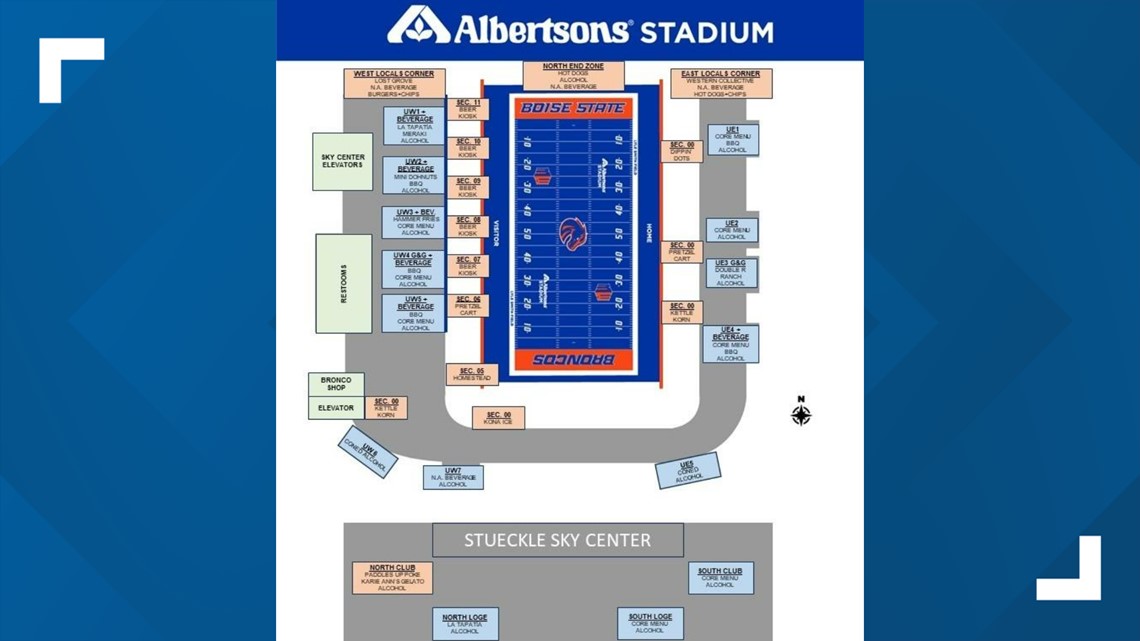 HERE ARE MORE WAYS TO GET NEWS FROM KTVB:
Download the KTVB News Mobile App
Apple iOS: Click here to download
Google Play: Click here to download
Stream Live for FREE on ROKU: Add the channel from the ROKU store or by searching 'KTVB'.
Stream Live for FREE on FIRE TV: Search 'KTVB' and click 'Get' to download.