BOISE, Idaho — Days after an order excluding potential witnesses from attending the trial of Lori Vallow, aka Lori Vallow Daybell, the presiding judge has granted express permission for three relatives of Joshua "JJ" Vallow and Tylee Ryan, the children Lori Vallow is accused of conspiring to murder. She is also charged with conspiracy to commit the murder of Tammy Daybell, the former wife of Vallow's current husband.
Also granted status as family representatives of the victims are Summer Shiflet and Colby Ryan, as well as any individual who meets the statutory definition for representing Tammy Daybell. Legally speaking, they are not subject to the court's March 30 order excluding testifying witnesses. Under that order, potential witnesses who have not yet completed their testimony are not permitted to be in court while other witnesses are testifying.
In Wednesday's order, following a review of arguments, the court record and "controlling legal authority," Judge Steven Boyce is appointing Kay Woodcock as the representative for JJ Vallow. The judge determined that Larry Woodcock does not meet the legal definition of "immediate family member," and noted that he is on the prosecution's list of witnesses expected to testify. However, Larry Woodcock would be permitted to observe the remainder of the trial after the completion of his testimony.
Colby Ryan is the older brother of Tylee Ryan and JJ Vallow; the court has determined that he meets Idaho's definition of "immediate family" to both of the deceased children.
Summer Shiflet, the biological sister of Lori Vallow, is Tylee's aunt. While she does not meet the legal definition of "immediate family member" of any of the victims, the court has determined that she is "appropriately designated as the representative of the immediate family" of Tylee, whose father, Joseph Ryan, died in 2018.
Included below is a partial family tree.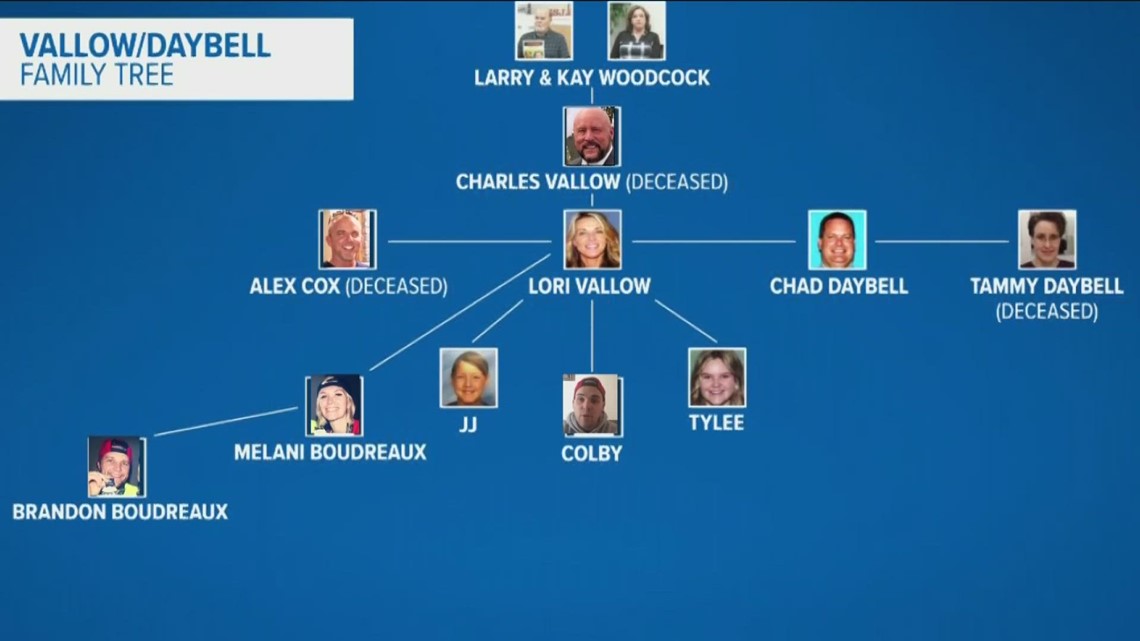 "The Court is disappointed that the statutory form required under Idaho Code Section 19-5306(2) (rights of crime victims) has not been provided to the Clerk of the Court in order to clearly identify and protect the rights of crime victims, their immediate families, and illuminate a need to designate representatives from the immediate family of victims in this case, which may have prevented much of the confusion surrounding this issue," Judge Steven Boyce wrote in his memorandum decision and order.
Boyce also wrote that he still requests that prosecutors confirm who is asserting their status as a victim to comply with the law and "to keep the record clear on the issue."