GARDEN CITY, Idaho — After heavy flooding in 2017, a part of the Greenbelt and river bank is finally restored.
Greenbelt users can now safely use a popular corridor of the pathway on the edge of Garden City and Eagle.
"Oh, I love it, I just really love it," said Clyde Mahler as he rode his bike along the newly finished asphalt.
Flood management crews have been working diligently since February to complete the Dry Creek Project, which protects part of the Greenbelt and some homes, and will return the river to its normal channel.
Popular section of the Greenbelt repaved and reopened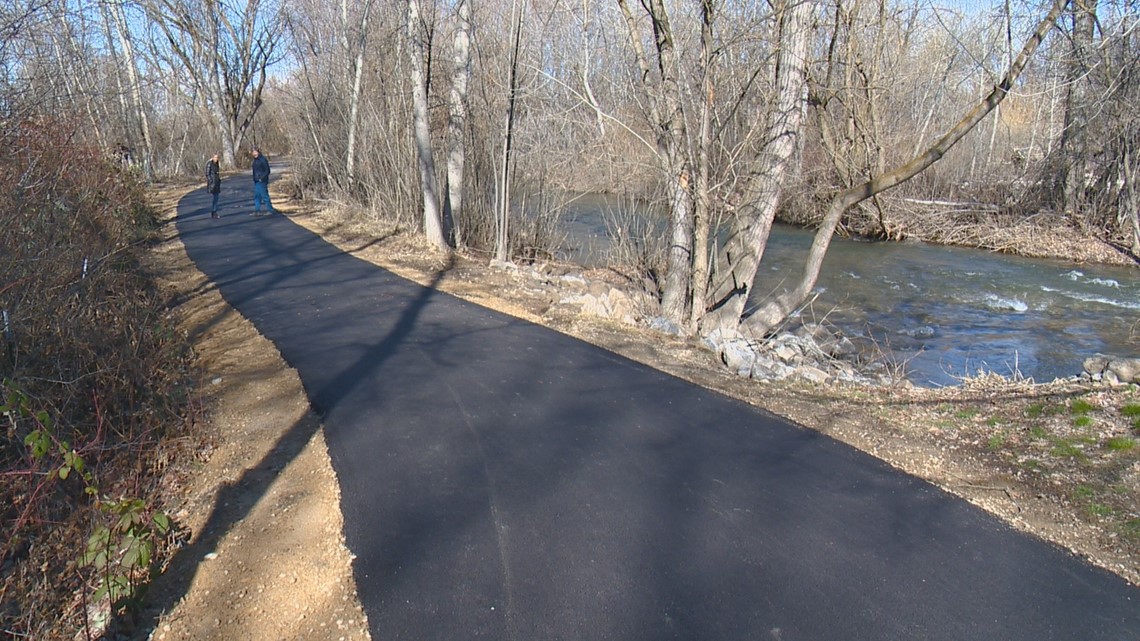 "They had to put in about 600 cubic yards of lava rock in this area to shore up the stream bank on the south side of the river here," explained Steve Stuebner, a spokesman for Flood District 10. "They had to put in a rock weir over there where you can see that little cascade and so that is meant to prevent most flows from coming into this side channel."
Heavy equipment used to manage flooding and repair damage took its toll on a stretch of the Greenbelt that has now been replaced.
"They put in 270 linear feet of new Greenbelt here," Stuebner said. "So, it's 10-feet wide, brand new, beautiful new Greenbelt."
RELATED: Plantation Greenbelt Bridge to be restored in April
The Dry Creek Project cost $110,000, and was co-funded by the Idaho Water Resource Board and Flood District 10.
It's one of three flood repair operations in the area, including the newly-finished Duck Alley River Bank.
"They have got lava rock at the bottom, they laid in trees with root wads for fish habitat down at the base of the river and then they filled it in with pit run and so forth all the way until you had an absolute rock-solid river bank," Stuebner said.
Both projects are expected to withstand any future flooding.
"It's built for the long term," Stuebner said.
RELATED: Could the Treasure Valley see a repeat of 2017's record flooding?