EAGLE, Idaho — The city of Eagle is proposing a change to their comprehensive plan, one that could impact how Avimor plans to continue to grow out.
The amendment would remove the foothills from the comprehensive plan. The Eagle City Council made the request to city staff in August, asking them to remove from the plan all areas not in the incorporated city of Eagle that are within the foothills sub-area.
The council also asked staff to draw a new comprehensive planning boundary for the city and to review and edit the text of the foothills planning area.
Mayor Stan Ridgeway told KTVB that council members directed staff to make this change following the end of an agreement with Avimor, the sprawling housing development off Highway 55, north of the city.
For more than two years, the city and Avimor agreed to a contract together where the city would review materials to see if annexing would be feasible and beneficial for both parties.
"In May of this year, we had our last meeting with Avimor," Ridgeway said. "And gave them a list of issues the city wanted addressed before they submitted an application [for annexation]."
The city looked over all aspects of feasibility, including parks, sewer, and the trails managed by Avimor. The city told Avimor they wanted them to comply with all the rules that every other Eagle resident does.
"There were a lot of issues that had to be dealt with," Ridgeway said. "And we then, the last meeting was in May, and they had come to the city and said their financial analysis didn't match ours."
According to Ridgeway, the city's financial analysis shows it would be 20 to 30 years before the tax base would break even if Avimor was annexed into the city. Meaning, that's how long it would take for current Eagle Residents to stop supplementing the annexation.
After this, the agreement was off between the two sides, prompting the City Council to make a recommendation to staff to change the comprehensive plan.
"With the county saying they aren't going to allow those cities anymore, they met with not only Eagle, but other cities to talk about managing the foothills," Ridgeway said. "Which would at a minimum allow one house per ten acres."
Avimor has been working closely with the city for more than just the last two years though. Managing partner of Avimor, Dan Richter, said he worked with the city in Eagle for over a year in 2007 when the foothills area was added to the city's comprehensive plan.
"I've always said that if somebody, an artist were to paint a picture of a community using the comp plan as a guide, it would be a picture of Avimor," Richter said.
Avimor's team brought forward a different economic analysis that didn't match the city's estimate. At the end of annexation, he said the city would be getting a great asset in Avimor.
"At the end, we would have about 10,000 homes on 23,000 acres with 16,000 acres or 25 square miles of open space in the foothills," he said.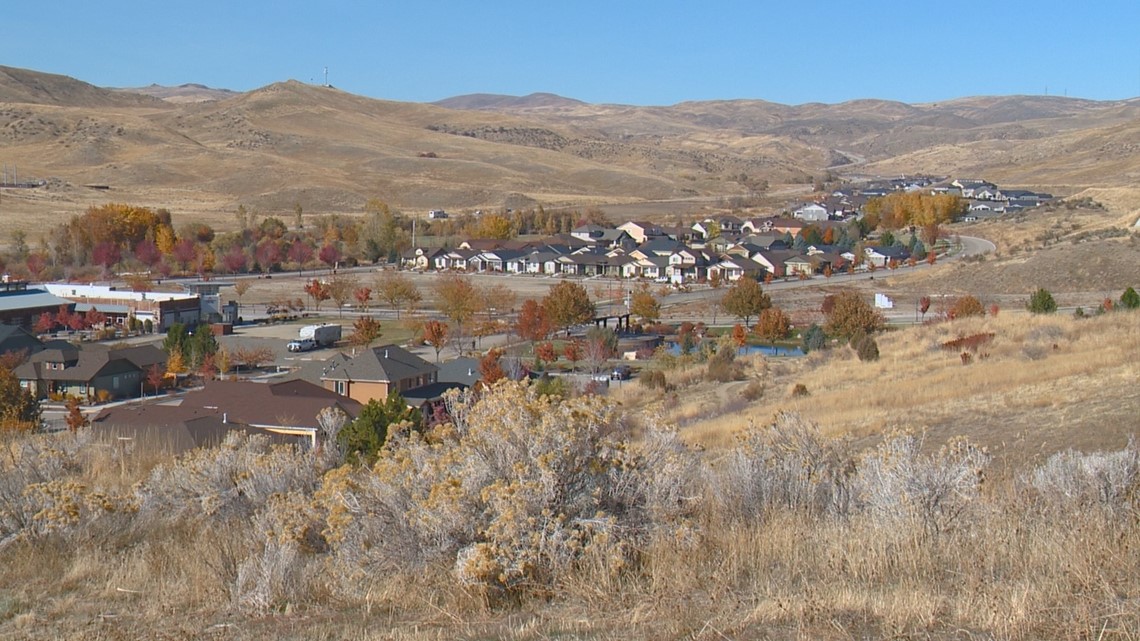 Another issue, Richter says, is that the process of changing the comprehensive plan has been rushed and not given enough time to collect public input.
"They've always taken their time and gotten all kinds of citizens to weigh in on big changes," he said about City Council.
Ridgeway though said it hasn't been rushed at all, and he's looking out for the current Eagle residents.
"The citizens of Eagle will end up paying for Avimor, not the people who don't live here," he said. "For August, September, October and November that's been almost four months since it was announced."
A change in the city's comprehensive plan usually takes around four months to go through the public input process, according to Ridgeway.
The change is being made as Ridgeway prepares to leave office. He ran for re-election but lost in a three-way race to Avimor-backed candidate, Jason Pierce.
"The City Council recommended these in August, we had no idea we wouldn't be re-elected," he said. "I don't quit because someone new is coming in, we have an obligation to serve our citizens and look out for their well-being."
Pierce told KTVB he wants Eagle to have control of Avimor, and that he thinks this decision should wait until the new leadership takes over.
"They should kind of scale back, and allow the new council to make those decisions," he said. "Why go through that, it sends mixed signals to the county, it sends mixed signals to the residents, it sends mixed signals to everyone."
One reason why Pierce said he wants Eagle to have control is the fact that there are many other things the city doesn't control.
"ACHD, we don't have control of. We don't have control of our sewer, or our fire district," he said. "This is something we can actually have our residents have a say in."
He said, ultimately, however Avimor does develop, it will have impacts on Eagle residents.
"I think it's important that we control and have a say what happens in Avimor," he said. "We might never have it, we might not come to an agreement annexing into the city of Eagle, but we want that opportunity."
Annexing the development could be tricky. Avimor spreads over tens of thousands of acres and into three different counties - Ada, Gem, and Boise. Any talk of annexing would have to work this part out.
"We could annex just the Ada County portion," Richter said. "We could continue developing into the other counties with some future consent to annex at a later date."
It was the Eagle Planning and Zoning Commission that was looking over this possible change on Monday night. The commission, which is appointed by City Council, voted to continue the hearing until next month after listening to hours of testimony.
Ridgeway told KTVB its important to understand that many non-Eagle residents testified on a matter that would directly affect Eagle residents.
"29 people testified against taking that out of the comp plan, 14 of those residents lived in Eagle and 15 of those residents didn't live in Eagle," he said. "18 people were for the comp plan amendment, 15 of those live in Eagle and three of those did not live in Eagle."
If any decision is made by the current City Council and mayor; the incoming council members and new mayor could reverse those once they take office.