GARDEN CITY, Idaho — The Garden City Police (GCP) have arrested a suspect in a robbery that happened at the Garden City Walmart on Thursday, Aug. 3. They also said he was responsible for two other robberies in the past few weeks. Police arrested 55-year-old Warren Shawn of Garden City on Sunday, Aug. 6.
GCP said around 11:30 p.m., Boise City Police found a truck at 6001 Cassia St., that had been reported stolen and when Shawn was confronted, he ran from police, drove recklessly through a high school field, crashed and tried to run again.
He has been booked into the Ada County Jail and charged with two counts of robbery, attempted robbery, eluding police in a vehicle, resisting arrest and grand theft. Police said he is also on parole, and they think a warrant will also be issued by the Idaho Department of Connections. His arraignment is scheduled for Aug., 7 at 1:30 p.m.
Police said the suspect walked into Vista Pawn and showed a gun Friday evening, demanding money. He left the store and drove away in the pickup after employees refused to listen to his demands.
The white GMC pickup was seen driving south in the parking lot behind the D&B Supply following the attempted robbery Friday, according to Garden City Police.
On Thursday morning, the suspect left Walmart in the truck with "an undisclosed amount of money." He also demanded money after approaching a Walmart employee.
Police on Thursday said the white GMC pickup was stolen from Atkinson Mirror and Glass in Boise. It has license plate number 1A 203LP.
During the first robbery, the truck was seen with black business decals on its tailgate. The decals had been removed when the truck was seen on cameras Friday. Updated photos of the suspect and GMC pickup are included below: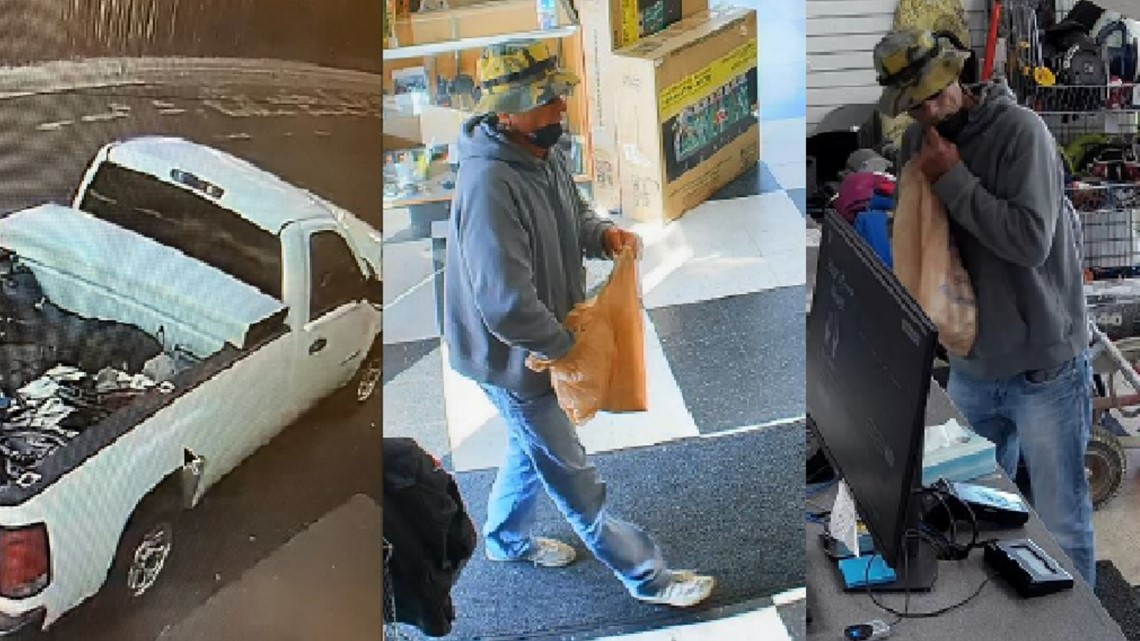 Anyone with information is asked to call Ada County Dispatch at 208-377-6790, or Crime Stoppers at 208-343-COPS.
See the latest news from around the Treasure Valley and the Gem State in our YouTube playlist:
HERE ARE MORE WAYS TO GET NEWS FROM KTVB:
Download the KTVB News Mobile App
Apple iOS: Click here to download
Google Play: Click here to download
Stream Live for FREE on ROKU: Add the channel from the ROKU store or by searching 'KTVB'.
Stream Live for FREE on FIRE TV: Search 'KTVB' and click 'Get' to download.