BOISE, Idaho — The Boise State football program finds itself in unfamiliar territory, chasing its first win entering the third week of the season. On Saturday, the Broncos will highlight their familiar winning ways and honor tradition against North Dakota at Albertsons Stadium.
Prior to kickoff, former defensive lineman Michel Borgeau will raise the Blue Chaos Flag as a representative of Boise State's 1980 National Championship team. The morning matchup is themed the "Throwback Game" for the Broncos, who plan to wear helmets with an updated version of the original Bronco + Idaho logo.
The non-conference bout kicks off at 10 a.m. Saturday on Fox Sports 1. This will be the first meeting on the gridiron between the two programs and Boise State's first game against a team from North Dakota in school history.
Whether you are tailgating on campus, attending a game party or watching the Broncos at home, prepare for kickoff with the official TV station for Bronco Nation. Fans can get an in-depth preview and breakdown of storylines surrounding the matchup right up until the whistle blows on KTVB Channel 7.
The Bronco Roundup Game Day Show featuring KTVB Sports Director Jay Tust and sports reporter Brady Frederick airs live from 9 a.m. to 10 a.m. Saturday on KTVB Channel 7, KTVB.COM, KTVB+ on Roku and Amazon Fire TV and the KTVB mobile app.
The exclusive pre-game show will feature interviews, injury updates, players to watch, sights and sounds and more, live from the sidelines of The Blue.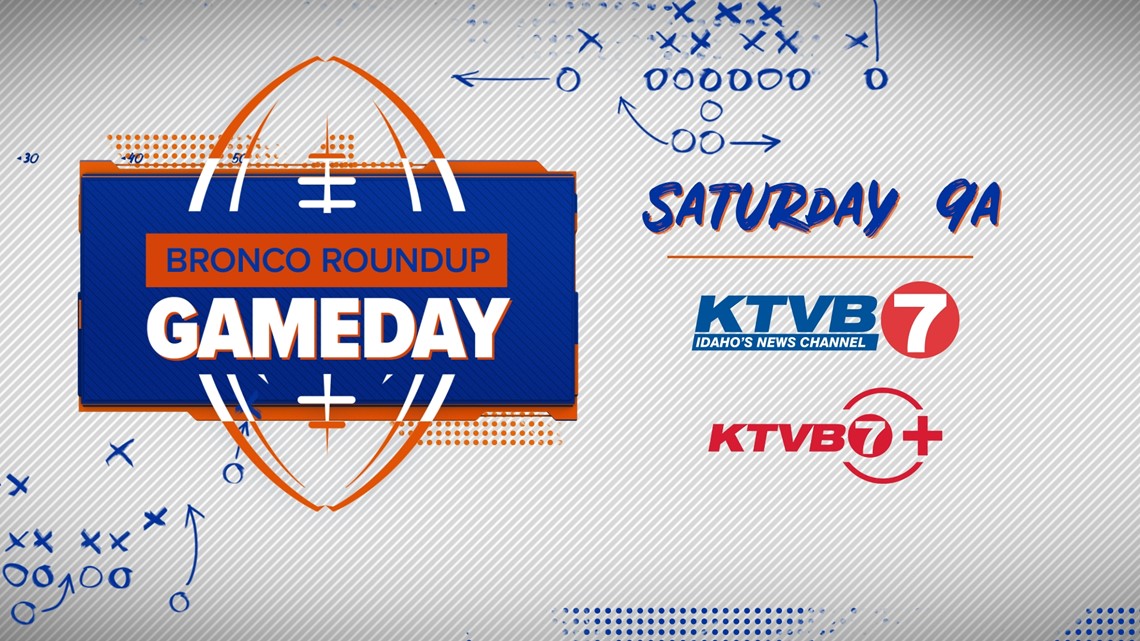 From a distance, Saturday's contest would be considered a tune-up game – or confidence-builder – for head coach Andy Avalos and company, as Boise State rides 18-straight wins over FCS opponents. However, the Fighting Hawks tout one of the nation's top offenses, a unit defensive coordinator Spencer Danielson knows is "clicking on a lot of different cylinders."
North Dakota quarterback Tommy Schuster has completed 43-of-56 passes this fall, accounting for 521 yards and four touchdowns through the air. Boise State sits fourth-to-last in total defense through two games, allowing an average of 549 yards.
The Broncos' defense has been successful in the red zone, ranking among the country's top-30 units by allowing just six touchdowns when opponents get inside the 20-yard line. If Danielson's group can flex its muscles in the middle of the field, Boise State has plenty of talent to get back on track.
Offensively, starting quarterback Taylen Green is ready to roll against North Dakota after missing the fourth quarter against UCF due to cramps, according to Avalos. After a highlight reel 2022 debut campaign, Green's encore season is yet to fully take flight.
Earlier this week, offensive coordinator and position coach Bush Hamdan reiterated the third-year sophomore is still learning, but said he is confident Green is bound to take off soon. The majority of the Texas native's production has come on screens to standout running back Ashton Jeanty, who leads the team with 206 receiving yards and two scores.
For an in-depth preview of Boise State vs. North Dakota and information on tailgating, parking, concessions, promotions and more, check out KTVB's Game Day Guide. The guide also includes predictions, players to watch, an individual and team statistics comparison, Monday's press conference interviews and what to expect from each team.
KTVB will live stream Boise State's post-game press conference on KTVB.COM, the KTVB YouTube channel and the KTVB mobile app Saturday afternoon, immediately following the end of the game. Bronco Nation will hear from Avalos and players, see highlights and get reaction from Tust and Frederick.
Post-game interviews will also be posted online shortly after the press conference ends, so fans can watch whenever and wherever they want. Stay tuned to KTVB.COM throughout Saturday afternoon for a game recap, extended highlights, a photo gallery and comments.
HERE ARE MORE WAYS TO GET NEWS FROM KTVB:
Download the KTVB News Mobile App
Apple iOS: Click here to download
Google Play: Click here to download
Stream Live for FREE on ROKU: Add the channel from the ROKU store or by searching 'KTVB'.
Stream Live for FREE on FIRE TV: Search 'KTVB' and click 'Get' to download.