BOISE, Idaho — Before a Mega Millions jackpot draw in early July, a Utah man drove to the Gem State on two separate occasions to ensure his shot at a piece of the $400 million prize. The road trips paid off as life-changing wins.
The Idaho Lottery said J. Refugio Gonzalez Almeida landed a $3,000,000 win on the Mega Millions draw over the Fourth of July weekend, which just so happened to line up with his birthday – talk about a big-time gift!
Almeida drove to Malad and purchased lottery tickets earlier, but had no luck on the June 30 jackpot drawing. He did have some smaller wins and decided to drive back to Malad from Utah, using the winnings to purchase more Mega Millions tickets on Saturday, July 1.
The decision turned into a $3 million win. Almeida's ticket matched the first five numbers and the draw for the Fourth of July had a Megaplier number of 3. The Utah man's win went from $1 million to $3 million, thanks to the Megaplier feature.
Almeida returned to Malad one month later to check his tickets, and was eventually holding a winning check with a smile.
"I had $2, $8, not a lot. And then they scanned this one and told me I had to take it to the Lottery Commission," Almeida said. "So here I am!"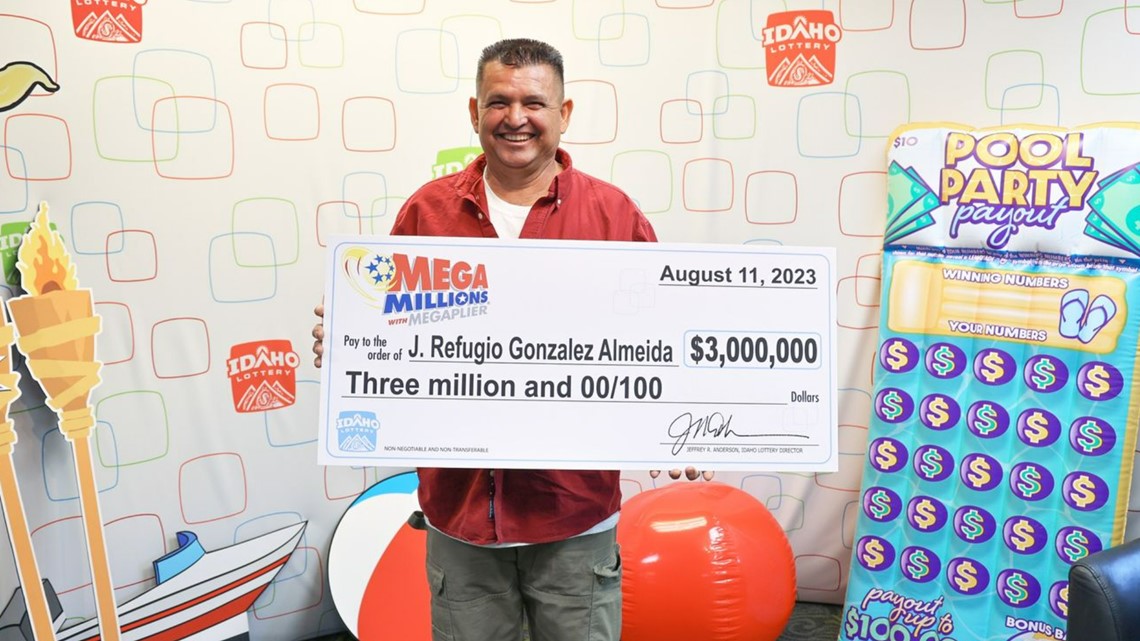 A winning ticket sold in Florida claimed the $1.58 billion Mega Millions jackpot on Tuesday, the largest prize in the game's history. The Idaho Lottery said the Mega Millions has generated roughly $3 million for Idaho public schools and buildings since July 1.
"I am taking this right to the bank and depositing it," Almeida said.
See the latest news from around the Treasure Valley and the Gem State in our YouTube playlist:
HERE ARE MORE WAYS TO GET NEWS FROM KTVB:
Download the KTVB News Mobile App
Apple iOS: Click here to download
Google Play: Click here to download
Stream Live for FREE on ROKU: Add the channel from the ROKU store or by searching 'KTVB'.
Stream Live for FREE on FIRE TV: Search 'KTVB' and click 'Get' to download.