Every day, KTVB works diligently to ensure we are providing the most accurate, up-to-date information regarding COVID-19 cases in Idaho. We track our numbers the same way the Idaho Dept. of Health and Welfare does. However, we update our total number more frequently, meaning our numbers may not always match with the state.
The state updates the number of total cases every day around 5 p.m.
"Recoveries" are tracked by the Idaho Department of Health and Welfare. The state says it "Is defined as the number of persons with a confirmed COVID-19 diagnosis who are alive 30 days post-onset (or referral date if onset is not available) based upon total cases, deaths, and any clinical info available."
"Confirmed" cases refer to a person who was tested for COVID-19 and tested positive.
"Probable" cases refer to a person who is exhibiting symptoms after coming in contact with a person who has a confirmed case. Though a probable case is not confirmed, the state will monitor the person for symptoms.
"Total cases" refers to the number of confirmed and probable cases combined. We will always clarify how many of the total cases are confirmed and how many are probable in our daily updates.
Friday, October 23
5:46 p.m.- 1,100 new cases, nine deaths reported; statewide hospitalizations reaches new high
Idaho has yet again reported the highest number of COVID-19 cases in a single day. 1,100 total cases were reported Friday, 948 of those confirmed and the remaining 152 probable. There are now 51,183 confirmed cases in the Gem State and a total of 57,673 confirmed and probable cases.
Ada County added 150 new cases to its total, followed closely by 95 cases in Canyon County and 87 in Madison County.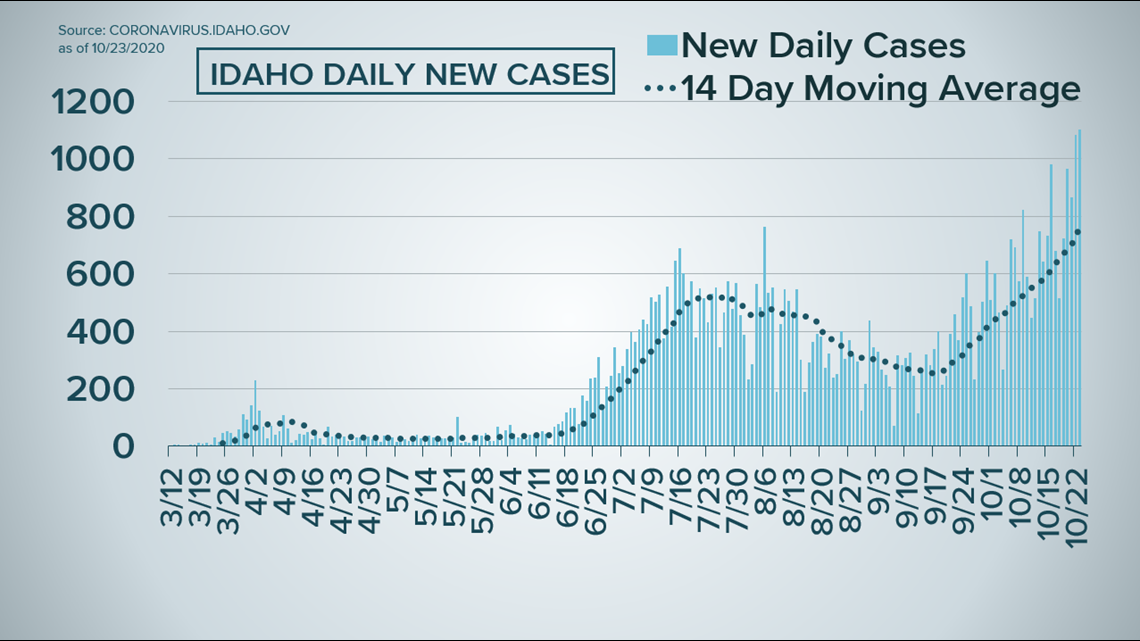 Nine deaths were reported for the second consecutive day. Three deaths were in Ada County and one each was reported in Blaine, Gooding, Jerome, Twin Falls, Bonneville and Fremont counties.
Southwest District Health, which oversees Adams, Canyon, Gem, Payette, Owyhee and Washington counties, removed one of the deaths reported in Canyon County. The statewide death toll is now 568.
The latest hospitalization data from Oct. 21 reported 259 COVID-19 related hospitalizations, a new high. Of that number, 66 are receiving intensive care.
Thursday, October 22
6:34 p.m.- Over 1,000 new cases and nine deaths reported Thursday; Idaho surpasses 50,000 confirmed cases
The Gem State passed a grim milestone on Thursday after 1083 new cases were reported. Of that number, 886 were confirmed and 197 were probable. Idaho is now reporting 50,235 confirmed cases, and 56,600 confirmed and probable cases.
Multiple hotspots were reported today: Ada (231), Twin Falls (122), Kootenai (96), Canyon (89), and Twin Falls (83) counties.
Nine new deaths were confirmed, two in Gooding and Bonneville counties and one each in Ada, Canyon, Gem, Madison and Twin Falls counties.
New positivity data released showed that the state's positivity rate is now 12.2%, up from 11.3% the previous week. 25,227 tests were performed, down from 30,227 the previous week.
An estimates 27,221 recoveries have been made.
Wednesday, October 21
6:05 p.m. - Idaho adds 864 total new cases and 13 more deaths on Wednesday
The Gem State, based on data published by the state and public health districts, added 581 confirmed and 283 probable cases of the coronavirus on Wednesday, bringing the state's total number of cases to 55,650, 49,349 of which are confirmed.
Idaho also reported 13 new deaths across ten counties: Ada (2), Bingham (1), Bonneville (2), Canyon (1), Gem (1), Idaho (1), Kootenai (2), Lewis (1), Teton (1), Washington (1).
Idaho County reported their first death.
Idaho's death toll from the pandemic is now at 551.
The state's top hotspots were Canyon County with 92 new cases, Twin Falls County with 90 new cases, and Ada County and its 63 new cases.
Tuesday, October 20
5:47 p.m. - 964 new confirmed and probable cases, 4 deaths reported on Tuesday
Idaho health districts reported a total of 964 new COVID-19 cases on Tuesday. Of those, 845 were confirmed and 119 were considered probable.
There have now been 48,768 confirmed cases in Idaho since the pandemic began in March.
Ada County had the most cases with 151, followed by Kootenai County with 140, Canyon County with 89 and Bonneville County with 83. The statewide death toll due to the coronavirus now stands at 539.
Four new deaths were also reported on Tuesday - one each in Bonneville, Canyon, Gooding and Shoshone counties.
The graph below shows the upward trend in cases over the last couple of weeks.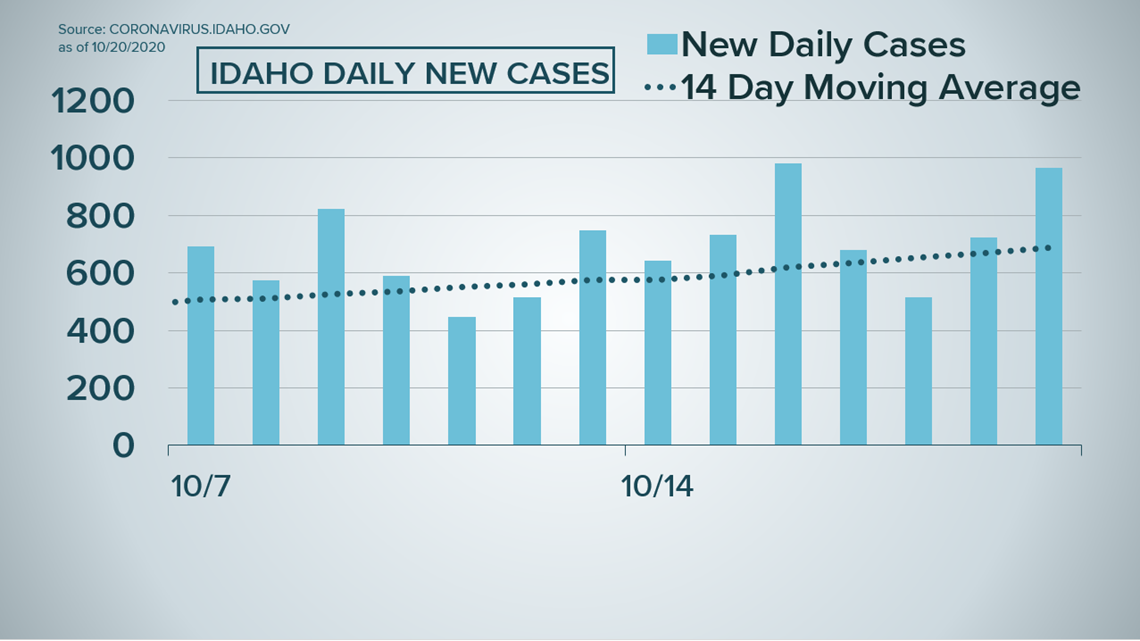 Monday, October 19
5:19 p.m. - Over 700 new coronavirus cases reported Monday
721 new cases of COVID-19 were reported by Idaho health districts on Monday. 618 of those new cases are confirmed while the remaining 103 are probable. There are now 47,923 confirmed cases of COVID-19 in Idaho. In total, there are 53,790 cases.
Madison County was Monday's hot spot, adding 96 cases to their total. Ada County followed, adding 71 cases. Canyon County added 59 cases.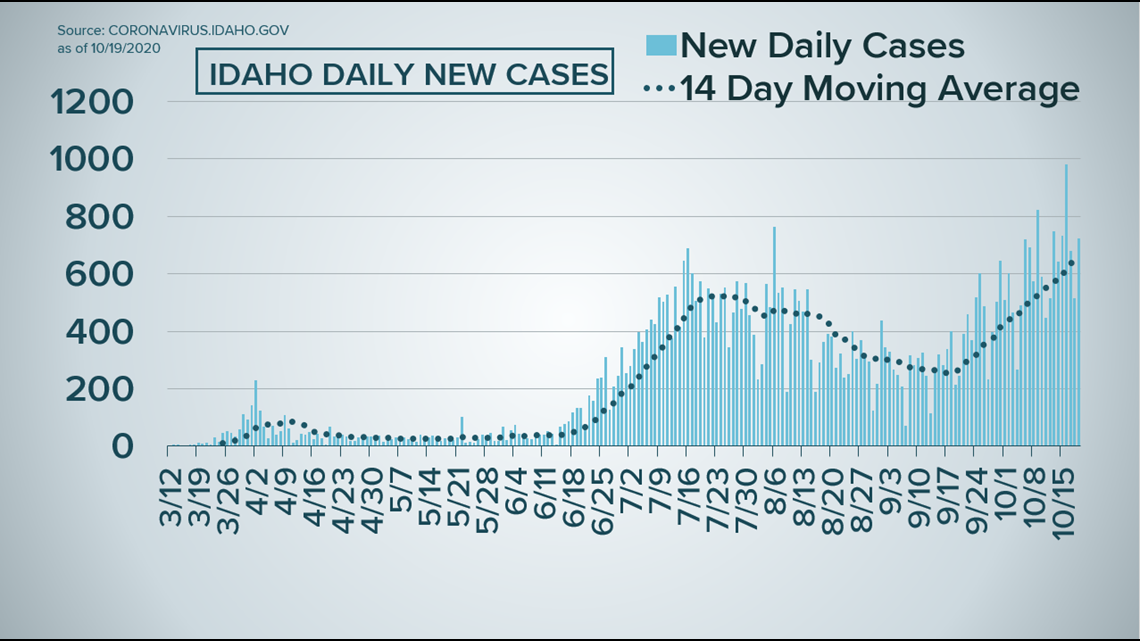 Three deaths were reported today, two in Bannock County and one in Bingham county. The statewide death toll is now 535.
The latest hospitalization data from Oct. 17 reported 187 Idahoans are hospitalized with COVID-19. Of that number, 54 are in the ICU. On Friday, 61 people were being treated in the ICU, the most people Idaho has reported to be in intensive care.
2:36 p.m.- Central District Health moves Boise County schools into green category
School districts in Boise County have been moved into Category 1, or the green category, by Central District Health (CDH). This means community transmission of COVID-19 within these districts is low.
Ada County school districts remain in Category 3, or the red category, and Elmore and Valley County school districts remain in Category 2, or the yellow category.
Sunday, October 18
5:58 p.m.- Over 500 new cases reported Sunday; Idaho surpasses 47,000 confirmed cases
Note: Not all public health districts update their data over the weekend. Most numbers come directly from the state.
512 total cases were reported today, 423 confirmed and 89 probable. This brings the number of confirmed cases in Idaho to 47,305 and the number of total cases to 53,092.
One death was reported in Power County today, but the state death toll remains at 531. This is due to a health district updating their website used to report cases and deaths to the state. Bingham County updated their total number of deaths for a currently unknown reason, but it may be because the individual was not native to Idaho, according to the Idaho Dept. of Health and Welfare.
An estimated 25,980 recoveries have been made.
The 14-day average of total cases hit its highest number since the pandemic began in march for the second day in a row: 652.0714.

At KTVB, we're focusing our news coverage on the facts and not the fear around the virus. To see our full coverage, visit our coronavirus section, here: www.ktvb.com/coronavirus.