Within the last 24 hours, the forecast for Dorian from the National Hurricane Center has really escalated. Earlier this week, the NHC was not expecting Dorian to become a hurricane at all. As of Wednesday, the forecast is for Dorian to become a major hurricane (Category 3 or stronger) this weekend.
(For more information on hurricane category as it is related to wind speed, click here.)
Officials could consider starting the game earlier Saturday or canceling it altogether.
Florida State says in a statement that "we continue to be in contact with the governor's office, our partners in Jacksonville and Boise State's athletics department. At this time, there is no change in the status of the game. We will provide an update Thursday morning."
Boise State is scheduled to travel to Jacksonville on Thursday. Florida State is slated to make the trip Friday.
Dorian is expected to continue to gain strength and intensity as the storm moves out over open water (warm ocean water is fuel for tropical cyclones).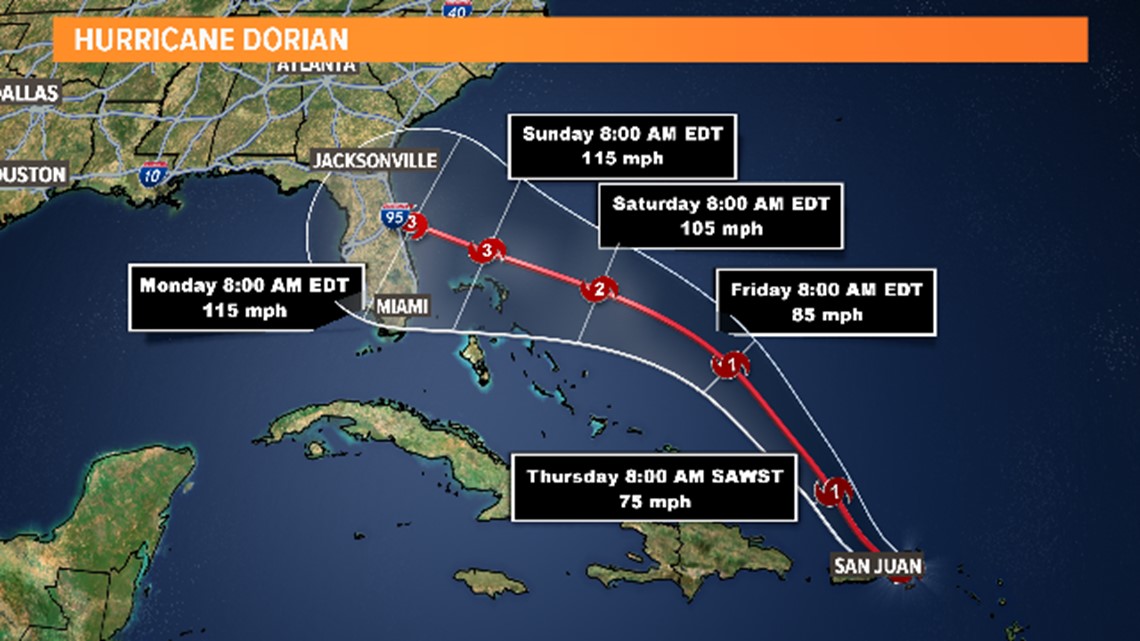 As far as our timeline for game time is concerned (kickoff Saturday at 5 p.m. MT), let's take a closer look at the latest forecast: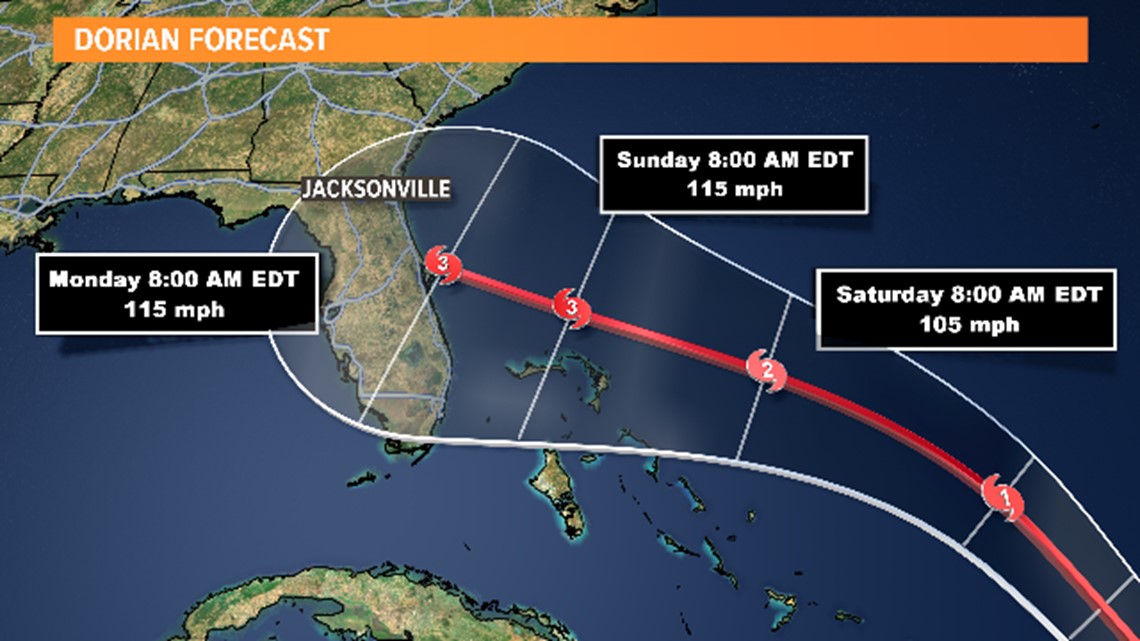 You can see that this forecast shows Dorian becoming a Category 2 hurricane on Saturday morning and will continue the trek toward the Florida coastline. At this point on Saturday morning, the storm center is expected to be some 500 miles away from Jacksonville.
However, by the time the game is underway, it's possible that Jacksonville will be starting to feel Dorian inching closer. That is to say, there will likely be winds out of the east-northeast at 15 to 25 mph and tropical downpours, with possible lightning, moving through the area.
Here is a look at the ECMWF (European model) projection for rain and wind at 6 p.m. on Saturday: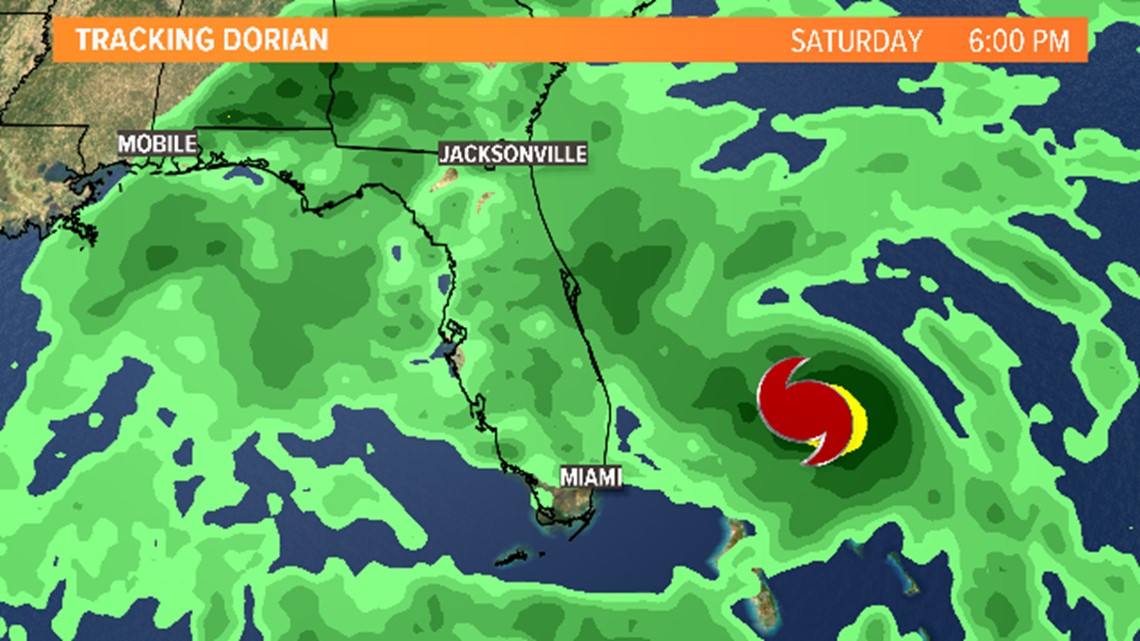 Even if Hurricane Dorian has no direct effect on the game, it is Florida in the summertime, which means daily thunderstorms are a good likelihood. Lightning is a serious weather danger and should always be taken seriously. We recently saw what can happen with outdoor recreation events in thunderstorms at the FedEx Cup, when a tree on the course was struck by lightning and six people were taken to the hospital.
We won't soon forget the First Responder Bowl, which was canceled in December due to inclement weather in the Dallas area.
Scattered thunderstorms are expected in Jacksonville on Saturday.
It's too soon to say whether or not kick-off will be moved up, or whether or not there will be a delay or suspended play on Saturday. I think all of this is a possibility, looking at the forecast for Saturday on Tuesday. There is still time for the forecast to change.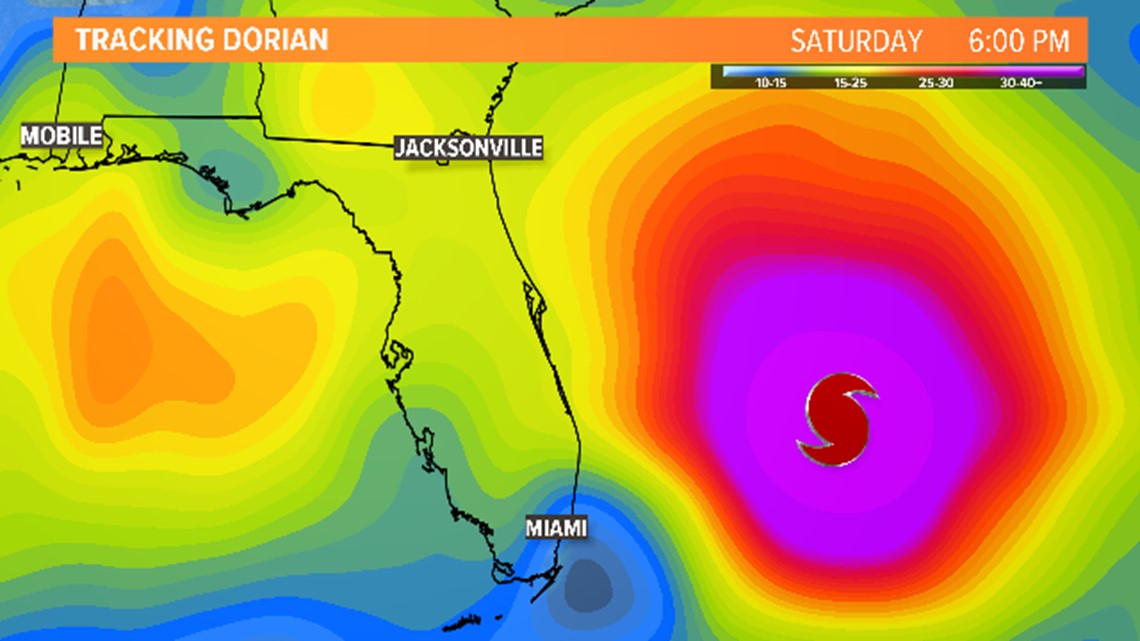 Let's say the Boise State game goes off without a hitch, the forecast for Dorian is projecting a major hurricane to make landfall sometime on Monday morning. Where does that happen? Who is in the direct path?
We often say the words, "cone of uncertainty," and it's just that: The further out in time the forecast goes, the more room for error and adjustment there is. When we take a look at where along the coastline Dorian may make landfall, you have to consider that any point along the white line, from one edge of the "cone" to the other, has a potential for landfall.
Dorian could make landfall any point up through the Georgia coastline -- or it could track more south, and make landfall closer to Miami. According to the NHC, the five-day tracking error is 200 miles, which is significant. The forecast will continue to be updated every six hours, and we'll keep you posted.
While there are still many uncertainties when it comes to Dorian, it's certainly a forecast worth keeping a close eye on. The game on Saturday could go as planned but with possible delays due to lightning and some very wet players and fans. I think a more troubling concern will be travel plans come Sunday and Monday.
Stay tuned to KTVB Idaho's News Channel 7 and KTVB.COM for the latest information about Dorian's path and Boise State football.