CALDWELL, Idaho — This article originally appeared in the Idaho Press.
Teens gathered around a desk in a college classroom preparing for the final match of a 15-minute arm-wrestling tournament. The classroom erupted in cheers, all eyes watching two shaking wrists and clasped hands as EMG sensors pulsed with green light, recording the participants' muscle activity.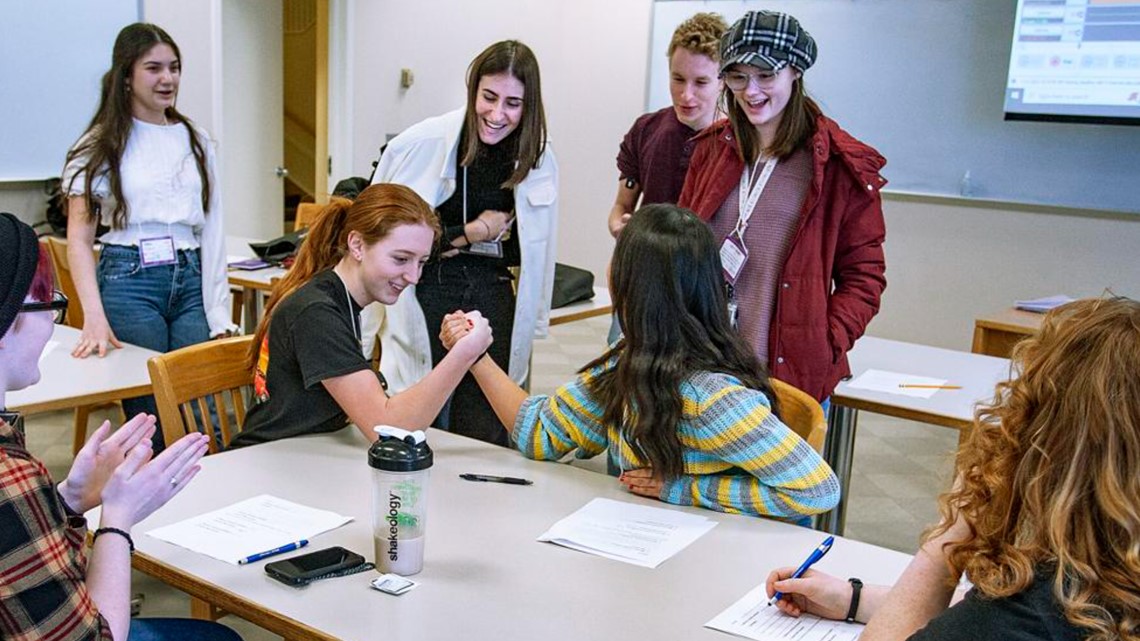 Hundreds of girls from several different school districts came to SheTech Explorer Day at the College of Idaho on Tuesday. During the event, girls attended workshops put on by different women in STEM.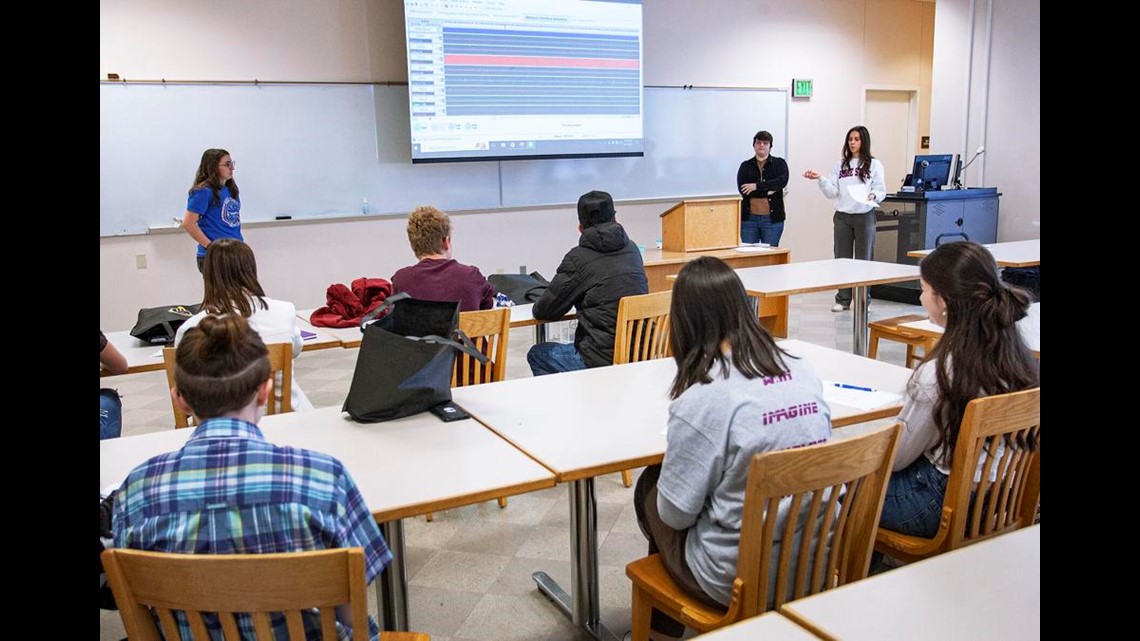 Sarah Goldrod, Sabrina Mead and Abby Brittain are all in the Boise Applied Biomechanics of Infants lab, researching how to improve babies' health through biomechanics. Their lab is directed by Dr. Erin Mannen. This is their first time putting on a workshop featuring an arm-wrestling tournament at SheTech. The goal is not to see who has the strongest biceps, it's to help girls see themselves in a STEM field.
"It's something that we've just been wanting to do as a lab," Goldrod said. "We've been wanting to do a lot more outreach and try and get just the biomechanics name out there, because a lot of people don't know about biomechanics in general."
According to Goldrod, the lab started outreach this school year, attending a TechGirls event with middle schoolers in the fall.
"It's part of the lab objective," Mead said. "Part of our research is helping things and helping people so it easily translates into doing these outreach events."
One of the things they hope to show young students who attend these workshops is that there are several different aspects to every job, Mead said.
"You can niche down and pursue," Mead said.
Brittain, who is working to get her PhD in biomedical engineering, said research is what motivated her to continue her education.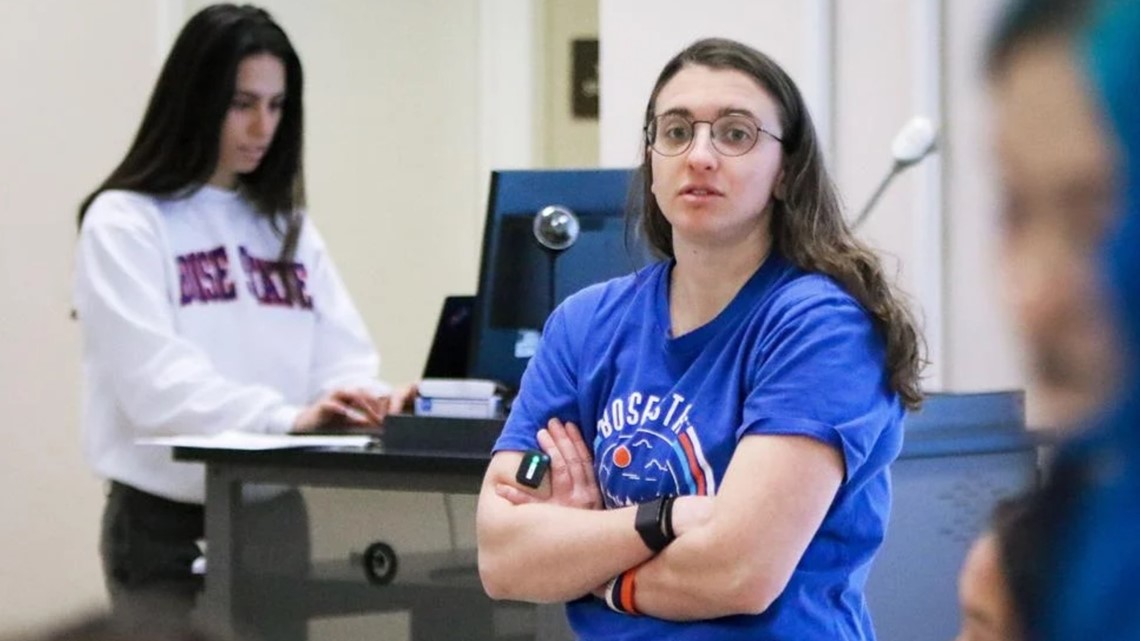 "We just like sharing what we do because we love what we do," Brittain said.
Carrie Tucker, Women Innovators treasurer and leader of the technical support and operations team for the J.R. Simplot company, said SheTech began in 2018 in an effort to help girls see themselves in STEM careers.
"We are the only organization in Idaho that works to educate and advocate for throughout their entire lifecycle, from their first introduction to STEM, all the way through their career," Tucker said.
Women leave STEM careers at a 45% higher rate than men, Tucker said.
"We want to keep girls interested and we want to support women so that there's a network for them, there's a community for them," Tucker said.
Students were able to register on the website and several were encouraged to attend the SheTech event by their teachers or school counselors.
"We encourage the teachers to look for those girls who are not necessarily the girls who are already embedded in STEM and convinced they're going to do STEM, but for those girls that can't see themselves in a STEM career because you can't be what you can't see," Tucker said. "By high school, 40% of girls have already opted out of STEM careers and we want to get those girls in that don't see themselves there, and show them that they can be in STEM, too."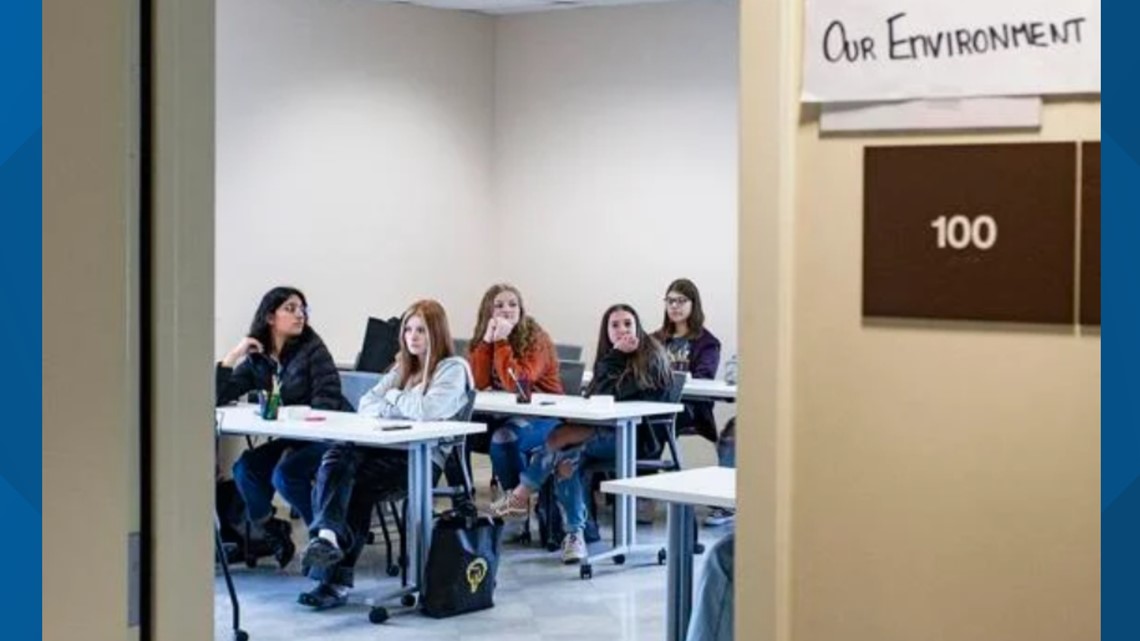 In the classroom, boys tend to be more upfront — asking questions, being very vocal — and that can lead to girls taking a back seat, Tucker said.
"When we get them into these workshops where it's primarily girls, where they feel safe, they build that confidence to where they can see themselves in a STEM career," Tucker said.
Girls were surveyed as they left the event and Tucker said there is a significant increase in girls saying that they would be interested in a STEM career.
"I see these events — SheTech and TechGirls — and I wish I was able to do different events like this when I was younger," Goldrod said. "And so that definitely inspired me to be a part of it."
See the latest news from around the Treasure Valley and the Gem State in our YouTube playlist: