BOISE, Idaho — Editor's note: A previous version of this article contained content from another media outlet and was not correctly attributed. That content has been removed and this article has been updated with information KTVB has independently confirmed.
A recent report on child well-being in the U.S. ranks Idaho among the top 20 states overall, with high marks for economic well-being and family and community.
The 2022 Kids Count report also shows areas of concern when it comes to health and education, especially among middle- and high school-aged children.
The Annie E. Casey Foundation compiled data for the 2022 Kids Count rankings from the U.S. Census Bureau American Community Survey and the U.S. Department of Education. Categories are economic well-being, education, health, and family and community.
Idaho ranked 9th in the nation for family and community. The report shows improvements in the rates of children in single-parent families (24% between 2016-2020 compared to 25% between 2008-2012); the percentage of children in families where the head of household lacks a high school diploma (9% between 2016-2020 vs. 12% in the 2008-2012 period); children living in high-poverty areas (2% between 2016-2020 vs. 5% for 2008-2012); and teen births per 1,000 (15 in 2020 vs. 33 in 2010).
In economic well-being, Idaho ranked 14th. The report shows that in 2016-2020, 14% of Idaho children were living in households with an income below the poverty line, compared to 19% between 2008-2012. The rates of children living in households with high housing-cost burdens, children whose parents lack secure employment, and teens who were not in school and not working also decreased.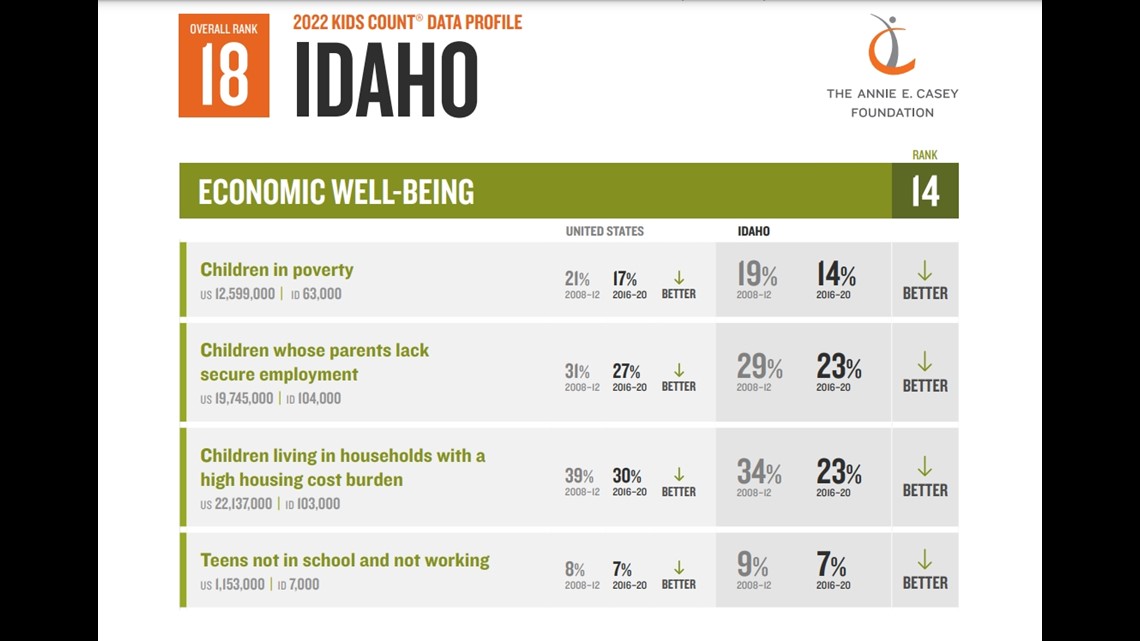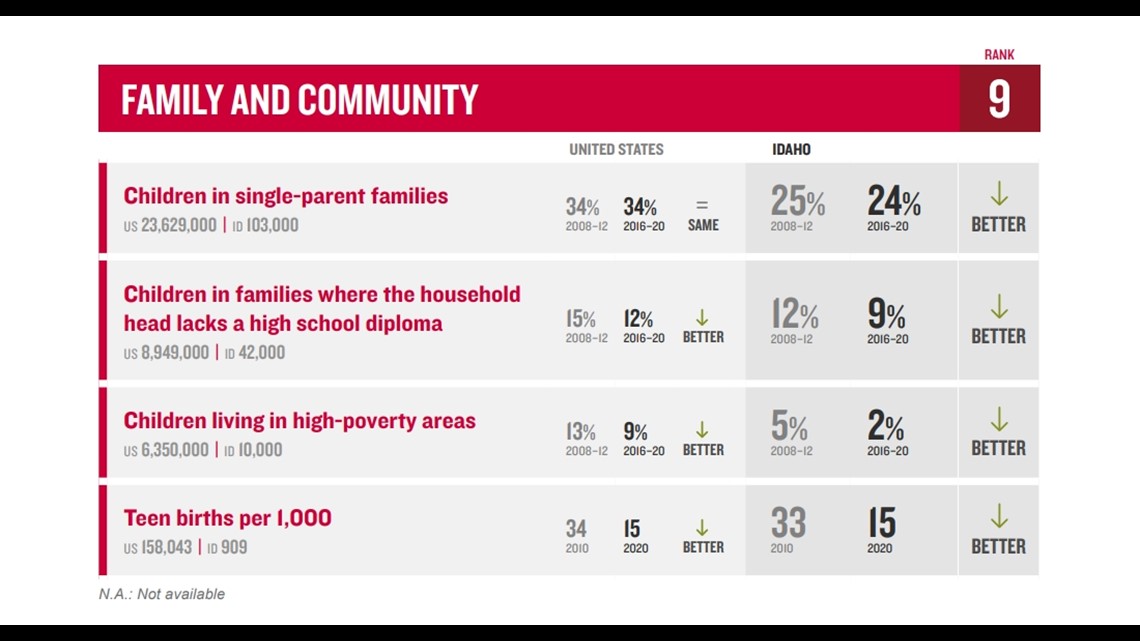 In education, Idaho ranked 36th. The report showed more 3- and 4-year-old children were attending preschool (64% in 2016-20 vs. 66% for 2008-12) and fewer fourth-grade students were falling short of reading proficiency standards (63% in 2019 vs. 68% in 2009). However the rate of eighth-graders not proficient in math increased from 62% in 2009 to 63% in 2019. Regarding high school completion, 19% of students didn't graduate on time in the 2018-19 school year.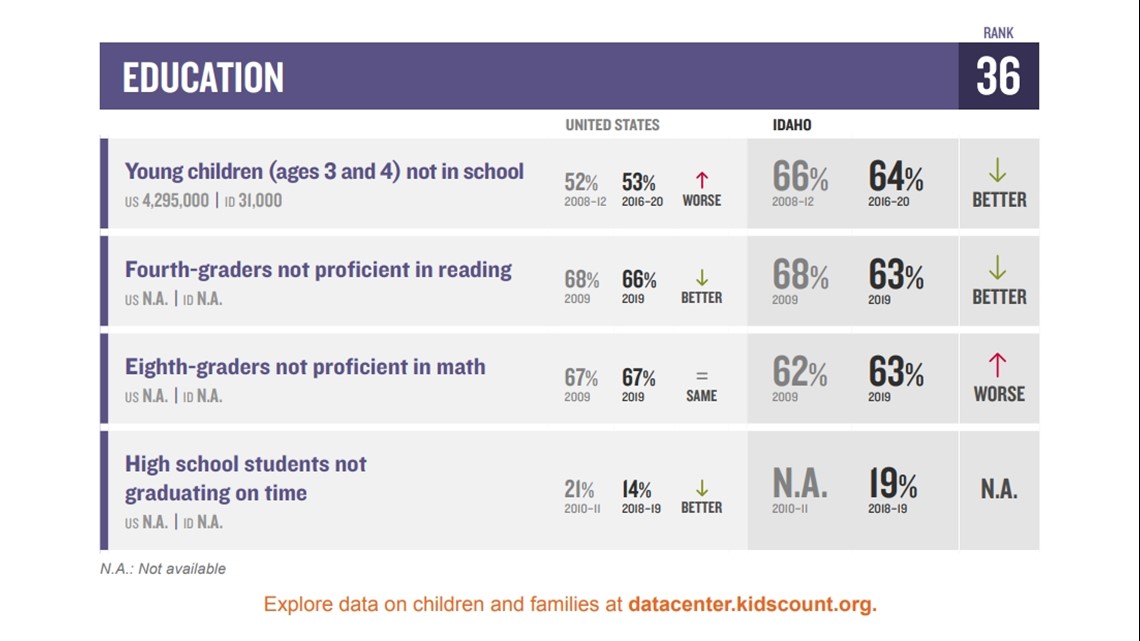 The latest Kids Count report ranks Idaho 19th for health. The percentage of children without health insurance declined from 11% for 2008-2012 to 5% for 2016-2020, but the rates of low birth-weight babies, child and teen deaths, and children and teens who are overweight or obese all increased.
The COVID-19 pandemic and related measures that included school closures radically changed everyday life over the past two years, but even before that time, there were signs of a growing mental health problem among Idaho high school students and young adults.
The Kids Count report shows 39% of high school students "felt sad or hopeless" in 2019; the rate was 28% in 2009. After 2011, the rate increased in every survey.
Also, 42% of young adults aged 18-24 reported "zero mental health days" in a given month in 2017-2019. The rate for 2011-2013 was 53%. The report defines mental health as including stress, depression and problems with emotions.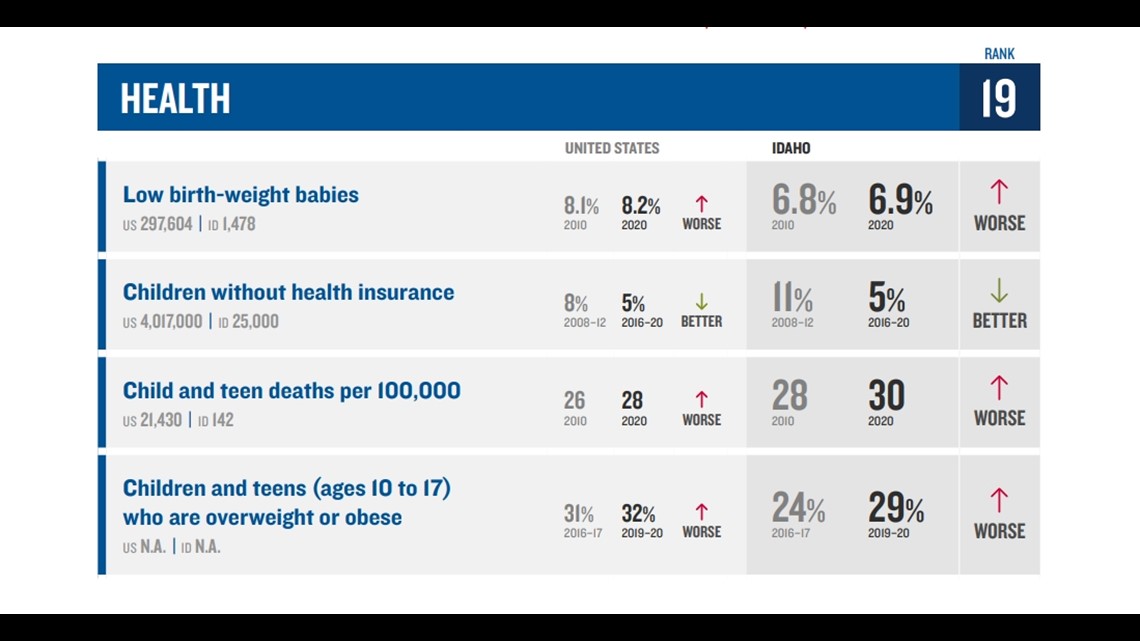 See the latest news from around the Treasure Valley and the Gem State in our YouTube playlist: