MERIDIAN, Idaho —
Albertsons is getting ready for a big celebration in Meridian this weekend - and we mean big - at the largest Albertsons store ever built.
The grocery chain will open its next-generation store, called Albertsons Market Street, at Fairview Avenue and Eagle Road on Saturday. KTVB got a sneak peek inside on Thursday.
Yes, it's huge. More than 100,000 square feet, and more than 40,000 square feet bigger than the recently rebuilt Broadway Albertsons store.
"It's such a big space, but once you start walking around it really doesn't feel enormous," Albertsons spokesperson Kathy Holland said.
"This is our premium store concept, very similar to our Broadway store, but on an expanded size," she said. "Our Broadway store is at 68,000 square feet, this store is almost 110,000 square feet."
Go inside the new Albertsons Market Street store in Meridian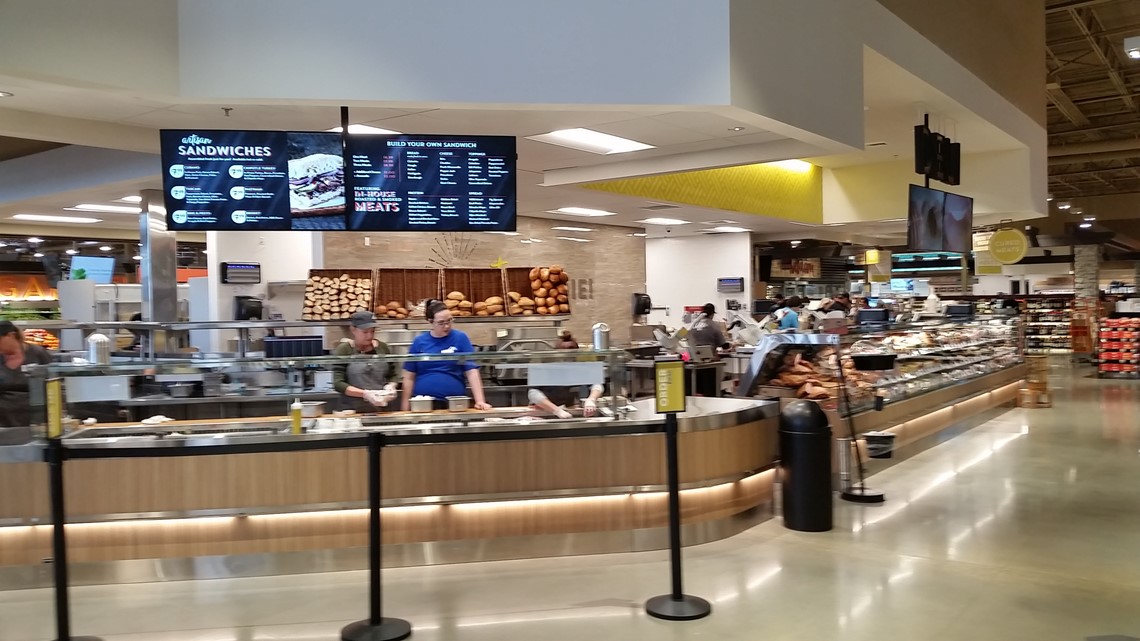 From a live lobster tank, to a popcorn station, and aisles and aisles of food, beer and wine, this new Albertsons Market Street store resembles just that - a market street.
It's also a wine lover's dream, with one of the largest wine bottle collections in the state.
"You can walk inside our indoor wine cellar, temperature controlled, we have all kinds of different wines all the way up to $3,000," Holland said. "We also have a sommelier on staff that can help you pair wine with your meal or with cheese or help you pick a wine that you're in the mood for."
MORE: Albertsons breaks ground on new 'flagship' store
Market Street also has an expanded seafood and butcher block, made-from-scratch bakery and deli salads, four aisles dedicated to pet food and even a drive-thru pharmacy. There's also a live lobster tank and popcorn station.
"Joe Albertson was an innovator and when he opened up his first store, it was 10,000 square feet and at that time it was really unheard of, one of the largest supermarkets in the Treasure Valley," Albertson's Intermountain Division President John Colgrove said. "Today, this store that we're opening is 110,000 square feet so, if you think about it, you could fit 11 of Joe's first stores inside of this store."
On Saturday, there will be an all-day celebration featuring culinary creations and wellness expertise starting with a ribbon-cutting ceremony at 10 a.m.
Here are some of the activities planned on Saturday:
Gourmet creations to delight every customer
Swag bags for the first 250 customers
Cooking demonstrations
Live music all day
Donations to local charities
Wine and beer tastings
Goodie bags for children
Photo booth
There will also be guided tours of the store. Its opening comes as Albertsons gets ready to celebrate its 80th anniversary this summer.