CAMBRIDGE, Idaho — Update: A Woodhead Fire virtual community meeting is set for 7 p.m. on Wednesday, September 16. Learn more and access the meeting here.
Campers and residents are being asked to leave after as a wildfire burning near Cambridge continues to spread.
By Thursday the Woodhead Fire, which has been burning since Sept. 7, was estimated at 84,059 acres and 39% containment. Nearly 300 people have been assigned to the fire.
The Washing County Sheriff said the fire has burned at least five cabins and trailers on Brownlee Summit, several homes in Pine Creek Estates and at least one house in Seid Creek.
Full evacuations have been ordered for residents above Upper Dale, including Paradise Flat, North Hornet, and West Mill Creek. Deputies with the Adams County Sheriff's Office went door-to-door Monday morning in the Wildhorse, Ditch Creek and Bear areas warning people of "an active fire threat" from the Woodhead Fire.
Campers and other recreationists are being evacuated, and the Council-Cuprum Road is closed to the public at Council.
Jesse Bender with the Bureau of land Management is urging people who live near the fire to be ready to leave.
"Know where you are going to go, how you are going to get out, how you are going to get in touch with your family, as well as what you need to take with you, pets, important paperwork, medication," Bender said.
Fire officials say the fire grew toward the east toward Cuddy Mountain and up Cracker Jack Creek Sunday after smoke lifted in the area, allowing more air to fuel the flames. A majority of the western side of the fire has now been contained.
The blaze is currently burning up the Crooked River drainage, officials say.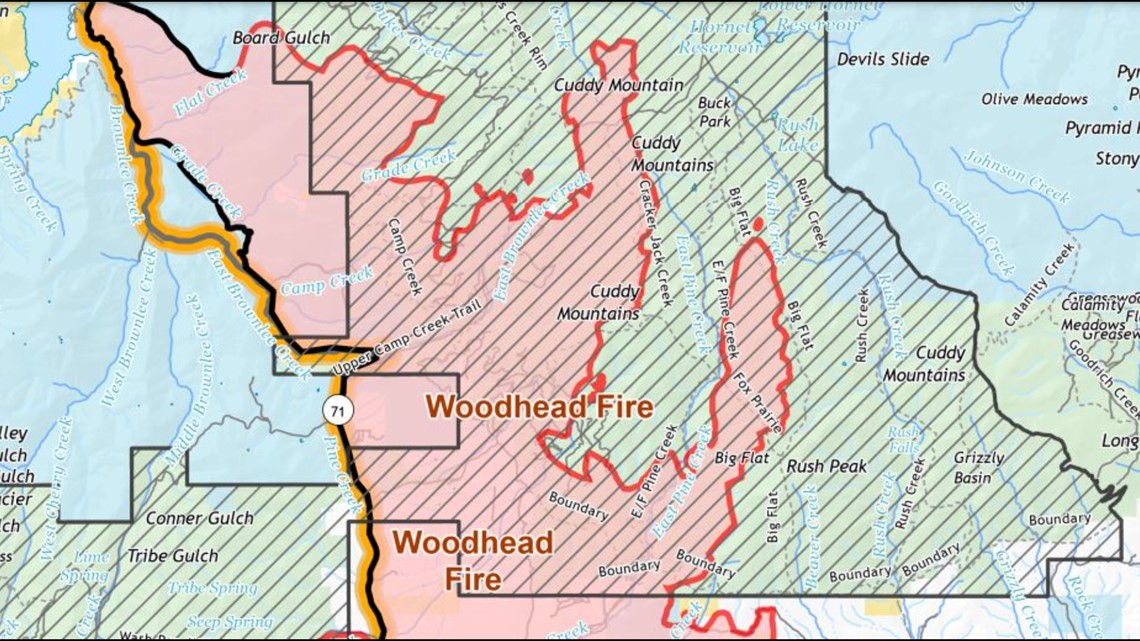 Because of dense smoke and low visibility, fire crews were unable to use air resources on Sunday. Smoky conditions may lift Tuesday, officials say. A cold front arriving later this week may also bring in moisture that could help firefighters' efforts.
Bender said resources are being spread thin because of regional wildfires which are also hindering progress on the Woodhead Fire.
"Everything is so dry now across the West so the number in magnitude of the fires that are burning is requiring resources in so many places all at the same time," Bender said. "We are just stretched really thin and so trying to all share all of the resources, that is crews, helicopters but also some of the things you might not think about, like caterers and showers to support our firefighters."
The closure on Highway 71 has been lifted, but road guards may remain in place near the ends of the fire area to warn drivers of falling rocks and debris and equipment along the highway. Everyone driving through the area is asked to expect delays, keep headlights on, and look out for firefighters.
People have also been asked to stay out of the fire area. Anyone who enters a road, trail or other prohibited areas that have been closed due to the fire could face a $5,000 fine.
Fire crews are currently aiming to have the Woodhead Fire contained by Oct. 1.