FRUITLAND, Idaho — Brandi Neal, the mother of missing Fruitand boy Michael Vaughan, sat in her living room on a cold January day wiping tears from her face. Neal moves to make another attempt, like she has done so many times before, pleading for the return of her 6-year-old blonde, blue-eyed son she calls "Monkey."
"Please keep sharing his beautiful smile, beautiful face. He's out there somewhere and we need him home. Don't forget about him," Neal said.
A week before, Neal picked up on the first ring to schedule an interview in order to keep Michael's face in the news. Things had gone quiet in the last few months.
On that day in January, when Neal sat before the cameras, she sat next to Michael's monster trucks, his pictures and his stuffed animals. A blanket with his face rested beside her on the couch. Occasionally, Neal would glance at his toys when speaking about her son, her eyes welling with tears.
It's been over 500 days, she said, since her family has seen Michael. He went missing from his neighborhood in Fruitland, near Southwest 9th Street, on July 27, 2021. Neal counts every day that passes by.
Neal just wants to hear Michael say, "I love you, mama" one more time. It was the last thing she heard him say to her, she said between quiet sobs.
Neal talks as she plays with her bracelets nervously, which have Michael's name printed on them. Someone still knows what happened that day, she said.
"It's not fair," Neal said. "You've watched us for the past 545 days and you haven't said a damn word. We have to wait, and wait, and wait -- and still take care of our family."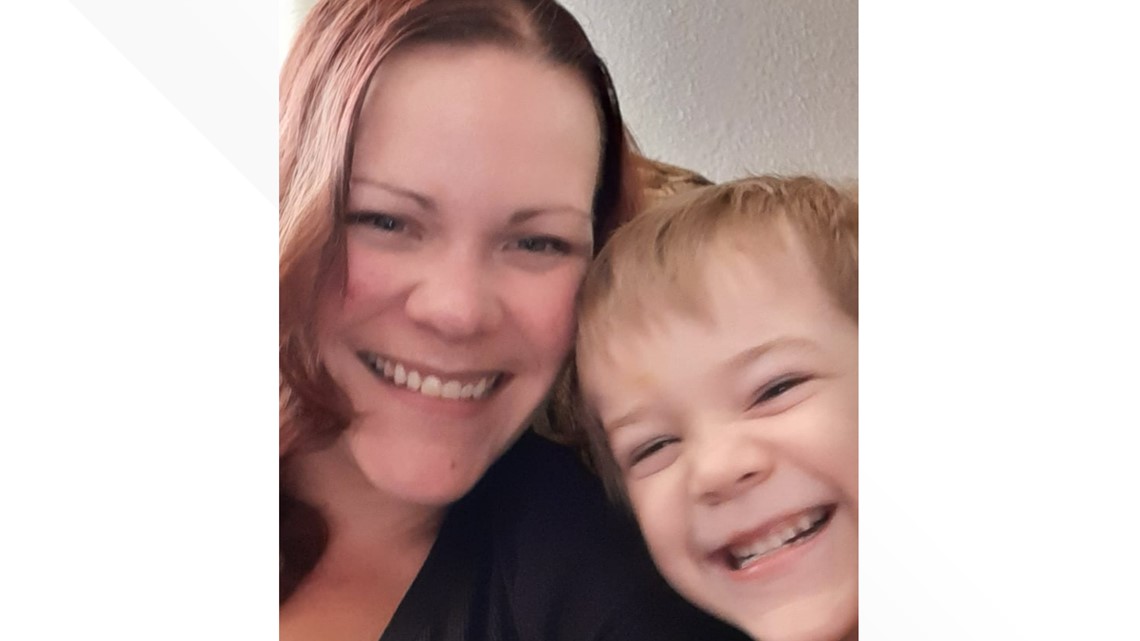 Any other day
It was like any other day in July when Michael was last seen.
Neal previously told KTVB that her husband, Tyler Vaughan, was at home with her children. Michael was on the couch playing with his Nintendo. Vaughan went to check on Michael's little sister, Arya -- who they call "Buggy" -- in her bedroom. Vaughan ordered a pizza, and came back out to the living room. Michael was gone.
Vaughan called Neal, who was at work. Neal sped home and she saw police at the park when she pulled into the neighborhood.
Neal said that neighbors witnessed Michael in his front yard and on the street in the moments before he disappeared, even attempting to talk to neighbors -- he was friendly, she said. But it was unusual.
"He has wandered a few times, but it doesn't make sense," Neal said.
That night and into the week ahead, searches ensued. The community began paving their way on foot through the farm fields, through the streets, looking in bushes and storm drains, checking in trash cans, under tables, in park bathrooms -- anywhere that a small child could hide.
Michael was last seen wearing a blue Minecraft t-shirt, dark blue briefs, and blue flip-flops. He was 5 years old at the time of his disappearance.
Fruitland Police, The National Guard, Idaho Mountain Search and Rescue, even other law enforcement agencies united to spread their resources across the rural town of Fruitland.
It was originally believed that Michael wandered off -- but in November 2021, Fruitland Police Chief J.D. Huff said during a press conference that there was an increased probability Michael was abducted, because police made little headway in ground searches. Neal said they brought K-9 dogs in, which traced Michael's scent to the end of the road.
"I've walked every inch of this town," Neal said. "I've literally worn my feet to the bone."
The entire family was called in for a polygraph test, Neal said, during which police kept them all separated. Police showed the family a timeline of Michael's disappearance, which Neal said she "couldn't even believe" they were able to put together. Right after the family took polygraphs, a large semi-truck was revealed with Michael's face on it to drive across the U.S. to create more tips to his potential whereabouts. Idaho State Police and the FBI eventually became involved.
Every day since, Neal says she gets out of bed. She goes to work. She takes care of her family. But the grief and the struggle of missing Michael, mixed with her anger and frustration, intertwined with having to be a wife and a mother, can be too much. Holidays and birthdays have passed. Michael's sixth birthday was on June 24, 2022. There isn't a second that goes by without Neal thinking of her son.
"I've just been a mess," Neal said.
Fruitland Police have briefings every day where they talk about Michael and the next steps, Huff said. He previously told KTVB that his entire team is extremely emotionally invested in the case. Neal said it's clear that the police support their family and care about Michael just as much.
She points to a stuffed monkey sitting on a shelf across the room. It's tied with a ribbon that the entire Fruitland Police department signed. "They've become family," she said.
Fruitland Police maintained their work was never over. Regardless of the little information they shared, the department continued to put out press releases. Huff continually told the press there was not much he could say -- it's still an open investigation, he said, and releasing additional information could compromise the case and justice for Michael.
Then, during a press conference in the summer of 2022, police dropped a small piece of information: they were back in the Fruitland area investigating.
A potential lead
It came on a brisk day, in mid-November of last year -- a break in the case.
Police arrived at the Vaughan family home that morning. Neal expected it was like any other visit the police pay the family, to check in with them. But when Neal saw the chief of police walk in the door, she said her stomach sank.
They spoke calmly when they told her an arrest has been made. Police said to stay inside the home, she said, and "hunker down."
Police told her they received a credible tip that Michael's remains could be in a backyard nearby -- and they were going to excavate every single inch. Huff later told reporters on scene that they "continue to search for Michael's remains" -- marking the very first time that the media learned he may no longer be alive.
A two-minute drive from the family home, just diagonal across the farm field that was searched so many times, lived Sarah and Stacey Wondra.
The couple's backyard was being torn apart. Multiple law enforcement agencies surrounded the home at 1102 Redwing Street with shovels, human remains dogs, and heavy machinery that was digging in the dirt behind the home.
The dirt was piled into a large truck, where it was driven off-site for evaluation, police later said.
Neal said she sat out in the street for hours, watching the truck go by with dirt, come back without it, and then leave again. She wanted so badly to just go over to the excavation site, Neal said, but she stopped herself.
Sarah Wondra, 35, was arrested on Nov. 11, 2022 and charged with the failure to report a death. Huff previously said their investigation found Sarah Wondra had knowledge of Michael's death, and didn't say anything to law enforcement.
Stacey Wondra, her husband, has not been charged in connection to the disappearance of Michael, but he remains in the Washington County Jail on firearm charges. That "credible tip" came from another person inside the home the Wondra's lived in, Huff said.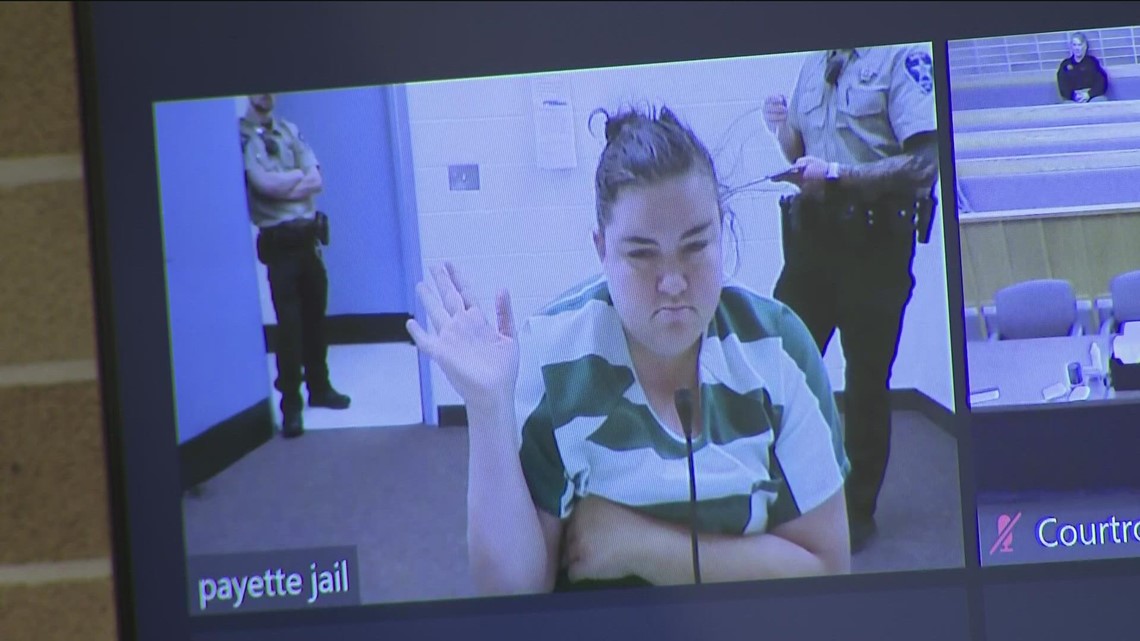 Neal said she had never seen or met the Wondra's -- but when the search was underway for Michael, she left flyers at their door. Sarah Wondra was later seen on TikTok videos in October 2021, in front of Michael's missing person flyer, which was hanging on a refrigerator door behind her.
Sarah Wondra previously told Payette County Judge Brian Lee at her initial appearance hearing that she understood the charges against her, but that "it's not correct." Wondra's parents live directly around the corner, but when KTVB knocked on their door, they didn't answer.
Days went by, and then crews stopped excavating. Police said they planned on searching inside the home after they were done digging. No stone went unturned, but police packed up their shovels and gear, and headed home.
"I would like to sit down and have a conversation with (Sarah Wondra) face to face," Neal said. "There will be a time."
A shocking announcement
Huff let out a breath when he approached his podium on Dec. 1, 2022, for a press conference to announce the results of the excavation of the Wondra's backyard. He nodded at the media, who were anxiously awaiting answers. Back at the Vaughan home, Neal was surrounded by her family.
Huff announced that Michael's remains were not found in the yard. But, he said something else that made listening ears perk up -- that police believe Michael's remains were buried there, but later moved.
Unexpectedly, police announced the identities of two more people thought to have firsthand knowledge in the abduction of Vaughan -- Brandon Shurtliff, 30, believed to be somewhere in North Dakota; and Adrien Lucienne, 32, believed to be somewhere in Toledo, Ohio, or California.
Shurtliff and Lucienne were living in the Wondra's home at the time of Michael's disappearance.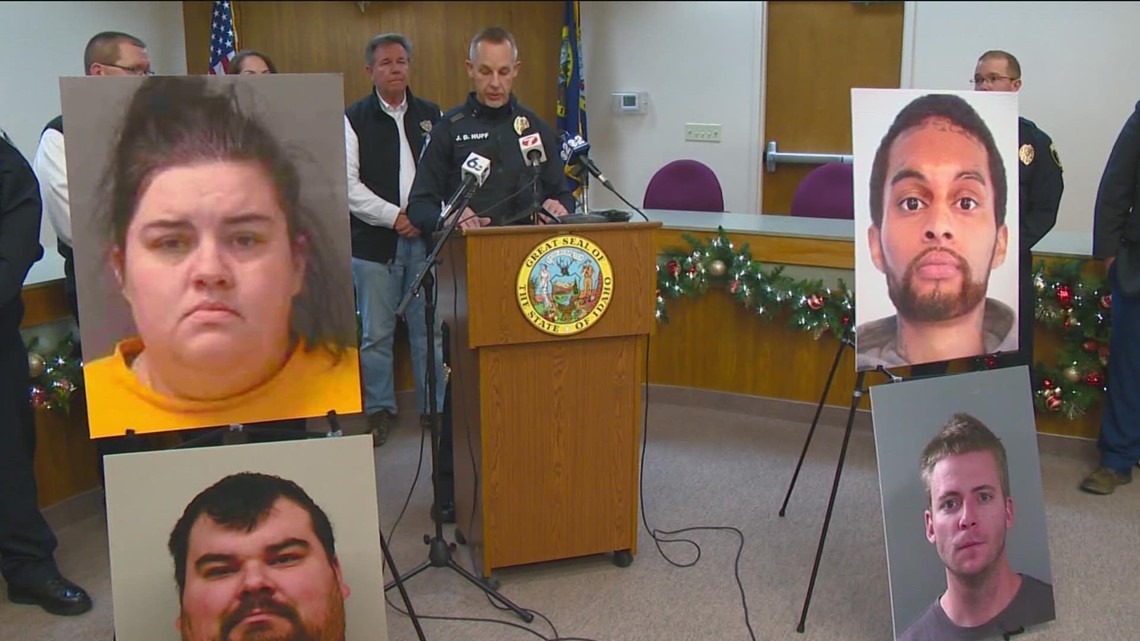 "The window of time for cooperation is coming to a close," Huff said.
Shurtliff has a warrant for his arrest in Canyon County, but the charges do not allow for extradition from North Dakota. Lucienne has a lengthy criminal record in multiple states.
Huff also announced that their department has made contact with the two men, but didn't elaborate further. However, Huff believes these aren't the only people who have knowledge of what could have happened to Michael.
"All those who have knowledge of Michael's disappearance and have failed to report or hindered our investigation will be pursued," Huff said.
KTVB reached out to Lucienne and Shurtliff but never received a response. One phone number listed for Lucienne seems to have been disconnected.
More than a month later, on Jan. 26, Fruitland Police provided a slight update on their Facebook page. They wrote police "recovered several pieces of evidence" at the Wondra's home.
"Some of those pieces have been sent to a private DNA lab for further analysis. That process will take time and we are patiently waiting for results," the post said.
Sarah Wondra was found mentally unfit to proceed last year. She was committed to State Hospital South in Blackfoot on Dec. 6, 2022. The commitment order indicates she was found unfit to assist in her own defense. Proceedings were placed on hold.
Sarah Wondra's public defender asked for more time in the state hospital in a January hearing. Her 90-day commitment period ends Feb. 6, prompting a status hearing that day, and then a preliminary hearing on Feb. 7.
Shurtliff's mother speaks
Where is Shurtliff? According to his mother, Tina Morreale, he is in North Dakota -- and she knows his location.
Morreale told KTVB via Facebook that her son "is not running" and has nothing to hide.
"We have all been cooperating, but this has outright turned into total harassment of Brandon and our family. It use to be innocent until proven guilty, now it's guilty without proof. They are even pointing fingers at me and telling me I'm lying and hiding something," she said.
Morreale claims she opened her home up to police when they came knocking.
"I gave them food and water, prayed with them and allowed them to run their dogs and people through my house and yard. They did find my toilet was leaking, which I'm grateful for," Morreale said.
She claims their cadaver dog "smelled the poop outside" near her vent and crawlspace, which was near her leaking toilet, she said.
Public Relations Director Mark Sullivan works for the Idaho Mountain Search and Rescue, a team that has been very active in the search for Michael.
Sullivan consulted with K-9 experts on his team who told him that, no, cadaver dogs do not alert on human feces. Sullivan said that he's never heard of a K-9 dog being trained to find feces.
"Each dog has a very specific reaction that it does when it does what it's trained to do," he said via text message. "The untrained human may not know, or recognize, when a dog alerts its handler."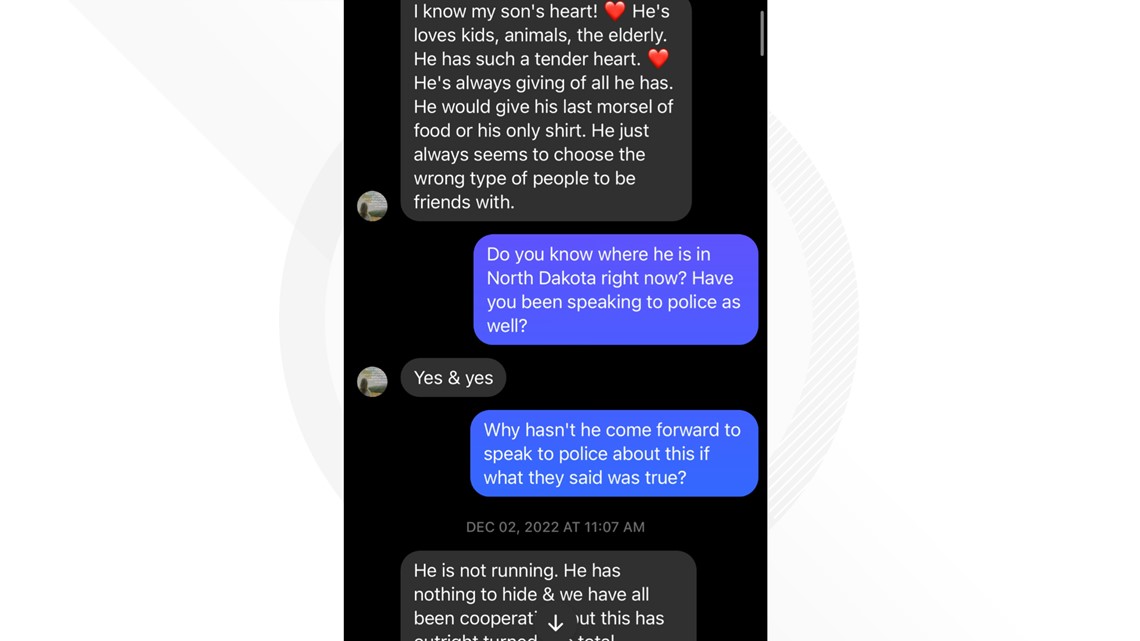 "They came back with 17 cars, dogs and shovels, and dug where the dog alluded to the following day. They found nothing but my leaking toilet," Morreale wrote. "We have cooperated fully since this all began. Our attorney will probably be calling a press conference for all this slander."
KTVB asked why Shurtliff hasn't come back to Idaho. Morreale said his attorney is handling it.
"I know my son's heart! He's loves kids, animals, the elderly. He has such a tender heart. He's always giving of all he has. He would give his last morsel of food or his only shirt. He just always seems to choose the wrong type of people to be friends with," Morreale wrote.
Huff said he could not elaborate on Morreale's comments due to the nature of the investigation. KTVB went to Morreale's home in Kuna to speak to her further, but she did not answer her door.
Police said in the December press conference they had searched a home in Kuna without a warrant, but did not elaborate. Law enforcement does not need a warrant if the homeowner lets them inside willingly.
Michael's case is different
Angeline Hartmann, the director of communications for the National Center for Missing & Exploited Children (NCMEC) , said their team has worked diligently with the Vaughan family and law enforcement since Michael was reported missing.
"We try to give the family space," Hartmann said. "But really it's about letting them know we are here for them if they need anything."
Hartmann said in her experience, "this case is different."
"Our goal is no matter what the prediction is in any case, we want to know we are here to support the families in any way... You just never know how a case is going to turn out," she said.
Hartmann said she feels for Neal and her family. "It has to be torture," she said. In any missing child case, NCMEC encourages families to continue speaking out and keeping the missing child in the public eye, Hartmann said -- it's important that the media attention continues.
How is it possible nobody saw what happened to Michael?
Hartmann said, "it only takes a second." She stated that in most missing cases, the child is "recovered," whether it be quick, or takes some significant time. More than 90% of missing children are found, she said.
"If a child is not found in the first 48 hours, it's important to still keep looking. For years, there was a misconception that something bad happened if they weren't found in a certain amount of time. It may or may not be the case here," Hartmann said.
Stranger abductions are extremely rare, and what happened to Michael is also rare, Hartmann said. Every minute counts, she said, and missing children cases need to be taken seriously.
"When it does happen, it's shocking. People think it happens a lot more than it really does," she said.
When NCMEC learned police were searching for Michael's remains, they were devastated, she said.
"I think it was silent for most of the day," Hartmann said. "We are all heartbroken."
The impact on the small town could be taxing for the rural area of Fruitland, but Hartmann said the vigor of the community really speaks to the support and care surrounding Michael and his family.
"These communities band together. It's really something to see. Everyone has embraced this family," Hartmann said.
Fruitland Chief of Police, J.D Huff, maintains that the department's interests are solely to find justice for Michael. Huff declined an interview, but he said he still wants to be transparent -- and there will come a time for that. For now, he said, he just wants to "maintain integrity" of the case.
Waiting for answers
Neal keeps Michael's bed the same. It's next to his parents' bed, lined with his toys, blankets and stuffed animals.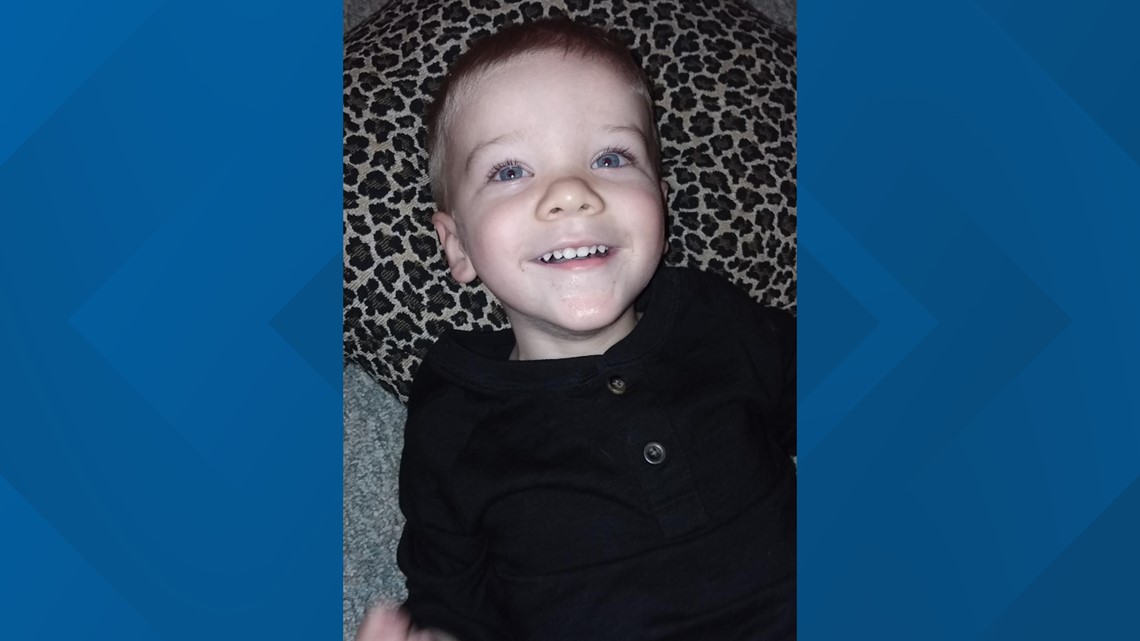 For a while, Neal said she could barely do laundry -- she would see one of Michael's shirts or socks and break down.
She held up a small shoe.
"The police have the other one," she said. Neal stated police also have some of his favorite clothes and his favorite blanket. "For DNA," she said, putting his shoe back in the closet.
Neal walks back into the living room, and points to a table with pictures of Michael resting on top. She says Arya, known as "Buggy", will pull the pictures off the table and speak to Michael, her older brother.
"She'll get sad," Neal said. "She will say, 'I miss Monkey.'"
Neal says she sees so much of Michael in Arya -- all of her questions about the world and her vibrant, energetic personality mirror her brother, Neal said.
Neal brings out a gift bag, filled with newspaper clippings, letters and mail. Each one she saves, she said. Letters from all over the U.S, and even the world, are addressed to "The Vaughan Family."
Neal opens a gift, revealing a small stuffed animal named "Kiwi."
"It's from New Zealand," she said. "For Michael when he comes home."
See the latest news from around the Treasure Valley and the Gem State in our YouTube playlist: