MOUNTAIN HOME, Idaho — At just over 3,000 square miles, Elmore County is one of the largest in Idaho, but also one of the most remote, meaning radio and wireless communication can sometimes be a struggle.
To improve public safety communications, the county has partnered with a first responder-specific network, called FirstNet.
"In rural communities it's hard," Sheriff Mike Hollinshead said. "In rural communities you have mountains and terrains, you have to put up antennas and all that for your portable radios."
According to Hollinshead, the partnership with FirstNet and AT&T will alleviate those communication issues.
"Everyone has one of these devices, we live and breath by them - a regular phone," he said. "And that's what FirstNet is all about."
FirstNet - short for First Responder Network Authority - is a nationwide wireless network developed for first responders. It was born out of the failures in communications during the terror attacks on September 11, 2001.
"This program is not the federal government's program, it's a program that's for public safety, by public safety and we're just the people that oversee the project," said Harry Markley, a senior advisor for FirstNet.
It's a public-private partnership launched last year and now boasts more than 425,000 subscribers across the country.
Elmore County is one of the only subscribers in Idaho so far - along with Washington County - but likely not the last.
"So this is why Elmore County Sheriff's Office has been the first to step out and to say, 'we need to start and we need to start somewhere' and this is it," Hollinshead said.
Right now the portable radios are the go-to for first responders in Elmore County, but coverage can be spotty and updating them can be costly. With the new agreement, the sheriff's office will only have to cover the costs of a cell phone and a data plan.
"This program is critical to meet the needs of communications for public safety today and for the next 25 years," said Garrett Doyle, FirstNet-AT&T regional manager.
Between federal funding and the county contract, FirstNet is expected to be a $100 billion upgrade over the next two decades.
And it's not just phones -- AT&T will pay to build a new cell tower in the southern part of the county to help meet those communication needs.
Elmore County will also have access to a portable satellite truck known as a Cell on Light Truck - or COLT. With 72 COLTs on call around the country, one of trucks could be in place within 14 hours, helping to ease the struggle of bad communication in out-of-bounds emergency situations.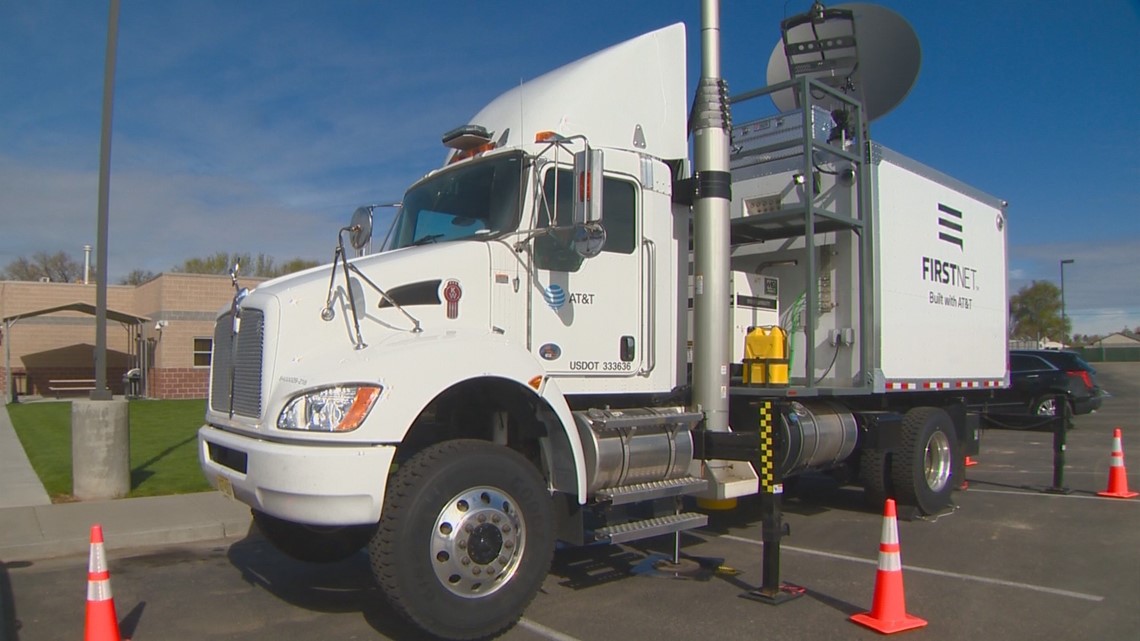 "Because we are rural and we have a lot of challenges and if we can overcome those challenges with FirstNet and make that happen, the rest of the agencies in the state of Idaho will be more than happy to jump on board," Hollinshead said.
The county's patrol and jail units are already using FirstNet and Hollinshead expects all capabilities of the partnership to be fully up-and-running within six months.
NOTE: An earlier version of this story said that Elmore County is the first county in Idaho to join FirstNet. It was corrected after Washington County Sheriff Matt Thomas reached out to tell us his county has been using the system since 2018.