BOISE - Memories, messages of gratitude, and silence filled the halls of Amity Elementary School today. A big difference from the usual sounds of students talking and laughing.
The school will be torn down next week.
But thanks to voters who approved a $172.5 million bond last year, students and faculty members are moving to a new building just a few feet away.
The students left their mark on the walls, signing their names and sharing their favorite memories before walking out the doors one last time.
"The students on the last day of school wrote their favorite memory, signed their name or drew a picture that really illustrated their time during their career at Amity," said Principal Valerie Uhlorn.
When asked what her favorite memory was, Uhlorn said emptying the 24 buckets on the leaky roof every time a storm rolled through the valley.
Classes say goodbye to Amity Elementary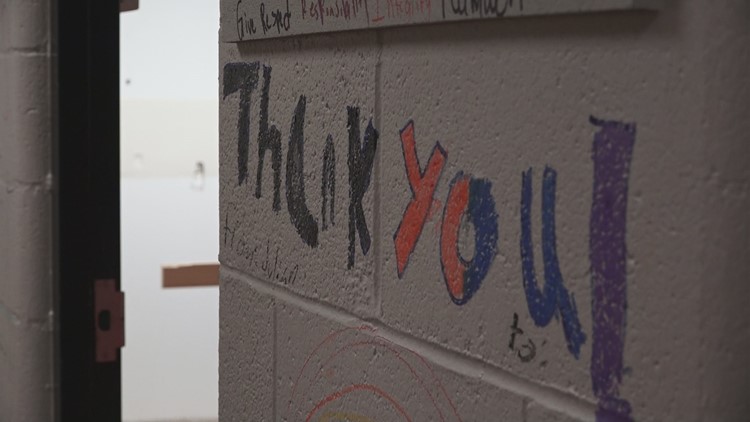 She says they get a good laugh about it now -- but thanks to the bond, her staff won't have to empty buckets anymore.
"We finally have a school that represents the rigorous curriculum and instruction that we do with the Boise School District and it's going to be a positive change for everybody," she said.
The building has been around since 1978 and was featured in Time Magazine and Architectural Digest.
An update on the progress of the new Amity Elementary, as well as several other schools in the Boise School District that are being impacted by the passage of the bond.
It's all a part of a 10-year master plan that will provide improvements to all 48 schools in the district.
Construction on the new Amity Elementary School building, which will sit right next to the current building, began last summer and is expected to be complete in August, just in time for the first day of school. Finishing touches are underway.
Seventy-year-old Whittier Elementary School was built to hold 300 students. Their current enrollment sits at nearly 500 students.
The new school will be at the same location and address overcrowding and safety concerns. Construction is expected to be completed in December.
Hillside Junior High at the end of 32nd Street at Hill Road was built in 1960 and originally intended for temporary use. Nearly 60 years later, the school is overcrowded and outdated. Crews are working to expand the cafeteria and performing arts classrooms to help ease overcrowding.
The Dennis Technical Education Center has been working with industry representatives to identify specific needs for students to succeed in their post-secondary education careers.
The district will expand the school to include job-training skills in programs like electrical, plumbing and HVAC. The upgrades are expected to be complete in August.
And Boise High School is getting a complete remodel of their gym which, when complete, will seat nearly 2,000. The gym, before the remodel, did not meet ADA requirements and the basketball court was not regulation size.
Connected to the gym is a new performing arts center with a micro-theater, music classrooms, a weight room and athletic storage. Crews have been redoing and updating the 110-year-old school and expect to wrap things up by October.
And finally, Timberline High School, which was built in 1994 as Les Bois Junior High but was converted into a high school four years later and is now bursting at the seams with the growth in southeast Boise. The bond will help expand the building, update science labs and art classes, as well as many other things. Construction is expected to be complete in August.