BOISE, Idaho — Idaho gardeners grow many things, from fruits and vegetables to beautiful flowers. But one flower is at the top of the list for beauty and diversity – and that's dahlias.
This week on 'You Can Grow It,' KTVB Garden Master Jim Duthie takes us to a Boise woman's dahlia garden to look at the variety of colors, sizes and shapes of this spectacular flower.
Some of the showiest flowers in summers here in Idaho are these dahlias you find in many backyard gardens and parks. They are show stoppers, and we're going to talk with a woman who has a beautiful dahlia garden here in east Boise.
Dahlias come in an array of colors, shapes and sizes. There are thousands of different varieties, with new hybrids being developed all the time. Gardeners in the Treasure Valley love to grow these beautiful blooms.
Like Meredith Lynch, whose dahlia garden extends across the back and side of her house with well over 100 plants. So, what does she find so appealing about dahlias?
"I think it's the difference. I mean, you have this, you have a big one, you have spikey one – they're all different," Lynch said. "While roses mostly look all the same, just different colors. Dahlias are completely different shapes and sizes."
Dahlias are categorized into groups based on color, flower type and size. Lynch knows the names of each dahlia variety in her garden and broke down each with Duthie.
Shown below is labyrinth and bubbling over: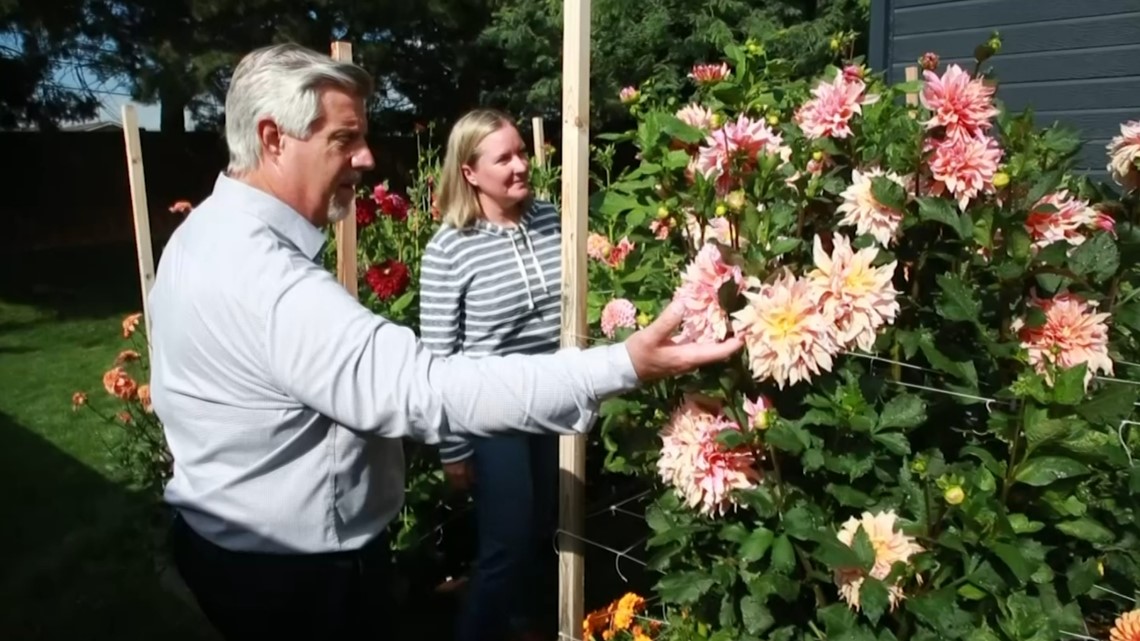 The pretty ball dahlia below is called snoho doris.
"Soho is for Snohomish, Washington, from the person who created that dahlia," Lynch said. "They named it after somebody named Doris, so it's soho doris."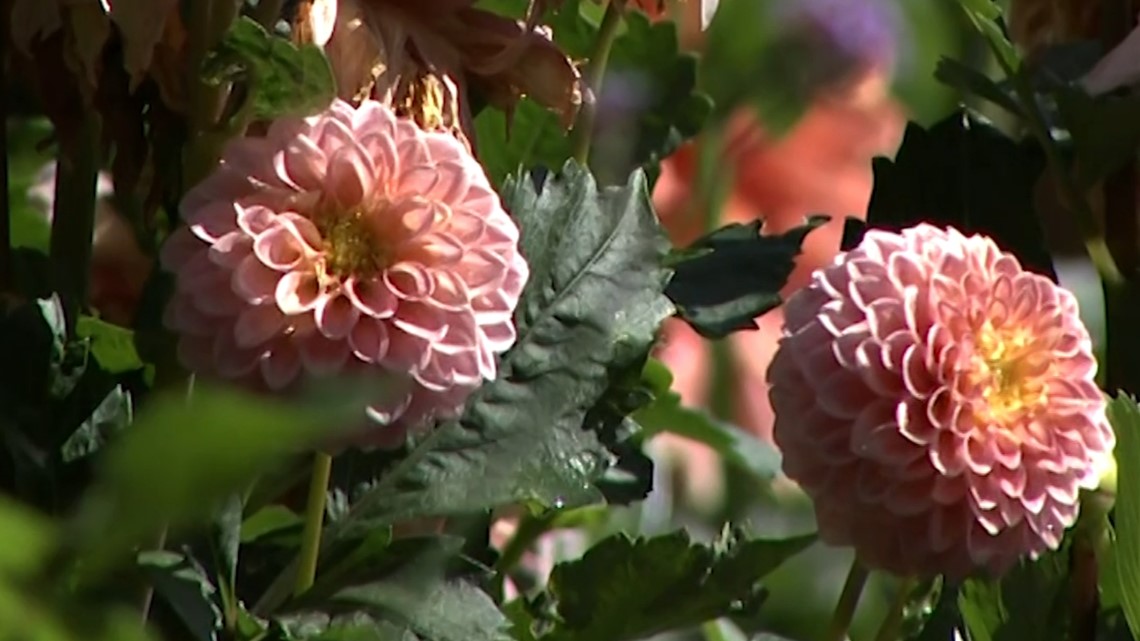 "This one is called Sandia Brocade, and it is an Anemone. That's the form of it," Lynch said.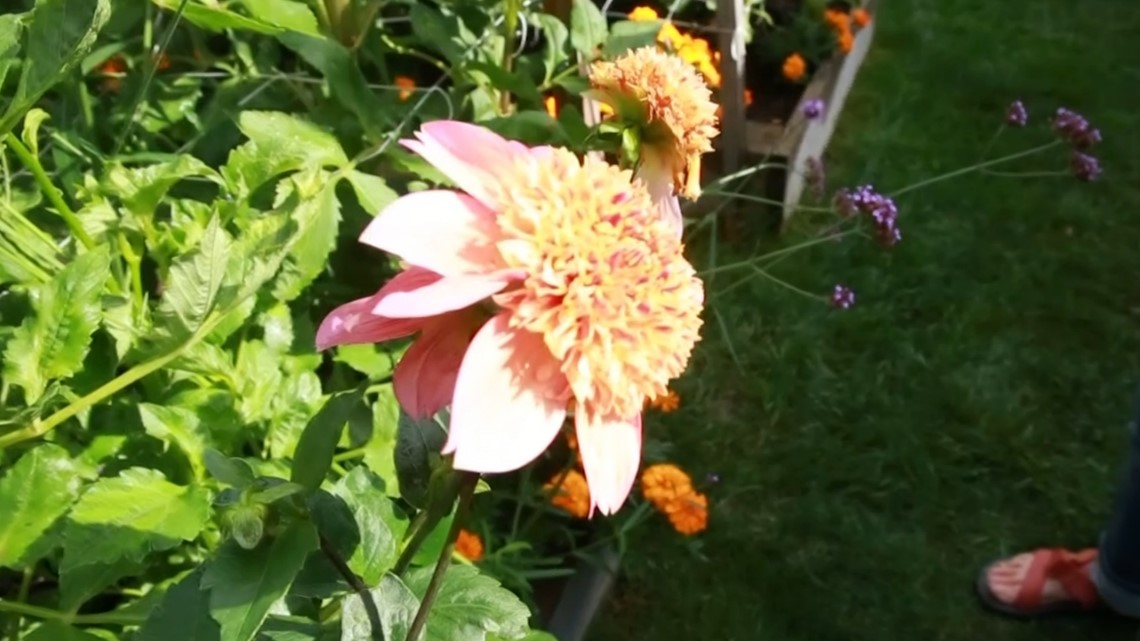 This maroon beauty is called diva: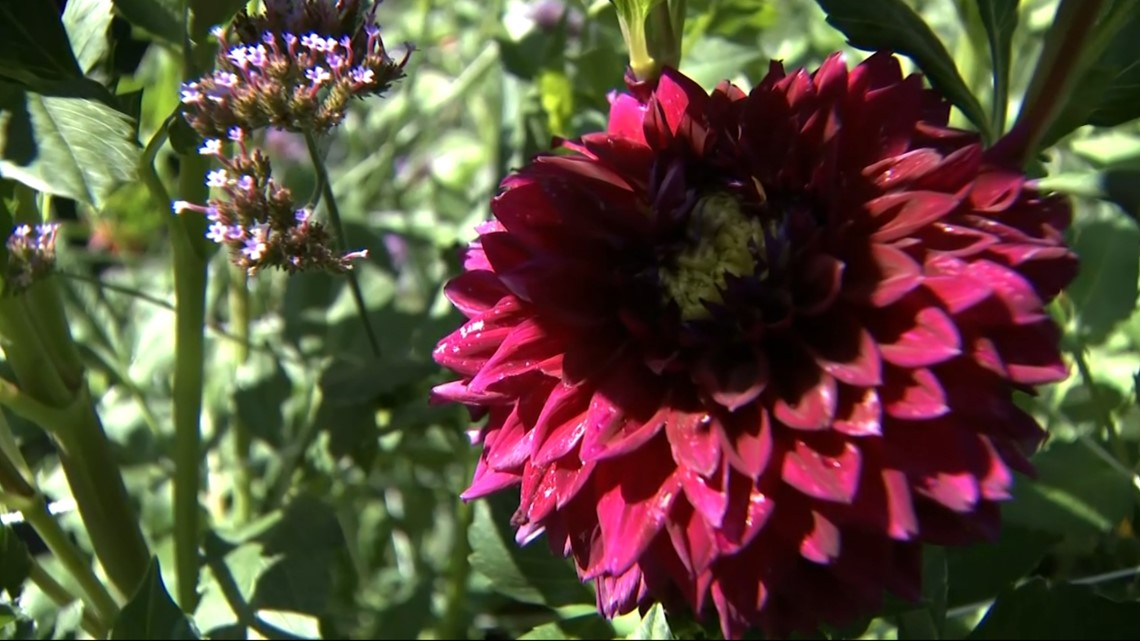 Finally, Lynch shows off one of her favorites. She said it's "called hollyhill black beauty, and it's kind of a stunner."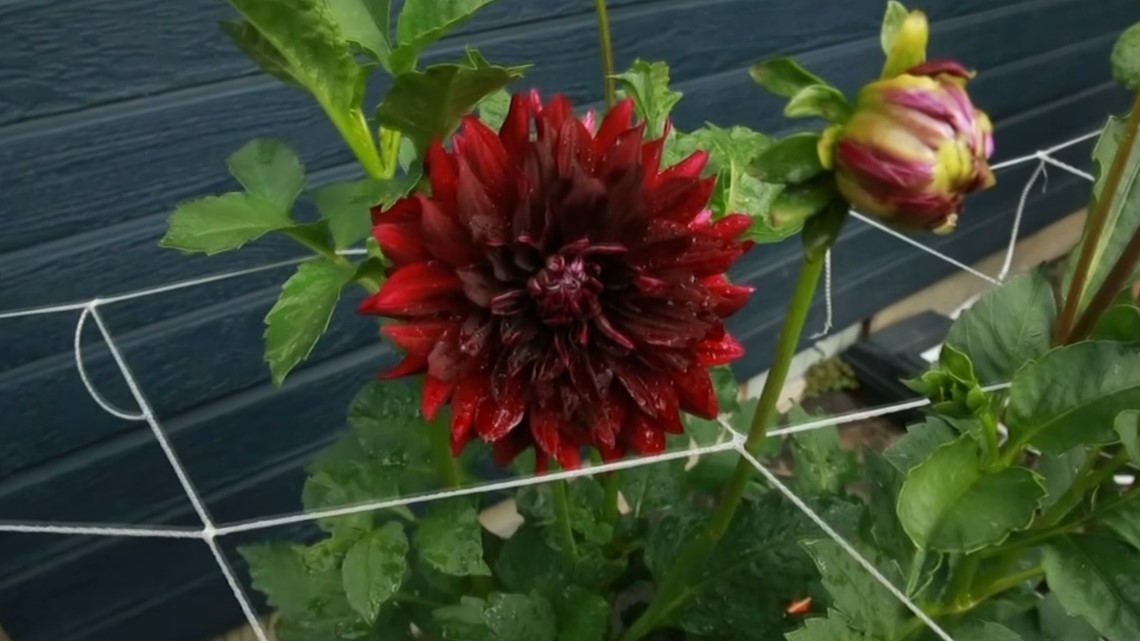 Lynch is a founding member of the Southwest Idaho Dahlia Society, whose members love to grow dahlias, share growing tips and help new dahlia growers get started.
"The dahlia community loves to talk about their flowers. They love to show you their flowers, and truly, it's like Christmas morning," Lynch said. "Every time you come out, a new one opens up. It's like you get so excited for what's going to happen because you don't know until it opens in your own garden what it will look like."
Dahlias will stop producing flowers during the intense heat of summer, but once temperatures start to cool down, the show begins.
"June and July in the dahlia patch is a little sad," Lynch said. "Then you come out here at the end of August, and you go, 'wow, I've got a bunch of flowers.'"
In the fall, to prevent them from freezing over the winter, the stalks of the dahlias are cut off, and the crown, along with the clusters of dahlia tubers, like small bulbs, are dug up and stored.
"You need the entire crown, and your crown has to have an eye on it. If it doesn't have those things, then they're considered blind tubers and they won't grow the next spring," Lynch said. "I think the first year, I grew about 25 dahlias, and I lost every one in the fall because I did not know how to store them properly, so they all rotted. It was very sad. The next year, I think I bought 130 dahlias."
Since then, Lynch has found success.
For anybody interested in growing dahlias but thinks they can't grow them, Lynch has just one thing to say, "you can grow those things." As always, You Can Grow It!
HERE ARE MORE WAYS TO GET NEWS FROM KTVB:
Download the KTVB News Mobile App
Apple iOS: Click here to download
Google Play: Click here to download
Stream Live for FREE on ROKU: Add the channel from the ROKU store or by searching 'KTVB'.
Stream Live for FREE on FIRE TV: Search 'KTVB' and click 'Get' to download.