MURPHY, Idaho — Owyhee County, Idaho's second largest, has nearly 7,700 square miles of mostly sagebrush, wide open spaces and mountains. Here, in the southwest corner of the state, signs of life aren't always easy to find.
But at Idaho's Owyhee County Museum, in the middle of Murphy, reviving relics of times long dead and gone is what they do.
Like bringing back to life a 1915 Model T Ford or a 1940 John Deere tractor. But found among the hundreds of horse bits, family photos, and wardrobe of women's clothing was something that didn't actually die.
"The light bulb box would've been found in here," says museum director, Eriks Garsvo. "And this is one of our vaults."
Eriks only been on the job for a few months but in his first few weeks he found a box that had been sitting unnoticed since 1986. Inside, a bunch of light bulbs dating back before Teddy Roosevelt became president, before Henry Ford founded his motor company, and before Crayola crafted crayons.
So, Eriks plugged one of them in.
"Because I saw the filament looked good," says Eriks. "So (I thought) I'll test it and, by God, it came on."
Eriks says the bulb was traced to Silver City, around 1903, a few years after the town first got electric power.
"And it somehow survived being transported up that dirt road, back down that dirt road and then made it to the museum," he says.
Century-old light bulb just one of many unique artifacts at Owyhee County Historical Museum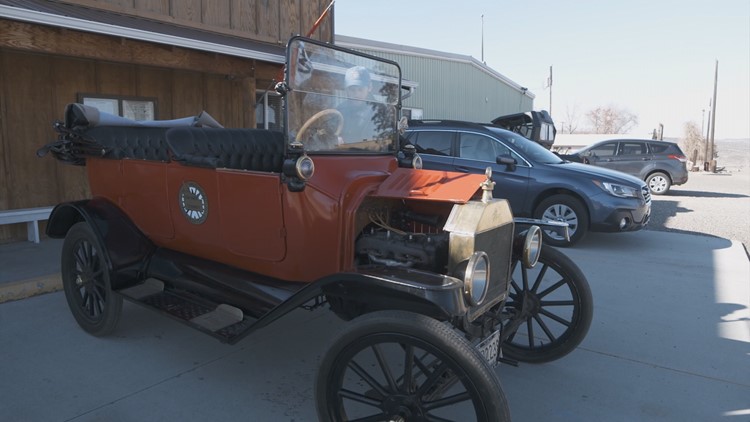 And here it will stay, likely still lit, adding to its 116 years of faultless filament. Erik hopes that along with kitchen sets and sheep camps, typewriters and typesetters, the bulb might help shine some light on the history of Owyhee County.
"Yeah, I think it's pretty cool," Eriks says." It's very unique to have something that old and still works."
Meanwhile, Eriks works to find even more old stuff.
"Huh, newspaper," Eriks says, pulling more artifacts out of a box.
He says the bulb will continue burning as part of a new Silver City electricity exhibit they hope to have ready by this summer.
Note: Watch the 360 Idaho Life videos on mobile in the YouTube app for the complete immersive virtual reality experience.