WASHINGTON — A mixed bag of snow, sleet and freezing rain could cause slick roads and less-than-ideal driving conditions for part of the weekend. Slick driveways and sidewalks are a big concern Saturday for areas northwest. Please be careful walking.
Below we walk through how much ice to expect, the futurecast & timing, and what to expect for the roadways.
Main Points - What You Need to Know:
We are done with snow
D.C. is now above freezing and done with winter weather
Areas northwest of the metro near Frederick and Hagerstown will have a wintry mix with sleet and freezing rain through the afternoon
Areas near and south and east of the D.C. metro will only deal with rain the rest of the day with temps above freezing.
The greatest impacts to travel will be north and west of the D.C. metro area where untreated roads could be slick
Watch for slick sidewalks and driveways NW
A Winter Weather Advisory has been issued for areas north and west of D.C. for the potential travel impacts the additional wintry mix of sleet and freezing rain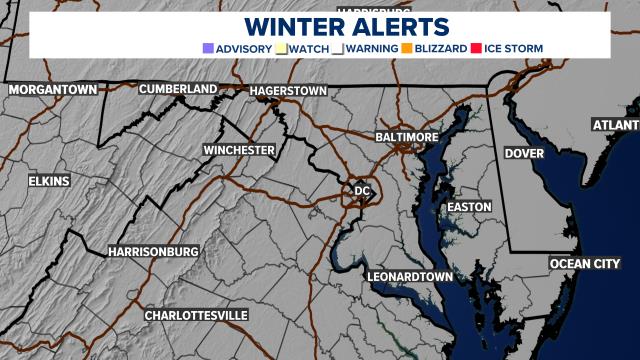 Areas on the northwest of the metro near Leesburg and Gaithersburg could have a glazing to a tenth of an inch of ice possible. Locally, between Frederick to Hagerstown to Martinsburg, we could see up to a quarter of an inch of ice in these areas, which is enough to bring down some small limbs and tree branches and cause an isolated power outage.
Futurecast and Types of Precipitation
Saturday Afternoon - Winter 'slop' will continue working through the area for the afternoon. It's not a steady rain/sleet/freezing rain, but rather some periods of rain and wintry mix.

For areas in the D.C. metro, a light wintry mix is possible with sleet and freezing rain mid-day, which will change to just rain as temps climb above freezing in the early afternoon. Northwest of the metro, this wintry mix is more likely, especially near the Catoctins (Frederick County, Md.) down to Skyline drive. For southern Maryland, temperatures will be climbing above freezing and it is mostly rain.
Futurecast shows what Saturday afternoon could look like across the DMV. The light wintry mix is ongoing on the northwest side of town, and just rain showers further southeast.
Saturday Evening - Areas in the D.C. metro will all be above freezing. But the temperatures northwest near Hagerstown and Frederick could still be hovering at or below the freezing mark into the early evening with freezing rain still possible. By mid evening they should also climb above freezing.
Road Conditions
The biggest concern in the D.C. metro area will be Saturday morning, when a little light snow could create slick spots on untreated roads. Main roads should be just fine. The same goes for areas north and west of town in the morning. Main roads are fine, but untreated roads could turn slick. Northwest of town, the slick spots could be ongoing for untreated roads the remainder of the day with a light wintry mix in the cards.
Recap: Saturday Wintry Mix, Impacts
A weekend storm will bring snow, a mix, and rain to the DMV.
We're done with snow for the day. But a wintry mix will linger through the afternoon north and west of the inner metro. For the D.C. metro, early afternoon sleet and freezing rain transition to just rain showers later in the day.
Untreated roads northwest of town could be slick throughout the day, especially bridges and overpasses. Sidewalks, driveways and parking lots will also be slick.
Some flights could be delayed as well this afternoon while wintry weather continues.