BOISE -- Local emergency services had more than 100 crashes and slide-offs to contend with Thursday morning as heavy snowfall blanketed the Treasure Valley.
In Ada County, crews had responded to 91 wrecks, 20 slide-offs, nine hit-and-runs and 30 stalled cars by noon. People were injured in six of those collisions, officials say.
Canyon County drivers fared a little better, with 13 wrecks, 14 slideoffs and one hit-and-run. Just one of those collisions was an injury crash.
Even school buses were not immune to the slippery conditions.
One bus carrying students slid off the road and into a stop sign near the intersection of Victory Road and Lindsay Avenue at about 9:30 a.m., according to the Boise School District. District spokesman Dan Hollar said the accident happened after the bus driver stopped, tried to go forward, and lost traction, sliding into the sign.
Two elementary-aged students on the bus when the slide-off happened were placed on a different bus. No one was hurt, and the bus driver was not cited, Hollar said.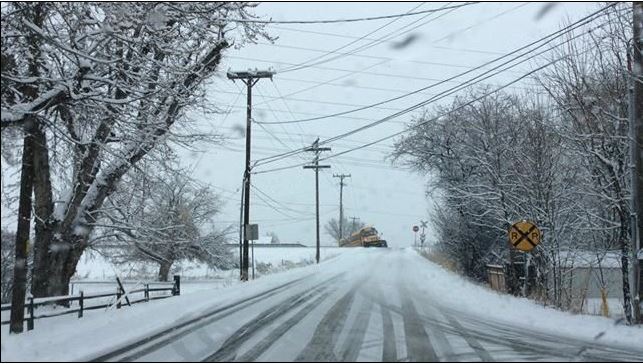 Earlier in the day, another school bus slid off on Robie Creek Road. That vehicle was not carrying any children. Although the driver was OK, the bus became stuck in the snow, prompting students who live along Robie Creek Road to be excused from class.
About four inches of snow fell in the Treasure Valley by 10:30 a.m., according to KTVB Meteorologist Larry Gebert, leaving roads slick. The snow is expected to continue in the Treasure Valley until about 1 p.m., with snowstorms moving into the Magic Valley by 1:30 p.m.
Drivers are urged to go slowly and use caution when road conditions are icy. When driving on snowy streets, motorists should leave plenty of room to stop.
This story will be updated.