BOISE, Idaho — Weather watchers who turned their eyes to the west on Thursday afternoon, as a line of severe thunderstorms moved through, caught sight of an ominous formation. The picture above shows a shelf cloud, with a wall of dust beneath it. The dust that this storm is pushing out from its leading edge is known as a haboob.
A haboob, simply put, is a large dust storm. This type of weather event is very typical for dry, desert-type climates, like the desert Southwest. It's especially common for dry thunderstorms to produce a haboob, though meteorologist Larry Gebert says our line of storms on Thursday wasn't dry.
"The cloud formation was very similar, but ours had a lot of moisture not just dust," he said.
A haboob can form during a strong thunderstorm as the storm releases a powerful gust front. This strong wind will push down and outward from the thunderstorm at very rapid speeds, and kick up any dust or debris it can find at the surface.
During Thursday's storms, weather observation sites in Boise were recording wind gusts between 60-65 mph.
There were multiple severe thunderstorm warnings that were issued by the National Weather Service Boise on Thursday. When a "warning" is issued, it means that there is confidence the storm is bringing about strong wind gusts of at least 58 mph, and/or large hail of at least one inch in diameter.
The greatest threat with Thursday's storms was the strong wind, which was apparent in the aftermath with many reports of damage.
Everyone should seek shelter when a storm of this nature rolls through, Larry says.
"If you see lightning or hear thunder, seek shelter because you're in danger of dying," he said.
According to the National Weather Service, lighting can travel around 10 to 12 miles away from a thunderstorm. As the old saying goes, "When thunder roars, go indoors."
Larry estimated that Thursday's haboob was 20-30 miles across. The storms dropped 0.31" of rain in Boise, and caused a dramatic drop in temperatures, from 70° to 54°, in just 15 minutes.
Photographs capture haboob during Thursday storm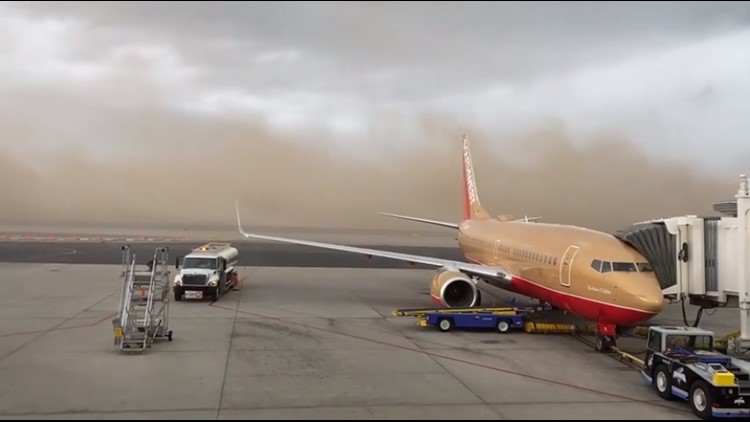 Larry said that storms that roll in from the southwest are often more severe because they get stronger as they move over the Owyhee Mountains. The energy from the storm acts like river water flowing over a rock, he said - gaining power as it crests, then crashing into the "eddy" of the Valley below.
Many people snapped photos of the haboob Thursday, and shared their pictures with KTVB, including in our Idaho Weather Watchers Facebook group. Larry says those who missed the sight may not have too long to wait for another chance.
"This is the time of the year that we get these kinds of storms," he said.