BOISE, Idaho — More than three weeks after the official start of spring, Boiseans experienced what felt like the first day of the blossom season on Saturday. The City of Trees reached 60 degrees on Saturday, and snapped some weather records in the process.
For the first time since Nov. 1, 2022 – or 157 days – Boise hit or surpassed the 60-degree mark. The 157-day stretch sets a new record for consecutive days below 60 degrees, topping the previous record of 153 days set in 1899.
Boise has gone without a 60-degree day four times on record including the 2022-2023 run. In 1891 and again in 1962, the temperature stayed at 59 degrees or below for 151-straight days.

Additionally, Saturday's breakthrough marked the latest date on record for Boise to reach 60 degrees, by one day. The previous record dated back to April 7, 1938.
According to KTVB Meteorologist Bri Eggers, the average date for the first 60-degree day of the year in Boise is March 4. This year, the City of Trees and Gem State experienced a whirlwind of wintry weather in the month of March.
The earliest Boise has ever hit 60 degrees happened right off the bat on New Year's Day of 1997.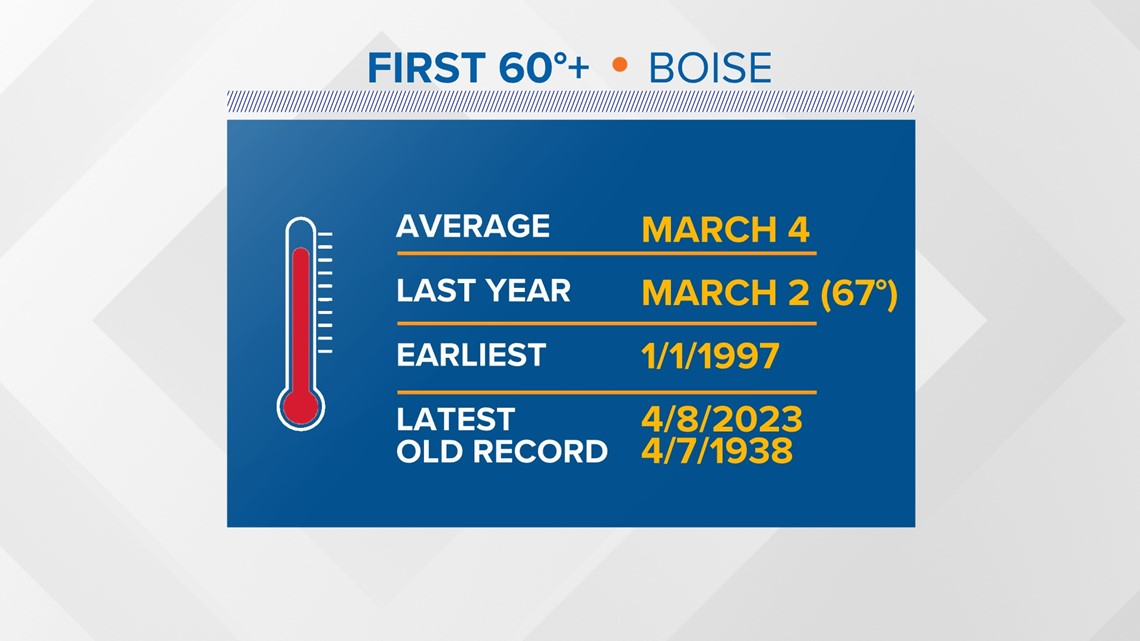 The good news will continue for fans of summer-like weather through Easter. According to Bri Eggers' seven-day forecast, the high for Sunday will be near 70 degrees in Boise, followed by a high of 77 degrees on Monday. Tuesday will be significantly cooler, however.
Check out the full forecast from Idaho's largest, most-experienced team of meteorologists by clicking here.