RIGGINS, Idaho — Anyone planning to travel US Highway 95 near Riggins will have to find an alternate route.
The road is currently blocked in both directions from milepost 186 near Pollock to milepost 199 near Riggins. The Idaho Transportation Department is unsure when the road will be able to reopen.
Megan Sausser, public information officer for ITD, said they don't know the cause of the rockslide. She added the area is very active and prone to rockslides and mudslides.
The current slide is 120 feet long and 40 feet deep. Sausser said some of the rocks are extremely large, some of them measuring 20 feet across.
To clear those large rocks, Sausser said crews will have to break them up on the road in order to haul them off. Because of that she said it won't be a "quick cleanup."
Currently, the slide is still active so it limits the works crews can do.
Rockslide on Highway 95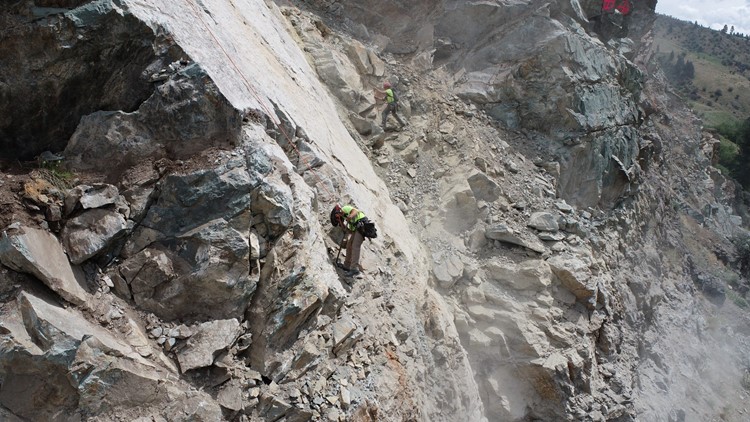 "I'm told that the slide is still active so we still have rocks coming down which means we cannot send our people into the heart of the slide to start taking care of it," Sausser said. "What we are doing is mobilizing equipment and people from around the region. We have about two excavators, two dozers, two loaders and 12 trucks coming from all corners of the area just to get there and when it is safe to really work on it, we're ready to go."
ITD crews are working to get at least one lane safely open but have been unable to do so.
There are no local road detours in the area.
Updates on the slide and road closure can be found by checking ITD's 511 page.
This is a developing story and will be updated as more information becomes available.