BOISE, Idaho — Just in time for spring break, Idaho's average price for a gallon of regular gas dropped out the nation's top-10 list for most-expensive fuel, AAA announced Friday.
Unfortunately for Gem State drivers, the St. Patrick's Day luck is nothing drastic. Idaho now sits at No. 11 for fuel prices nationally, with an average of $3.64 per gallon.
The state's average is down four cents from last week's mark of $3.68 for a regular gallon of gas, according to AAA Idaho. The national average dropped by just a penny over the last week, down to $3.46 per gallon on Friday.
AAA Idaho said the cost of crude oil dropped by more than 10% this week, as concerns following recent bank failures have "sent shockwaves through the crude oil market."
The West Texas Intermediate (WTI) is trading around $67 per barrel of crude oil, which is down by $9 from last week.
Idaho trails the following state's for most-expensive fuel: California ($4.87), Hawaii ($4.83), Nevada ($4.29), Washington ($4.24), Arizona ($3.95), Oregon ($3.88), Colorado ($3.82), Utah ($3.82), Alaska ($3.80) and Illinois ($3.64).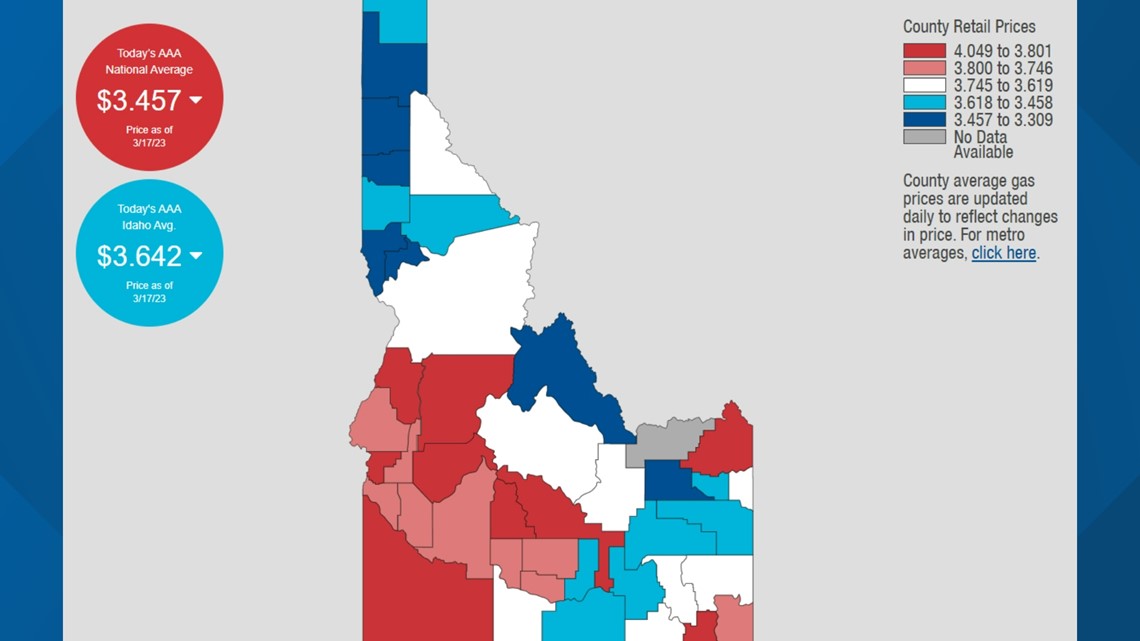 "With a handful of banks experiencing serious financial challenges, and ongoing concerns about the possibility of a recession, crude oil prices have dropped this week. Crude oil makes up more than half of the price of finished gasoline, so a sustained run of lower crude costs could eventually translate to lower prices at the pump," AAA Idaho public affairs director Matthew Conde said. "But keep in mind that the fuel that's already been bought and paid for by retailers will need to cycle through before there's a chance that lower crude prices can result in cheaper replacement costs."
The current national average for diesel sits at $4.31, down five cents from last week and 21 cents lower than one month ago. AAA lists Idaho as the 18th most-expensive state for diesel, with an average price of $4.42.
See the latest news from around the Treasure Valley and the Gem State in our YouTube playlist: