SMITHS FERRY, Idaho — The Idaho Transportation Department (ITD) extended the closure of Idaho Highway 55 through Tuesday afternoon due to a rockslide that has buried the highway in debris.
Conditions were monitored over the weekend but it was determined Sunday afternoon that it is still unsafe and will remain closed.
"At this point, our ITD team can't confidently open the road with the existing risks to the traveling public and crews," said Caleb Lakey, ITD District Engineer. "Recent weather conditions paired with the weakened hillside, rock and soil from the slide has created a situation that requires further considerations before we can allow cars through. We know ID-55 is an important travel corridor in Idaho and we are working hard to open the road safely."
The Idaho Transportation Department has extended the closure of Idaho 55 through Sunday due to a rockslide that has buried the highway in debris.
The rockfall happened Monday night around milepost 99, between Smiths Ferry and Cascade, and the highway is completely blocked.
ITD crews monitoring the slide and say they have seen continued movement of the hillside. The decision to keep the highway closed through the weekend was made after the area was evaluated by a national rockslide expert.
"Safety of the traveling public, as well as the crews who are on site, is our top priority," said Jason Brinkman, ITD District 3 Engineering Manager. "These decisions are not taken lightly. We understand that this road closure is not ideal, and are working extensively to reopen the road as soon as safely feasible."
ITD crews will continue to monitor the slide zone through the weekend, with an eye on storms forecast for the area.
The national experts assisted ITD in the past with the 2020 slide on U.S. 95 near Riggins. Geotechnical engineers conducted a preliminary assessment and believe there is risk that more rocks may slide. Work is focused on creating protection for at least a single travel lane on the highway from additional rockfall.
ITD has coordinated with emergency service providers to ensure critical services remain available for the community.
Crews have been doing construction and controlled rock blasting in that area as part of a project to widen the road and add guardrails. Officials say there is no indication the work there directly triggered the slide.
"We do feel at this point in time that a landslide was a naturally occurring landslide," said ITD's public information officer, Jake Melder.
There were no injuries to report. An excavator being used for the project did get hit by falling rock and debris.
"The rock and earth in this area is historically unstable," said project manager Alex Deduck. "We saw a significant slide in 2019 just south of here. Last night's slide is another example why our project is so important."
Officials had previously announced the highway would be closed from 10 a.m. to 2 p.m. Monday through Thursday, with one-way alternating traffic outside of those hours.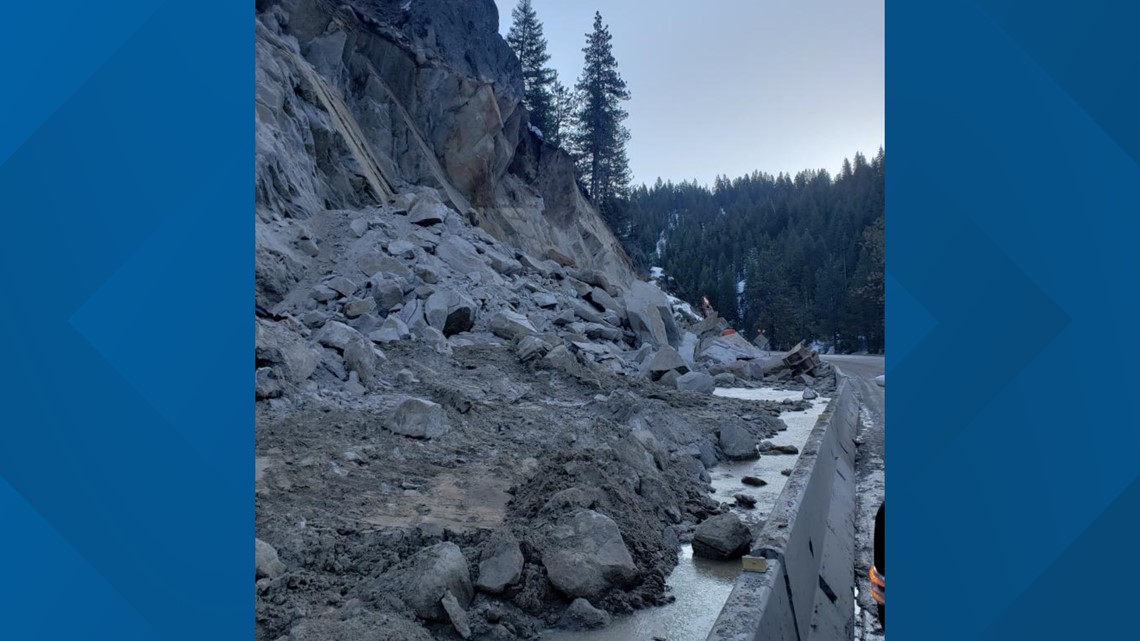 The Smiths Ferry to Rainbow Bridge project will remove thousands of tons of rock and earth from the adjacent hillside to widen the highway, create rock catchment ditches, and reduce the severity of curves.
"At this point in time we don't anticipate there being any significant impacts to the project, interestingly enough the project was designed to have this material removed, we were actually actively working on a plan to schedule for this particular area and Mother Nature beat us to the punch," Melder said.
He adds that the rockfall serves as a good reminder for folks to drive attentively because you never know when those hazards will be on the roadway.
"What happens with spring is we end up getting thaw, the snow will thaw out but then overnight it'll freeze up again, that water will expand and that's when it causes rocks to slip off," Melder said. "Most of the time it's only going to be a small rock or a boulder, but we will get times when entire rock shelves will go, like we saw last night."