BOISE, Idaho — It's flashy, full blast, and fan-friendly. It's also fast-paced and sometimes hard-to-follow with so many moving parts.
These are all are good descriptions of sports at Boise State University, even those that are played in padded chairs.
This is Boise State eSports.
Like basketball or football or any other varsity sport, they play as a team, they compete against other colleges, they have their own broadcast team they call "casters," and they have a faction of fans and family that fill any empty space in the GamePants arena.
"We don't even know which one my son is really," Darin Strickler, who is trying to follow the action on a big video screen in front of him, said.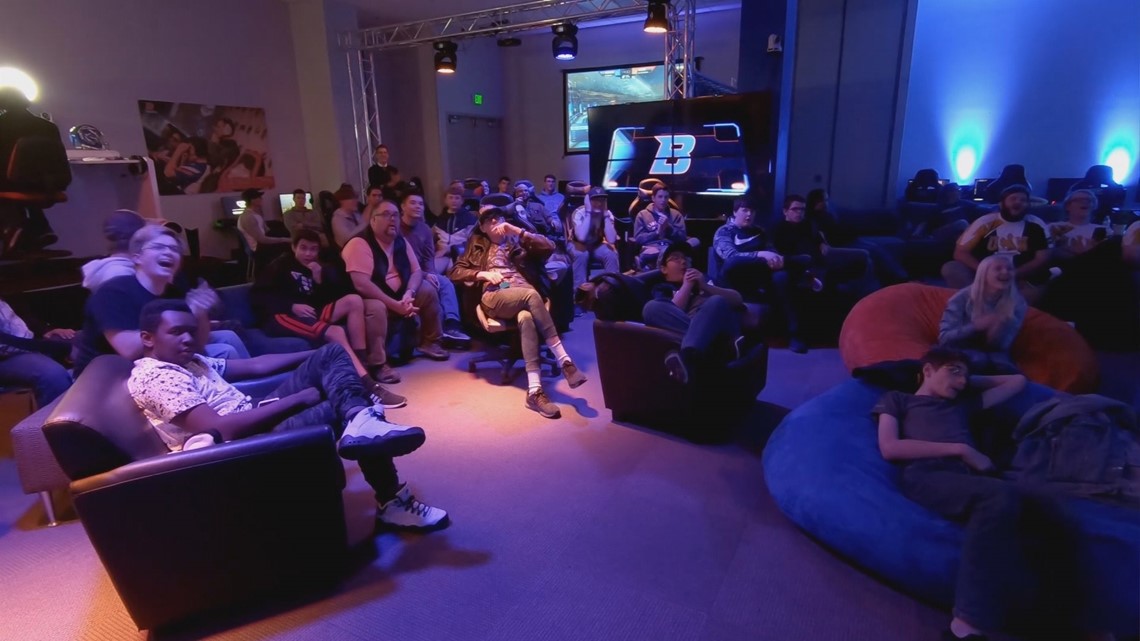 So yeah, it's pretty much the same scene, just a different diversion.
"The only difference in eSports is really just the 'e,'" Boise State eSports head coach, Dr. Chris Haskell, said.
That's a bold statement but not necessarily an overstatement.
Just like other sports game-day performance is a product of practice, which they do on a second-floor classroom on campus that is stocked with computers where the team's 65 players can sharpen their skills, sometimes like it's a full-time job.
"I'm playing a lot more than most people," freshman Joe Chigbrow said. "I'm about 45 hours a week."
Only 20 of those hours are spent here since, just like other varsity sports, instruction time is limited.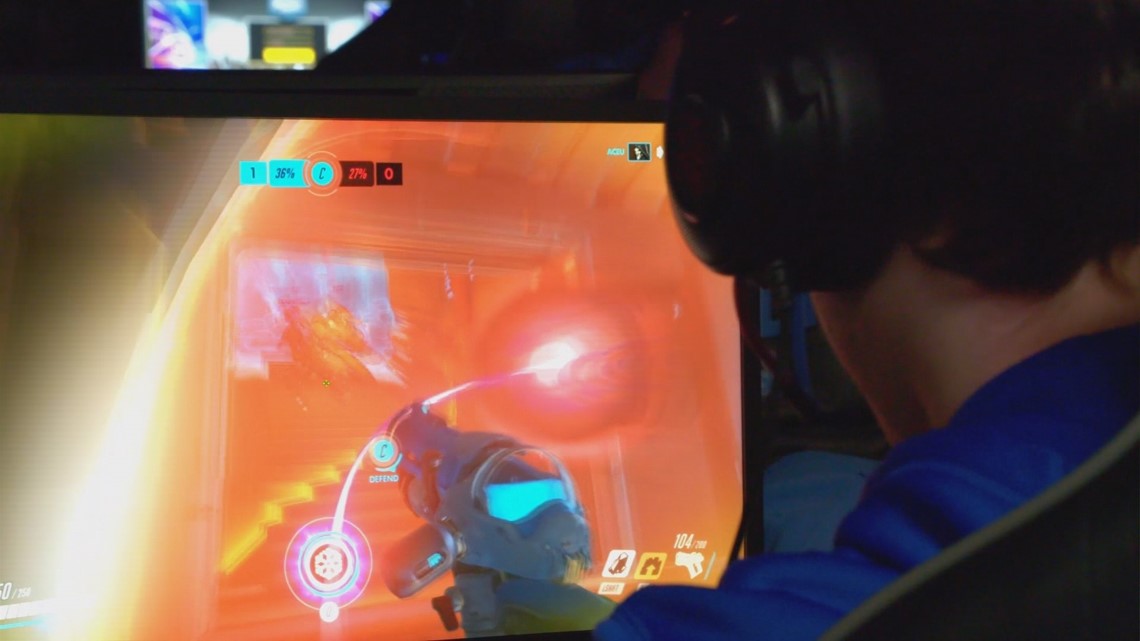 What hasn't been limited is the progress of the program.
"It's pretty crazy how much it's grown in the past few years," Trevor Lutz, a junior who was one of the original team members, said.
In 2016 Doc Haskell was doing some research on gaming.
"And I discovered very quickly that eSports was about to explode," he said. "And that we had this kind of generational opportunity to be the first."
That September two dozen student-athletes showed up and showed an interest in getting a gaming-team going.
"'You're going to school for gaming?!'" senior Madisyn Benge mimicking what her family says when she tells them what she's doing at Boise State. "'What? How do you do that?!'"
Madisyn, or N3rdybird as she's known on the screen was also one of the originals. At that time there were only seven other varsity eSports teams across the country.
Today there are more than 170 member-schools in the National Association of Collegiate eSports.
So how do the Broncos fit into that field?
"We're really good at some of these games," Dr. Haskell admits.
Let's put it this way, no other Boise State program - in any sport - has gone from formation to domination in such a short time.
From their first match in early 2017 to now they've won more than 250 times.
"We have the most wins of any collegiate program right now," Dr. Haskell said.
The wins line up like the list of other Bronco accolades.
"We've played more games, we have the biggest broadcasting program associated with our eSports program," DR. Haskell continued. "We had the first female team captain in collegiate eSports, any year we're probably the third most-watched program on campus."
They are the second most viewed eSports program for college eSports on Twitch with more than 200,000 unique viewers.
They have the most wins for any varsity eSports program. More than 500 broadcast hours makes them the most active in the country. They have the most active varsity members with more than 60 student-athletes and with more than 300 students, they have the largest eSports club in college. Most colleges only have clubs and no varsity team.
And they are ranked top-10 in all four games they play, including Rocket League.
"Car soccer with rockets," Joe laughs while explaining the game. "That's about it."
They also play League of Legends, Hearthstone, and Overwatch, which is a bit more complicated.
"I have no clue what's going on," Darin, who is trying to watch his son, Garrett Strickler, play for the fourth time, said.
"See, he's eliminating people, you can see who he's eliminating," Darin tried explaining to the group he brought with him.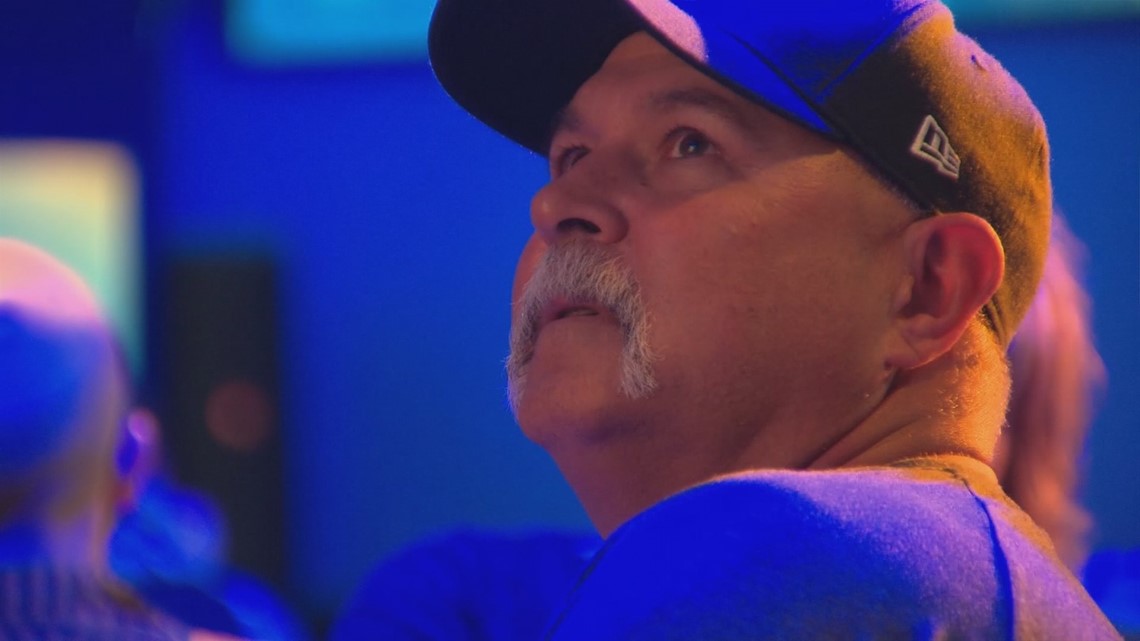 While he's still not completely sure what's happening in the game, Darin recognizes what's happening in today's collegiate landscape.
"After all the years of me telling him not to play games he's up here playing in college," he said. "So, it's good."
And soon his son could be playing games on a scholarship, just like any other athlete.
Something the professor-turned-coach Dr. Haskell sees as the next step to making going to school and getting a degree more attractive to the next generation.
"To let them keep doing the thing that they're really good at for the university," he explained. "In the process of becoming the next version of themselves. That's collegiate athletics."
So is it sports? That's debatable. What isn't, the fact that eSports aren't going anywhere and is likely going to get more popular.
"Somewhere between football and field hockey," Dr. Haskell said. "But probably closer to football."
"This is eSports, there's no gender involved, there's no age involved," Madisyn said. "It's how well can you play this game, how much are you willing to learn, how much are you willing to grind in this game to get better."
I guess that makes it just like any other game.
"Gaming's never going to die," Madisyn added. "It's just going to evolve."
Dr. Haskell expects eSports will eclipse football when it comes to collegiate participation simply because of cost.
He says he still can't believe he gets to sit in living rooms and recruit kids to play video games for the Broncos.
Again, Doc Haskell emphasizes, BSU eSports are a major incentive for Idaho kids to get a college degree.
With a major sponsorship deal in the works, Dr. Haskell says they plan to start offering full-ride scholarships as soon as spring of 2020.