BOISE — The Boise State football team will face its toughest test of the season so far when it travels to Stillwater to face the No. 24 Oklahoma State Cowboys.
The matchup is one of three games on Saturday between ranked opponents and will feature two of the nation's top offenses. Oklahoma State (2-0, 0-0 Big 12) is currently ranked first in total yards per game (675), while No. 17 Boise State (2-0, 0-0 Mountain West) is ranked fourth (617).
Two games into the season, both the Broncos and Cowboys are firing on all cylinders, having demolished their opponents by a combined score of 231-57. Given that the lopsided results came against less-than-stellar competition, Saturday's matchup will be the first true test of the season for both teams.
Boise State is coming off a record-breaking game against UConn that saw the Broncos rack up 818 yards, including 514 in the first half. It was a balanced effort with 400 rushing yards and 418 passing yards. Quarterback Brett Rypien played just over half of the game, but still managed to throw for 362 yards and three touchdowns, and tied Kellen Moore's school record of 16 career 300-yard passing games. Defensively the Broncos allowed less than 200 yards and just one touchdown in the 62-7 win.
Combined with the 56-20 thumping of a solid Troy team in the season opener, the Broncos have shown to be one of the more well-rounded teams in college football, with strong play in all three phases of the game.
"They play well together and they're all experienced," said Oklahoma State coach Mike Gundy. "There's no substitute for experience at this level, period. They've got everybody back and they're veteran guys. They've been savvy and they've been successful. It's going to be a real challenge."
Meanwhile, Oklahoma State has put up equally gaudy numbers, blasting FCS foe Missouri State 58-17 in the opener and overwhelming South Alabama 55-13 last week. The Cowboys' new starting quarterback - Senior Taylor Cornelius - has big shoes to fill after Mason Rudolph, OSU's all-time leader in passing yards, was drafted by the Pittsburgh Steelers.
So far, so good for Cornelius. Through two games, he has shown marked improvement, completing 25 of 40 passes for 428 yards and one touchdown against South Alabama. The Cowboys also scored four rushing touchdowns, including two by running back Justice Hill.
"Their offense is explosive," Boise State coach Bryan Harsin said at his weekly press conference. "They're able to do about everything they want to do - run the ball, throw the ball. [Cornelius] is very good, accurate and can move. So, it's a major challenge for our defense to try to slow them down."
While both teams are extremely proficient at putting up big numbers, this game could come down to defensive play. Against lesser competition, both defenses have limited big plays by opponents and helped to get the ball back into their respective offense's hands.
GAME INFORMATION
Boise State at Oklahoma State
Saturday, Sept. 15
T. Boone Pickens Stadium, Stillwater, Okla.
Kickoff: 1:30 p.m. MT
ON TV
The game will be televised on ESPN, which can be found on the following channels:
Cable One: Channel 133 / 1133 (HD)
DirecTV: Channel 206
Dish Network: Channel 140
Cox: Channel 32
Announcers for the game will be ESPN's Adam Amin, Rod Gilmore and Quint Kessenich.
ON THE RADIO
Fans can listen to the game on the Bronco Radio Network, which can be found online or on the following stations in the Boise area:
KBOI 670 AM in Boise
KTIK 93.1 FM in Boise
KDZY 98.3 FM in McCall
KSNQ 98.3 FM in Twin Falls
BRONCO ROUNDUP GAME DAY
KTVB's Bronco Roundup Game Day show will be live from T. Boone Pickens Stadium from 9 - 10 a.m. on KTVB (Digital Channel 7.1) and KTVB.COM; and from 12:30 - 1:30 p.m. on KTVB.COM, YouTube, Facebook Live, and in the Bronco Roundup app. Join Jay Tust and Brian Holmes for a live look at all of the major storylines leading up to kickoff.
TOP 25 SHOWDOWN
The last time a ranked Broncos faced a ranked opponent during the regular season was a 17-13 loss to No. 13 Michigan State in the 2012 season opener. Saturday's game between No. 17 and No. 24 is expected to feature a lot more points on the board than the low-scoring affair in East Lansing six years ago.
For the Broncos there is more at stake than just bragging rights. Knocking off a Top 25 team from a Power 5 conference on the road would go a long way towards the team's goal of making a New Year's Six bowl game. If they can make through the season undefeated, there is an outside chance of earning a spot in the four-team National Championship playoff.
Since joining the FBS in 1996, Boise State is 13-16 all-time against ranked opponents, however, they have won three out of their last four against teams in the Associated Press Top 25.
In addition, the Broncos are 3-11 all-time in road games against ranked teams. The did win their last such matchup though, beating No. 19 San Diego State, 31-14, just last year.
Boise State has only one victory over a ranked Power 5 opponent in a true road game (both Virginia Tech and Georgia were neutral site games). It happened back in 2008 when freshman quarterback Kellen Moore led the Broncos to a 37-32 victory over No. 17 Oregon in Eugene.
BOISE STATE VS UCF
The Broncos and Knights aren't slated to play each other this year, but they are in competition for the coveted Group of 5 selection to a New Year's 6 game. The two teams are currently neck-and-neck in the rankings with the No. 17 Broncos ranked one spot ahead of the No. 18 Knights in both the AP Top 25 and the Amway Coaches Poll. The top-ranked Group of 5 conference champion earn an automatic bid to one of the big-money bowl games at the end of the season.
And while the teams face each other on the field this season, Boise State and UCF do share a common opponent in UConn. The Huskies were routed by both teams in consecutive weeks to open the season. UCF blasted UConn 56-17 in Week 1, while the Broncos destroyed the Huskies 62-7 in Week 2. The primary difference between the two matchups was how each team defended against the Huskies. The Broncos allowed just 193 total yards, while UCF allowed 486.
UConn coach Randy Edsall weighed in on the comparison after the drubbing in Boise.
"I think Boise State is probably a little bit better and a little ahead of Central Florida right now," he said before noting, "We got hammered by both of them."
Of course, none of this will matter if the Broncos don't take care of business this weekend in Stillwater.
PHOTOS: Boise State vs. UConn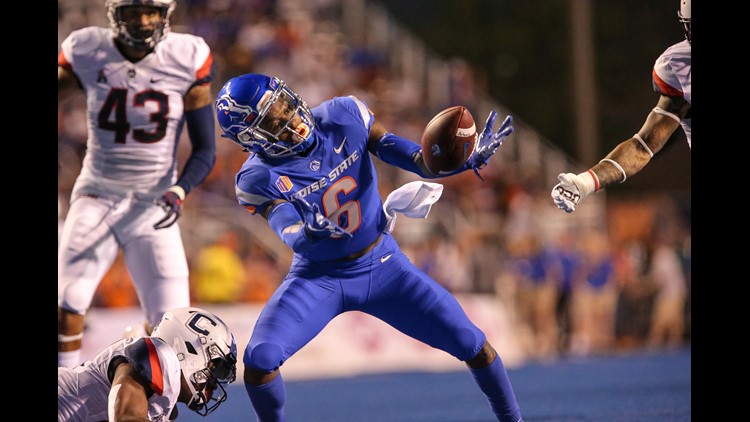 FULL STRENGTH
The Broncos should be at full strength when they take the field on Saturday. Harsin said on Monday that he expects wide receiver Octavius Evans and defensive lineman David Moa to play for the first time this season. Both starters have been nursing injuries sustained over the summer. Linebacker Tyson Maeva is also expected to see playing time on Saturday. He had been held out of the first two games for unspecified reasons.
"Good chance on all those guys," Harsin said on Monday. "We should be at full strength. That's what I'm hoping for."
COWBOYS TO "STRIPE THE STADIUM"
For his Monday press conference, Oklahoma State coach Mike Gundy made quite the fashion statement. After "accidentally" spilling his smoothie on himself, he removed his sweater to reveal a black and white striped referee's shirt underneath. It was his way of promoting the Cowboys' plan to "Stripe the Stadium" on Saturday.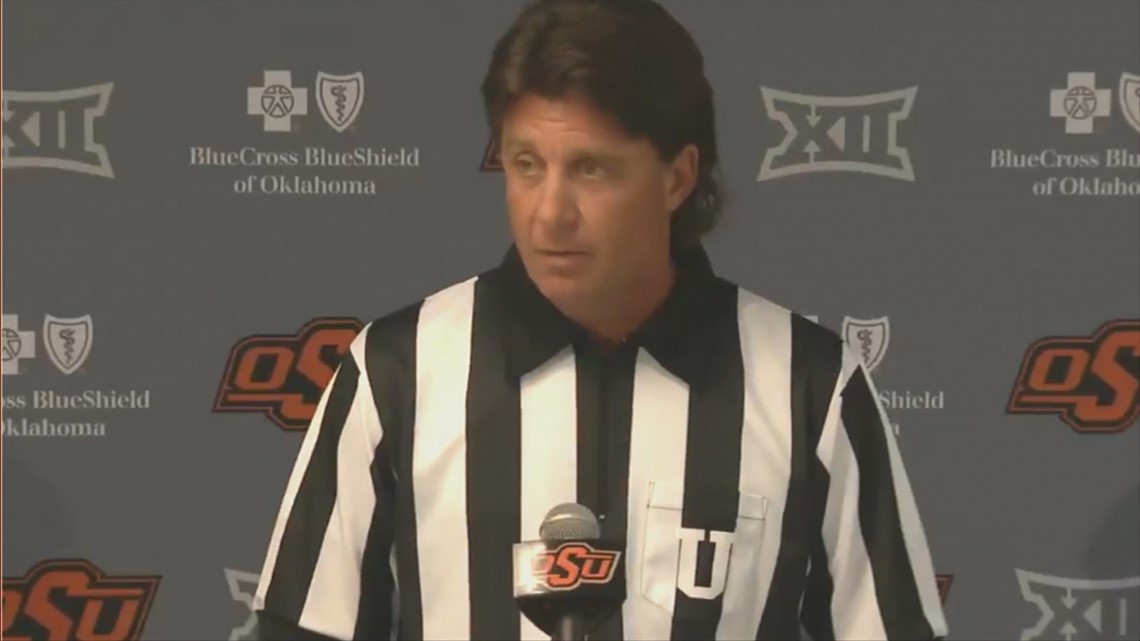 OSU fans are being asked to wear white or orange, depending on which section they are sitting in.
Boise State fans attending the game should probably avoid wearing their orange-colored Bronco gear. Think head-to-toe BLUE.