BOISE, Idaho — On Thursday night, the Boise State Broncos took on the Colorado State Rams at Albertsons Stadium with a plan to right the ship after an "embarrassing" 34-point loss to BYU in week three. The Broncos showed that they had a winning plan after beating the Rams 52-21.
After the game, coach Bryan Harsin, senior linebacker and defensive captain Riley Whimpey, redshirt junior cornerback and kick returner Avery Williams, and senior defensive back Kekaula Kaniho met with the Treasure Valley sports news media to discuss the Broncos' win.
Coach Harsin said the feeling after this game is vastly different than the sting of losing to BYU last week.
"Well, it was a lot more fun than the game before. Alright, I've done it both ways and I prefer what we did tonight," he said. "So those guys did. I thought the meeting that we had last night, it was about, 'Hey this is what we're dealing with, this is what we need to do and let's go out there and have fun doing it. Let's just cut it loose.'"
Whimpey said the Broncos' 34-point loss fueled the team's focus going into Thursday's game. The loss fueled him to 13 solo tackles and 3 tackles for loss against the Rams.
"After that loss, we let it feel that we let it fuel our fire and got back to work the next day and didn't stop working and so I really feel like that paid off for our whole team. And that's, you know, we came out and got a win," he said.
In the Broncos third win of the season, the Rams didn't have much of a fighting chance of keeping the game close. Boise State's special teams returned two blocked kicks and a blocked punt for touchdowns. At halftime, Boise State led 42-7 with 21 points scored from each the offense and special times.
Kick returner Avery Williams blocked two punts in the first half, both were returned for touchdowns, one of which was scored by Kaniho.
"I thought it'd be blockable but I think it was Scott Matlock, and that will actually just bounced right to me so I'm like I'm gonna pick it up and see you know how many yards I can get and when I finally turned that corner I saw nobody in front of me so just check to make sure I didn't get caught," he recalled.
Both Whimpey and Kaniho praised William's playmaking abilities.
"He's just a special player that's always in the right spot you know when he's back there with the ball, we know that something big is gonna happen for our team so just really being able to give him the opportunity to do that," Kaniho said.
Williams said the special teams' three blocked kicks means a lot for the players and staff.
"That's really big for our program. That's really big for coaches, you know, just having trust in each other in our scheme. That's what we talk about here," he said.
Gallery: Colorado State vs. Boise State on Thursday, Nov. 12 at Albertsons Stadium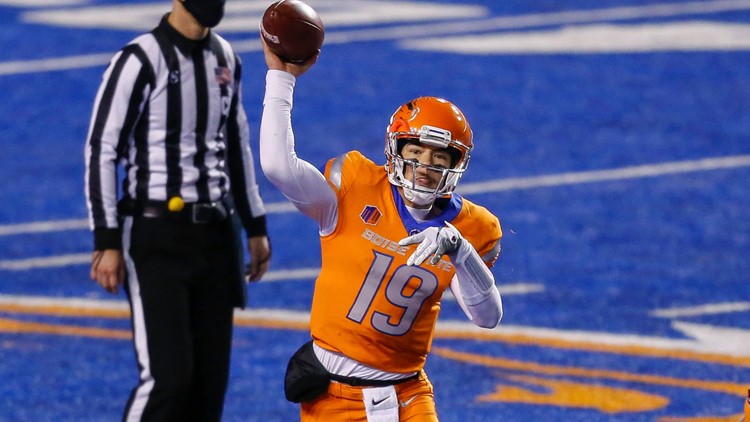 Coach Harsin praised the special teams coaches for putting together "an aggressive plan."
The Broncos' first possession of the second half sputtered out with a three and out. The Rams moved quickly with a touchdown of their own and Boise State lost a fumble on the ensuing kickoff. It only took the Rams one play to score another touchdown to bring the game to 21-42. Colorado State wouldn't score again in the rest of the game after scoring 14 points in 17 seconds.
Boise State responded with a field goal and then a big-man touchdown that came when redshirt junior offensive lineman Nick Crabtree caught wide receiver Khalil Shakir's fumble as he strolled into the endzone with about 5:30 left in the third. That ended up being the final score of the game, with the Broncos winning 52-21.
Sophomore quarterback Hank Bachmeier finished the game 16 of 28 for 202 yards and a touchdown. Senior wide receiver CT Thomas had six receptions for 103 yards and Shakir had four catches for 47 yards and four rushes for 52 yards.
Boise State improves to 3-1, 2-1 on the season. Bronco Nation may need to put on a pot of coffee to help stay awake for Boise State's next game as the Broncos will play Hawaii on Nov. 21 at 9 p.m. MT.
Harsin also added that he is now constantly thinking about the pandemic and how it is making new wrinkles for how the team prepares throughout the week and making sure everyone is ready to step up.
"Well, it's concerning every week. You know, it's not just having guys out and whether it's injuries or COVID for the game, in particular, it's, it's all the work that you're doing every single day in practice," he explained. "We had to cut back on some of our practice this week just the numbers, we had to cut back. I felt like our guys were more fresh."
Fourteen players for Boise State did not participate in the game due to COVID-19 or related contact tracing.