Game Day Guide: Boise State visits Wyoming for Mountain West bout
Boise State looks to punch its ticket to the Mountain West Championship Game with a win over Wyoming Saturday in Laramie. Here's Bronco Nation's guide to the game.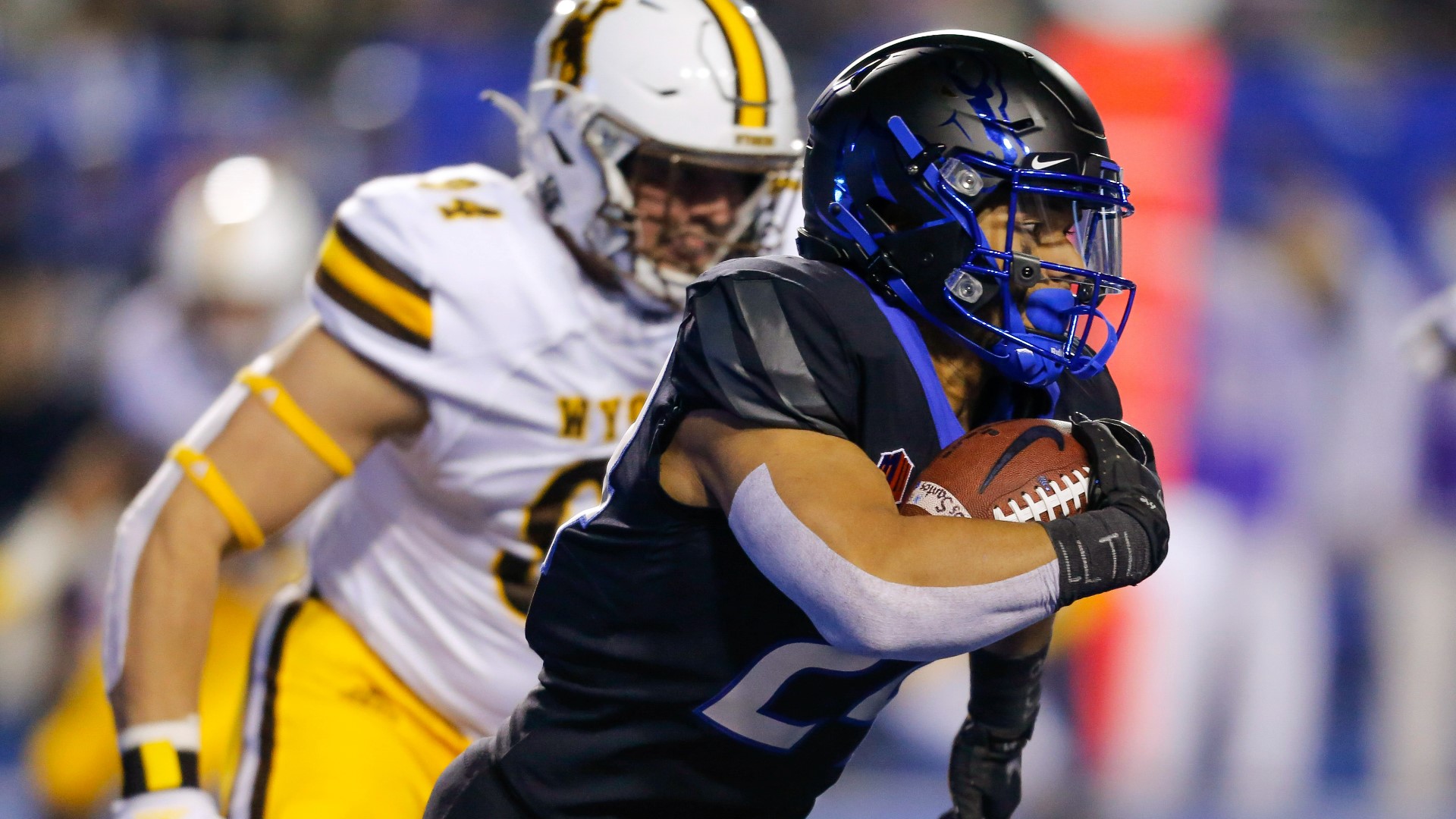 Boise State travels to Laramie this week with an opportunity to return to the Mountain West Championship Game for the fifth time in six years. A win over Wyoming Saturday gives the Broncos the 2022 Mountain Division title.
The Cowboys have been nothing short of impressive this fall. Wyoming was picked to finish second-to-last in the division in July, but now rides into Saturday's matchup with just one loss in conference play.
Head coach Andy Avalos said that in film review and on-field practice since the Nevada game, the Broncos learned some things "that will help us moving forward," and added that preparing for Wyoming will "require us to be our best, have our best week of practice."
Although the records and stakes call for an evenly-matched contest in War Memorial Stadium, Boise State is 15-1 all-time against Wyoming, including five-straight wins dating back to October 2016.
Kickoff is scheduled for 5 p.m. MT Saturday in Laramie. The Broncos-Cowboys battle will be televised on CBS Sports Network. For more information on ways to watch, series history and matchup stats, scroll down.
After suffering its first loss since Sept. 23 against BYU, Boise State bounced back in a big way last Saturday at Nevada, dominating the Wolf Pack 41-3 in a freezing environment.
The Broncos will once again be tested in tough weather conditions in Wyoming, with Saturday's forecast in Laramie showing a low of 10 degrees, with wind gusts up to 23 mph and an AccuWeather 'RealFeel' of -5 degrees at night.
Game Information
:
Quick Facts
Boise State (7-3, 6-0 MWC) vs. Wyoming (7-3, 5-1 MWC)
Saturday, Nov. 19
War Memorial Stadium - Laramie, Wyo.
Kickoff: 5 p.m. MT
Channel: CBS Sports Network
Weather: High of 31, low of 10 degrees, 10-15 mph winds
Ways to Watch
:
TV, Radio, Streaming
ON TV
Boise State vs. Wyoming will be televised on CBS Sports Network, available on the following channels:
Sparklight: Channel 139 / 1139 (HD)
DirecTV: Channel 221
Dish Network: Channel 158
Cox: Channel 234
ON THE RADIO
Fans can listen to the game on the Bronco Radio Network, which can be found online or on the following stations in the Boise area:
KBOI 670 AM in Boise
KTIK 93.1 FM in Boise
KDZY 98.3 FM in McCall
KSNQ 98.3 FM in Twin Falls
STREAMING
Streaming for Saturday's Broncos-Cowboys showdown is available through AT&T TV, Fubo TV, Hulu and YouTube TV. The service is also available online to subscribers of participating cable and satellite television providers (including Dish Network and DirecTV).
Bronco Roundup
:
KTVB Coverage
BRONCO ROUNDUP GAME DAY
KTVB's Bronco Roundup Game Day Show will be live on KTVB Channel 7, KTVB.COM, KTVB+ on Roku and Amazon Fire TV and the KTVB mobile app on Saturday from 4 p.m. to 5 p.m. MT. Join Sports Director Jay Tust and sports reporter Brady Frederick for an inside scoop on storylines surrounding the Broncos-Cowboys battle.
The exclusive pre-game show will feature interviews and updates live from inside War Memorial Stadium in Laramie, getting Bronco Nation prepared for kickoff.
GAME TRACKER
Once the game kicks off Saturday, make sure to follow the action with KTVB's Game Tracker and live blog. The Game Tracker features a real-time scoreboard and the latest updates from Frederick, Jay Tust and Boise State football.
POST-GAME INTERVIEWS
Interviews with Boise State head coach Andy Avalos and players will be posted online soon after the press conference ends, so Bronco Nation can watch the press conference whenever and wherever they want.
Stay tuned to KTVB.COM after the game for a recap, highlights and comments from Saturday's contest.
Odds and Predictions
:
Broncos by 14
ESPN's Matchup Predictor gives Boise State a 78.9% chance to claim the Mountain Division title with a win over Wyoming Saturday on the road. ESPN likes the Broncos by two touchdowns in Laramie, with an opening 14-point spread.
Popular sportsbooks in Las Vegas also give Boise State around a two-touchdown advantage against Wyoming.
BetMGM, Caesars Sportsbook and WynnBET Sports have 14-point lines, while Fan Duel Sportsbook lists the Broncos as 13-point favorites. The consensus over/under is 44.5, according to VegasInsider.
History
:
Series breakdown
Boise State's all-time record against Wyoming, broken down by year:
Nov. 12, 2021: W - 23-13 (Boise)
Dec. 12, 2020: W - 17-9 (Laramie)
Nov. 9, 2019: W - 20-17 (OT) (Boise)
Sept. 29, 2018: W - 34-14 (Laramie)
Oct. 21, 2017: W - 24-14 (Boise)
Oct. 29, 2016: L - 30-28 (Laramie)
Oct. 24, 2015: W - 34-14 (Boise)
Nov. 22, 2014: W - 63-14 (Laramie)
Nov. 16, 2013: W - 48-7 (Boise)
Oct. 27, 2012: W - 45-14 (Laramie)
Nov. 26, 2011: W - 36-14 (Boise)
Sept. 18, 2010: W - 51-6 (Laramie)
Sept. 15, 2007: W - 24-14 (Boise)
Sept. 16, 2006: W - 17-10 (Laramie)
Sept. 27, 2003: W - 33-17 (Boise)
Sept. 14, 2002: W - 35-13 (Laramie)
Offensive growth
:
Koetter on QB, WRs
Last week against Nevada, the snow certainly did not stop the Broncos from taking some deep shots down field in the passing game. Even with snowflakes falling down on the wide receivers' faces, Boise State outgained Nevada through the air by nearly 150 yards.
The Broncos also were spreading the ball throughout the roster. Nine different players caught passes in Reno.
Offensive coordinator Dirk Koetter said that comes from a mix of the rapid, almost unprecedented, development of redshirt freshman quarterback Taylen Green.
The youngster continues to reach new heights each week and confidence built throughout the roster as the wide receivers rapidly grow confidence.
"Taylen is just improving at such a rapid rate and its exceeded even my expectations and I have very high expectations as how quickly he's gotten to where he is," Koetter said. "For the receiver, he has to make plays, you know, that's how the receiver does it. We just talk to Taylen about giving them a chance, give them a chance to make a play. We've got some guys on 50-50 balls that can go get it, and are probably doing better than 50-50 right now. Hopefully for Taylen moving forward they build that in the offseason and that's the kind of stuff they can work on without the coaches out there, on their own."
Similar Story
:
Common Opponents
Boise State and Wyoming have four common opponents and both programs had the same results against the four teams. The Broncos and Cowboys both defeated New Mexico, Colorado State and Air Force, with losses to BYU.
In five separate occasions in 2022, the Cowboys came-from-behind to pull out victories. Last week against the Rams, Wyoming rallied from down 10-0 in the first half to beat Colorado State 14-13.
Wyoming vs. common opponents:
Defeated Air Force 17-14
Lost to BYU 38-24
Defeated Colorado State 14-13
Defeated New Mexico 27-14
Boise State vs. common opponents:
Defeated Air Force 19-14
Lost to BYU 31-28
Defeated Colorado State 49-10
Defeated New Mexico 31-14
Wyoming's Best
:
Cowboys to Watch
Easton Gibbs (LB - No. 28): The sophomore leads the Cowboys' defense with an impressive 88 total tackles in 2022. Gibbs started in all 13 games last year, racking up 90 total tackles, which ranked second for Wyoming.
Titus Swen (RB - No. 2): Swen, a junior out of Forth Worth, Texas, has 752 rushing yards this fall on 164 carries, averaging 4.6 yards per attempt. The 5-11, 206-pound back also ranks fifth in receiving for the Cowboys, with 91 yards on 13 receptions. Swen has seven touchdowns in 2022.
Stats Comparison
:
FBS ranks
Boise State: No. 79 - 373.3 YPG
Wyoming: No. 112 - 328.7 YPG
Boise State: No. 46 - 180.8 YPG
Wyoming: No. 36 - 188.8 YPG
Boise State: No. 109 - 192.5 YPG
Wyoming: No. 125 - 139.9 YPG
Boise State: No. 4 - 263.9 YPG
Wyoming: No. 52: 365. 4 YPG
Boise State: No. 14 - 107 YPG
Wyoming: No. 57 - 141.1 YPG
Boise State: No. 3 - 156.9 YPG
Wyoming: No. 65 - 224.3 YPG