BOISE — The Boise State football team started Fall Camp on Friday. Once again, head coach Bryan Harsin has decided to do split-squad practices to being the season -- the veterans hit the field in the morning, while the newcomers are tasked with dealing with the afternoon heat. Here is a look at who is "in" and who is "out" for the Broncos.
Day One: Newcomers practice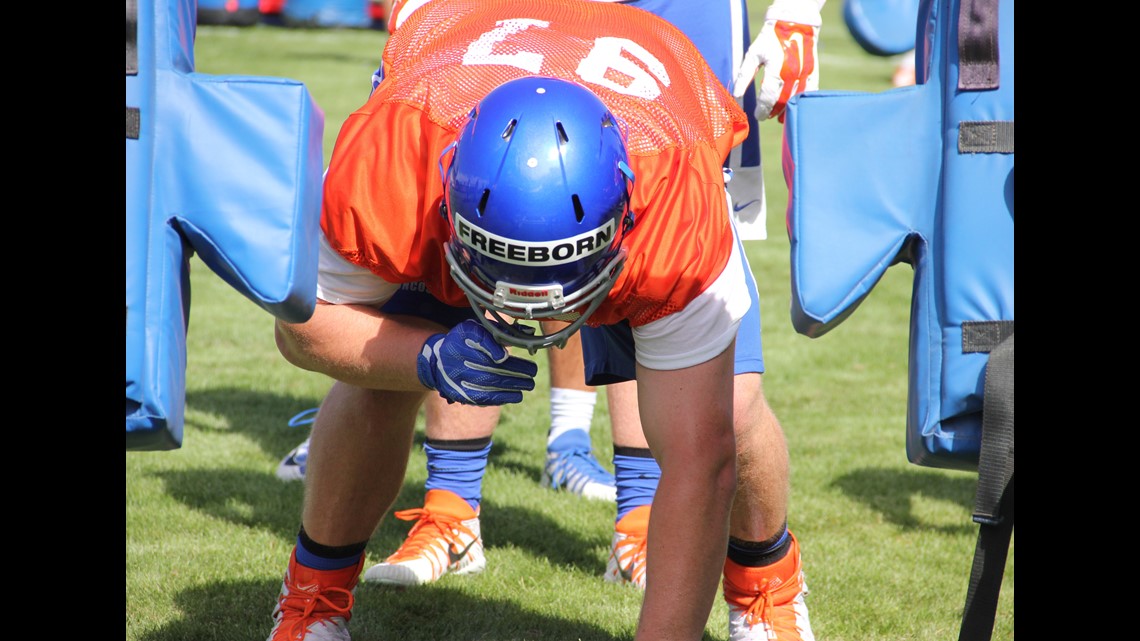 IN: Andrew Van Buren and Stefan Cobbs
There were only two true freshmen who practiced with the veterans on Day 1 of Fall Camp on Friday: Running back Andrew Van Buren and wide receiver Stefan Cobbs.
Day One: 2018 Boise State Football fall camp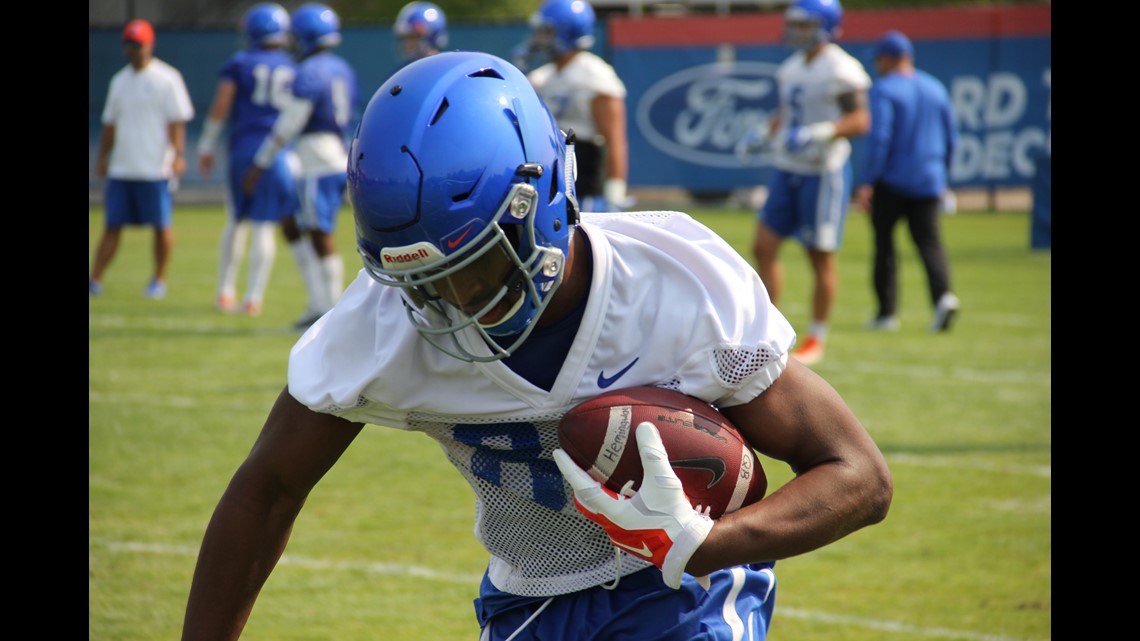 Van Buren immediately becomes the biggest running back on scholarship on the Boise State roster. The former 4-star prospected checked in at 6-0, 227 pounds on the initial fall roster that was made public.
RELATED: Broncos kick off 2018 season with fall camp
It is worth mentioning that Van Buren is currently wearing a cast on his right wrist. Harsin said that is it just a "precautionary" measure, and that Van Buren is not currently limited because of it.
As for Cobbs, the 6-0, 177-pound true freshman out of Keller, Texas, appears to be one of the newcomers that could contribute immediately this fall.
Entering the 2018 season, the Broncos only have four wide receivers on their roster that had more than two catches last season: A.J. Richardson (33), Sean Modster (32), Octavius Evans (15) and CT Thomas (15).
Cobbs had 67 grabs for 1,332 yards and 24 touchdowns as a senior at Fossil Ridge High School last fall.
Following practice on Day 1, Harsin praise both Van Buren and Cobbs stating: "Those guys did a good job."
IN: 10 New Walk-On Players
The Boise State football team has had a pretty good recent run of recruiting walk-ons and developing them into all-league players. Case in point, the Broncos had three former walk-ons earn All-Mountain West honors in 2017: Center Mason Hampton (1st Team), linebacker Leighton Vander Esch (1st Team), and punt returner Avery Williams (2nd Team)
So who is next? Well, here is the list of new walk-ons:
Kaden DeLuna, Tight End - McCall-Donnelly High School
Maclaine Griffin, Wide Receiver - Chaminade Prep (Westlake Village, CA)
Isaiah Glover, Defensive End - San Juan Hills High School (San Juan Capistrano, CA)
Dylan Herberg, STUD - Timberline High School
Spencer Keene, Running Back - Emmett High School
Dalton Lins, Offensive Lineman - Lahainaluna High School (Lahaina, HI)
Zach Matlock, Quarterback - Las Vegas High School (Las Vegas, NV)
Jacob Pinkney, Defensive Tackle - Timberline High School
Connor Riddle, Wide Receiver - Timberline High School
Keegan Ulrich, Offensive Line - Enumclaw High School (Enumclaw, WA)
*KJ Walker, Safety - Orange Coast College
*Transfer
OUT: Cameron Thomas
Looking to add numbers at the wide receiver position, the Boise State football team went out and signed five pass-catchers in the 2018 recruiting class.
One of them will have to take a detour, at the very least, on his way to becoming a Bronco though.
Former 3-star signee Cameron Thomas is not with the team, according to Harsin, who later attributed the absence to academics.
Thomas originally committed to Oregon State in the Fall of 2017, but de-committed and signed with Boise State during the early signing period in December.
The Austin, Texas-native had 80 catches for 1,346 yards and 19 touchdowns during his senior season for Westwood High School.
Thomas will now go the junior college route. Harsin mentioned that the Broncos will continue to track Thomas' progress.
OUT: PHILLIP MILLS
True freshman linebacker Phillip Mills will be sidelined for a majority of the upcoming season, according to Harsin.
Mills needs surgery to repair his heel. Harsin believes there is a chance that Mills could return later this fall, but added they will more likely focus on having him ready to contribute in the Spring of 2019.
Mills, who is from Menifee, California, racked up 91 tackles, 14.0 tackles-for-loss and 10 sacks during his senior season at Paloma Valley High School.