BOISE, Idaho — Despite a somewhat sloppy second-half performance, Boise State held off a gritty North Dakota squad to win 42-18 Saturday at Albertsons Stadium and avoid an 0-3 start to the season.
After jumping ahead 21-6 behind a pair of impressive drives of more than 70 yards and a forced turnover before halftime, the Broncos struggled offensively in the third quarter, allowing the Fighting Hawks to hang around.
Prior to the panic on The Blue, the Broncos arguably looked their best yet under first-year offensive coordinator Bush Hamdan. After it looked like Boise State would once again lean on sophomore standout Ashton Jeanty from the get-go, Taylen Green led a 12-play drive consuming nearly six minutes to put the blue and orange up 7-0 midway through the first frame.
A trick-play pass from Chase Penry to Riley Smith put the Broncos near the red zone, before Green's eight-yard scramble to the left broke the 0-0 ball game.
The Fighting Hawks, who led the FCS entering Saturday's contest averaging nearly 549 yards of offense per game, quickly responded with an 11-play, 77-yard drive. A missed PAT kept Boise State up 7-6. After a pair of punts, Green displayed some much-needed confidence through the air, connecting with Eric McAlister on a 34-yard toss and hitting Prince Strachan for his first collegiate catch (26 yards) two plays later.
In the end of the second-scoring drive, Hamdan went back to Jeanty, who scored up the middle from two yards out to put Boise State up 14-6 with 6:15 remaining in the first half.
That dynamic North Dakota offense? Defensive coordinator Spencer Danielson's group played well outside of the Fighting Hawks' two drives starting within the 40-yard line after Bronco turnovers in the second half. Boise State limited Tommy Schuster and Co. to just 118 yards in the first half.
With less than two minutes before the break, a strip-sack by linebacker Marco Notarainni was recovered by Andrew Simpson to but the Broncos in business. Boise State's offense responded with Jeanty's second score of the game – this one from one-yard out – to go up 21-6. Notarainni led the team with 13 total tackles.
Photos: Boise State vs. North Dakota
On its second play after halftime, North Dakota's Gaven Ziebarth fumbled to give Boise State the ball at the 14-yard line going in. However, Jeanty fumbled on the next play of the game to give it right back.
Fortunately for the Broncos, a targeting call on Jett Sutton of the Fighting Hawks on Cole Wright's punt return put Boise State all the way at the North Dakota 37-yard line. Green tossed easily his prettiest pass of the 2023 campaign on the ensuing drive, putting it directly in the hands of McAlister going into the end zone from 28 yards out.
With the Broncos up 28-6 early in the third quarter, it felt as though the flood gates were ready to open. However, Boise State got a bit sloppy offensively. After a North Dakota three-and-out, Green threw an interception to Dylan Boecker and the Hawks scored in just five plays on a Schuster pass to Eliodor Wesley.
North Dakota missed the two-point conversion following the short-field touchdown, making it 28-12 Broncos midway through the third.
On the first play of the following drive, Jeanty fumbled for the second time Saturday to hand the ball to the Hawks on Boise State's 31-yard line. Schuster and running back Luke Skokna made easy work of the shortened field again, and Skokna found the end zone on a three-yard tout. Again, the green and white failed on a two-point try: Boise State 28, North Dakota 18, 4:26 left in the third.
True freshman running back and former four-star recruit Breezy Dubar took over the Bronco backfield following Jeanty's pair of fumbles, before Hamdan and Avalos sent the feature back in to finish off a 10-play, 58-yard drive. Jeanty's touchdown from one yard out extended Boise State's lead to 35-18.
The drive was extended after Jonah Dalmas was hit on a 54-yard field goal attempt, which he drilled, in typical Dalmas fashion. The 15-yard roughing the kicker call allowed Jeanty and Co. to go up by three scores.
After creating some breathing room, it was all Boise State. Late in the fourth quarter, McAlister grabbed his second touchdown of the afternoon, this time on a 27-yarder from backup quarterback Maddux Madsen. McAlister led the team with 143 receiving yards on six grabs.
After allowing the contest to get within 10, the Broncos took a comfortable 42-18 lead with less than four minutes remaining, and cruised to their first win of the 2023 campaign.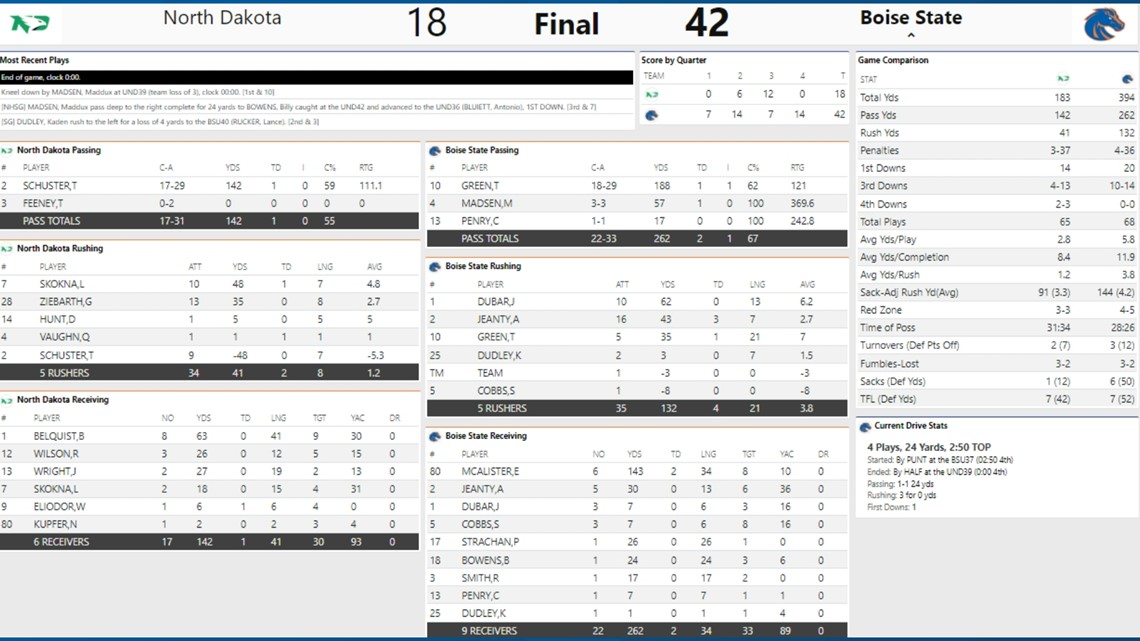 Boise State running back George Holani, left guard Ben Dooley and linebacker DJ Schramm were ruled out prior to kickoff due to injury.
Texas Tech transfer Ethan Carde started in place of Dooley, while third-year sophomore Marco Notarainni started at middle linebacker in place of Schramm.
Iowa State transfer and Bronco defensive lineman Howard Brown has been "deemed ineligible for competition" due to "actions that occurred while he was a student-athlete at another institution," Boise State Director of Athletics Jeramiah Dickey announced Saturday.
Saturday's attendance at Albertsons Stadium was 35,610, according to Boise State Athletics.
Boise State visits San Diego State next on Friday, Sept. 22. The contest is set to get underway at 8:30 p.m. MT on CBS Sports Network.
HERE ARE MORE WAYS TO GET NEWS FROM KTVB:
Download the KTVB News Mobile App
Apple iOS: Click here to download
Google Play: Click here to download
Stream Live for FREE on ROKU: Add the channel from the ROKU store or by searching 'KTVB'.
Stream Live for FREE on FIRE TV: Search 'KTVB' and click 'Get' to download.