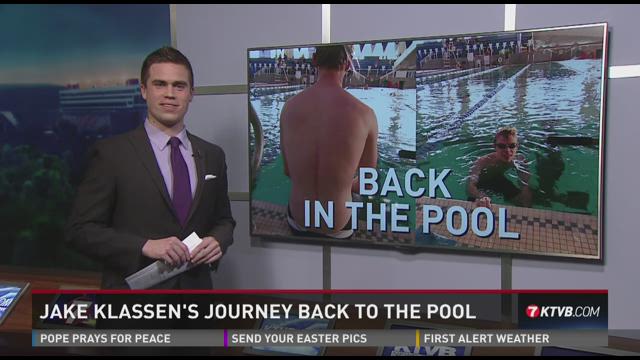 BOISE -- For Capital high school senior Jake Klassen, the pool has always been a second home.
"He would dive in the water and would always have this big smile on his face when he got out," said Jake's dad, Darren Klassen.
"I watched Michael Phelps in Beijing, and I was like, 'this is it, I want to do this,'" Jake said.
"The journey that he's gone through has been nothing short of amazing," said Jake's swim coach Todd.
And sure enough that's what he did just last summer. Jake set new record times competing with his YMCA swim team at the senior sectionals meet, garnering division one recruiting interest from schools in the northwest.
"A couple of them came up to Todd and they were like 'Todd, we want to talk to Jake. We think if he can drop a little bit more time, he can help us out.' That was so cool," Jake said.
Approaching his senior year, Jake knew he needed to add strength in the weight room, which is where he was on the morning of July 28th, 2014, doing a simple squatting exercise.
"I just felt like this pop in my hip and I was like 'shoot, I better rack this thing before I go down,'" Jake said. "Just the next thing I knew, I got slammed into the ground."
Emergency responders and Jake's parents arrived quickly on scene. Jake was told not to move.
"I kind of took a look around and saw someone waving me down and I looked over and that's when I saw Jake on the floor," Jake's mom Melissa Klassen said.
Quickly rushed to the hospital, Jake underwent X-rays and scans that revealed a very scary truth.
Jake had shattered his vertebrae, which was now pushing into his spinal cord, requiring immediate surgery.
"I remembered saying 'Is there any other option?'" Melissa said. "And [the doctor] said 'I don't think you understand. If we don't get him into surgery, he could possibly be paralyzed within 24 hours.'"
Jake underwent surgery to repair his t-12 vertebrae fracture, and while surgery was a success, many unknowns loomed ahead.
"He was fortunate he was not paralyzed. A few more millimeters and he well could've been paralyzed," said Jake's doctor, Thomas Manning.
"We didn't know if he was ever going to be able to swim again," Melissa said. "When he woke up from surgery that morning, he had a couple of emails from college coaches and I think that dream may be over."
That dream may be dead to those colleges, but for Jake, the dream and desire to get back in the pool and do the unthinkable was never more full of life.
"I don't like when people tell me I can't do something," Jake said.
Attacking his rehab with passion just months after nearly being paralyzed, Jake was back in the pool, competing and setting record times.
"I think I really just wanted to show everybody that no matter what, you can overcome hard things," Jake said.
And as for those scholarship dreams, this past February Jake signed a scholarship to swim next year at the College of Idaho.
"Miracles happen," Jake said.
A dream fulfilled, with a scare to remind us all, doubt, stands no chance, when faced with determination and desire.
"Pride or proud doesn't really encapsulate what we felt. I feel like not only has it not broken his spirit, but he is so much stronger, as a person, because of this," Melissa said.