Where former southern Idaho prep athletes are playing this fall
Dozens of former Idaho prep athletes are competing across the country at the collegiate level. Use our comprehensive list to find where they're now playing at.
Courtesy: Lauren Elwer

Due to the COVID-19 pandemic, some traditional fall sports have been postponed until the spring. However, the athletes listed are listed on their respective team's roster as of August 2020.
The list includes athletes from KTVB's viewing area, which stretches from Baker City and Vale in eastern Oregon to Challis and Burley to the west.
For schools listed that say 'do not have 2020 roster,' a southern Idaho prep athlete was rostered in 2019, but no updated roster is available.
Scroll down for a comprehensive list of where recent Treasure Valley student-athletes are now playing at.
If an athlete has transferred, or if we have missed an athlete, please email ktvbhss@ktvb.com.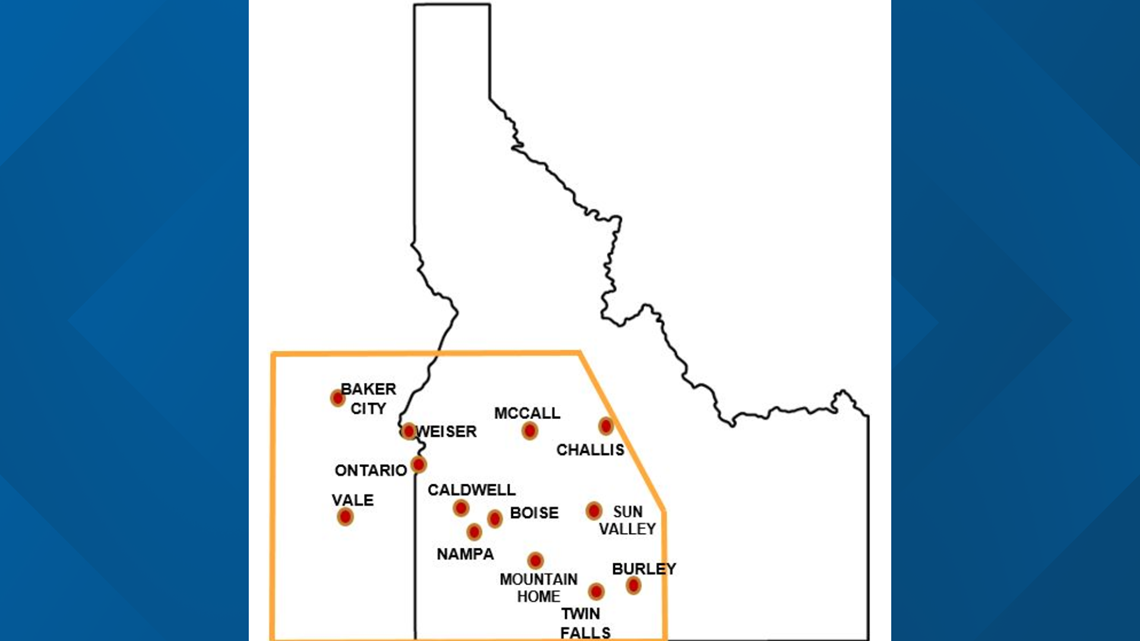 CALIFORNIA
:
STANFORD UNIVERSITY
UNIVERSITY OF SOUTHERN CALIFORNIA
SANTA CLARA UNIVERSITY
UNIVERSITY OF SAN FRANSISCO
THE MASTER'S UNIVERSITY
PEPPERDINE UNIVERSITY
BIOLA UNIVERSITY
UNIVERSITY OF THE REDLANDS
CALIFORNIA BAPTIST UNIVERSITY
UC DAVIS
OCCIDENTAL COLLEGE
COLLEGE OF THE REDWOODS
COLLEGE OF THE DESERT
MT. SAN ANTONIO COMMUNITY COLLEGE
BUTTE COLLEGE
SANTA ROSA JUNIOR COLLEGE
FEATHER RIVER COLLEGE
ARIZONA
:
EMBRY-LITTLE AERONAUTICAL UNIVERSITY
ARIZONA CHRISTIAN UNIVERSITY
ALASKA
:
UNIVERSITY OF ALASKA - ANCHORAGE
COLORADO
:
AIR FORCE ACADEMY
COLORADO SCHOOL OF MINES
CONNECTICUT
:
COAST GUARD ACADEMY
FLORIDA
:
PALM BEACH ATLANTIC UNIVERSITY
STETSON UNIVERSITY
HAWAII
:
UNIVERSITY OF HAWAII
ILLINOIS
:
OLIVET NAZARENE UNIVERSITY
KNOX COLLEGE
CHICAGO STATE UNIVERSITY
IOWA
:
IOWA WESTERN COMMUNITY COLLEGE
DORDT UNIVERSITY
KANSAS
:
MIDAMERICA NAZARENE UNIVERSITY
LOUISIANA
:
LOUISIANA STATE UNIVERSITY
MASSACHUSETTS
:
HARVARD UNIVERSITY
MICHIGAN
:
MADONNA UNIVERSITY
MINNESOTA
:
ST. OLAF UNIVERSITY
Katie Gerbert (Boise 2020)
UNIVERSITY OF MINNESOTA - MORRIS
HAMLINE UNIVERSITY
ST. JOHN'S UNIVERSITY
NEBRASKA
:
NEBRASKA WESLEYAN UNIVERSITY
NEW HAMPSHIRE
:
DARTMOUTH UNIVERSITY
NEW JERSEY
:
PRINCETON UNIVERSITY
Maggie Liebich (Riverstone 2019)
NEW MEXICO
:
NEW MEXICO MILITARY INSTITUTE
NEW YORK
:
BARD COLLEGE
UNITED STATES MARINE MERCHANT ACADEMY
UNIVERSITY OF ROCHESTER
QUEENS COLLEGE
Shenae Kreps (Columbia 2017)
NORTH DAKOTA
:
UNIVERSITY OF MARY
NORTH CAROLINA
:
LOUISBURG COLLEGE
ST. ANDREW'S UNIVERSITY
OHIO
:
OHIO WESYLAN UNIVERSITY
OKLAHOMA
:
SOUTHERN NAZARENE UNIVERSITY
OKLAHOMA CHRISTIAN UNIVERSITY
NORTHEASTERN STATE UNIVERSITY
PENNSYLVANIA
:
LASALLE UNIVERSITY
GROVE CITY COLLEGE
SOUTH DAKOTA
:
SOUTH DAKOTA SCHOOL OF MINES
DAKOTA WESLEYAN UNIVERSITY
PRESENTATION COLLEGE
TENNESSEE
:
RHODES COLLEGE
VIRGINIA
:
SOUTHERN VIRGINIA UNIVERSITY
Bronx Barrus (Mountain View 2020)
Ben Barrus (Mountain View 2017)
WISCONSIN
:
CONCORDIA UNIVERSITY
WYOMING
:
LARAMIE COUNTY COMMUNITY COLLEGE
CANADA
:
SIMON FRASER UNIVERSITY