BOISE, Idaho — As Colby Ryan left the witness stand on Tuesday, he gave one glaring look at his mother sitting at the defense table, shook his head and promptly walked out of the courtroom.
Lori Vallow, or Lori Vallow Daybell -- Ryan's mother -- kept her focus on him from across the room as he identified his siblings in photos before their death, through tears. Even when the defense and prosecution left the room momentarily, Vallow's gaze didn't falter.
Ryan begins the call, "You think you can hide it from me?"
"I'm not hiding, why would you think I'm hiding?" Vallow responds.
"Probably 'cause you murdered my siblings," Ryan tells her. "That's why I'm not talking to you."
"I didn't," she says in the call. "I'm sorry you feel that way."
Vallow tells him in the call, "One day you will know what actually happened, and we all will stand there with Jesus." She tells her son that Tylee Ryan and JJ Vallow loved her, know what happened -- and why.
Lori Vallow and Chad Daybell are both charged with the murders of Vallow's children, as well as the murder of Daybell's former wife, Tammy Daybell. The two are also charged with conspiracy to commit murder and grand theft in relation to the deaths. Her oldest son has been largely outspoken about his siblings and mother in multiple documentaries and YouTube videos.
"They think they know what happened. You weren't there," she says -- and laughs. Ryan, frustrated, begins yelling at Vallow over the phone.
"They were murdered, put in the ground -- and you walked away," Ryan said.
"That is not what happened," Vallow replies.
Ryan begins begging his mother to tell him the truth.
"My phone is being texted by my little sister who isn't even alive. My little brother... who is the sweetest little kid ever… You tell me this is God's will for the entire family, including my father, to be dead? You're telling me right now Jesus Christ, the savior of the world, is on your side?"
Vallow tells him Jesus is, in fact, on her side.
While the call is played, Ryan is looking down, avoiding eye contact with his mother and wiping tears from his eyes. The jury appeared stoic. Audible gasps were heard as the call continued to echo through the courtroom.
"I pray every day, no matter how mad I am at you, no matter how bad I want to hit (Chad Daybell) in the face with a shovel, I pray for you, I pray for him," Ryan says.
He later tells her in the recording, "You ripped my heart out... I'm going to be in Idaho this week. You need to look me in the eye, mom. Look me in my eye."
Before the call was played, Jim Archibald, Vallow's defense attorney, had an opportunity to question Ryan.
Archibald asked Ryan if his mother ever taught him anything about living multiple lives, being someone in another world, "casting" out dark spirits, light and dark scales or zombies, like Vallow's friends have testified to in the earlier days of the trial.
Archibald asked him if he had been suicidal, depressed, or struggled at all -- and if his mom helped him through it.
Ryan told him yes, she was a helpful mother.
"Did your mother encourage you to do good things in your life?" Archibald asked.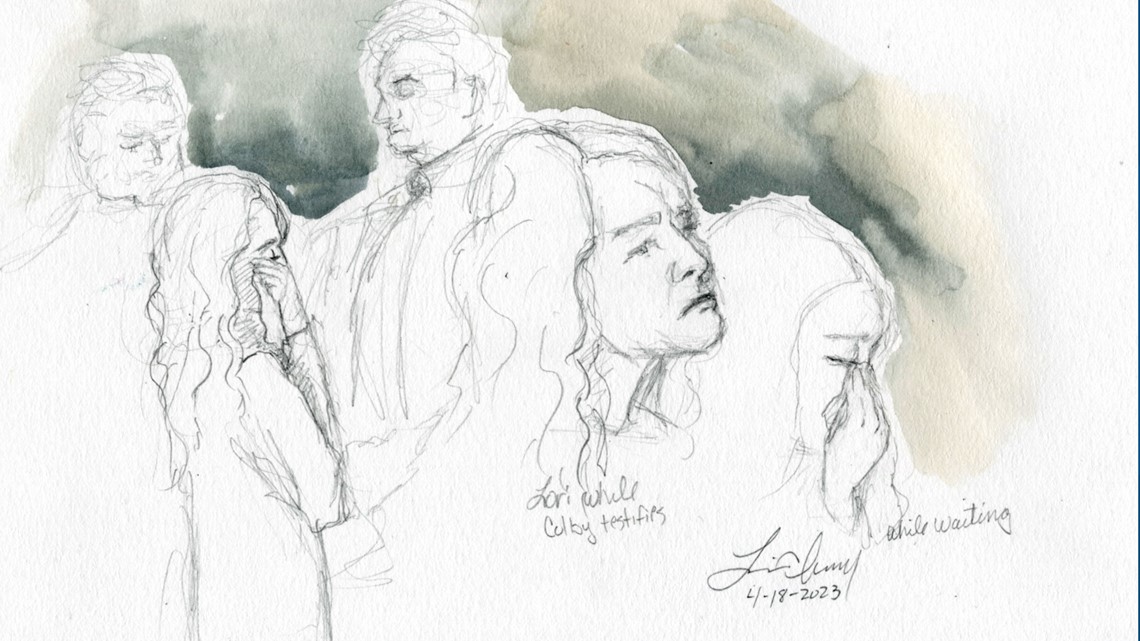 But, according to Ryan in a docuseries he appeared in on Netflix about the case, "Sins of Our Mother," he told producers, "After my mom met Chad Daybell, she changed."
Colby Ryan also told the jury he was receiving texts and Venmo payments from his sister Tylee Ryan after she disappeared -- "The texts I was receiving back were not in the way Tylee would talk or text," he said.
He only found out his siblings were missing when police came knocking in November of 2019, looking for the children.
He also found out his own mother had moved to Rexburg when he "saw it on the news."
Ryan was called back to the stand to be present for the phone call, but when he left for the last time, he walked down the steps -- gave his mother one last glance -- quickly diverted his eyes, adjusted his tie and disappeared through the doorway.