BOISE, Idaho — As prosecutors present a fourth week of witness testimony in the trial of Lori Vallow, aka Lori Vallow Daybell, Ian Pawlowski, husband of Vallow's niece, Melani Pawlowski, was back on the stand Thursday morning. He began testifying Wednesday afternoon. On Thursday, the defense asked for permission to play a recording of a phone call between Melani and Chad and Lori Daybell from Dec. 12 or 13, 2019, when Vallow's brother, Alex Cox, died. The court did not grant that request, instead allowing the defense to ask questions about what he remembered from that day.
Lori Vallow is charged with murder, conspiracy to commit murder and grand theft in connection to the deaths of two of her children, JJ Vallow and Tylee Ryan, and the death of her current husband's late wife, Tammy Daybell, who would have turned 53 years old Thursday.
Also testifying Thursday, after Ian Pawlowski, were the Rexburg health insurance broker whom Chad Daybell contacted about adding Lori Vallow to his policy; the payroll and benefits administrator for Tammy Daybell's employer who handled Chad Daybell's life insurance claim after Tammy Daybell's death; a Kauai Police detective who was on the team that executed search warrants in January of 2020 as part of the Rexburg Police Department's investigation into the disappearance of JJ and Tylee; and a Gilbert, Arizona, police officer who investigated the October 2019 shooting that targeted, but did not injure, Brandon Boudreaux, the former husband of Lori Vallow's niece, Melani Pawlowski, who then went by the name Melani Boudreaux.
Longtime KTVB producer Jeremy Stiles followed Thursday's developments at the Ada County Courthouse.
Live updates
5:00 p.m.: After the Lori Vallow trial ended for the day, Chad Daybell appeared via Zoom for his scheduling conference. He is still being held in the Fremont County Jail, some 300 miles away from the Ada County Courthouse, where Lori Vallow's trial is taking place and where Daybell's trial will take place. Judge Boyce is looking at proposals from both sides and working to get something on the schedule. However, the prosecution and defense both indicated they were OK with starting in June 2024. Daybell's attorney, John Prior, had indicated that the defense would be ready for May 2024, but a couple of prosecutors have scheduling conflicts in March, April and part of May.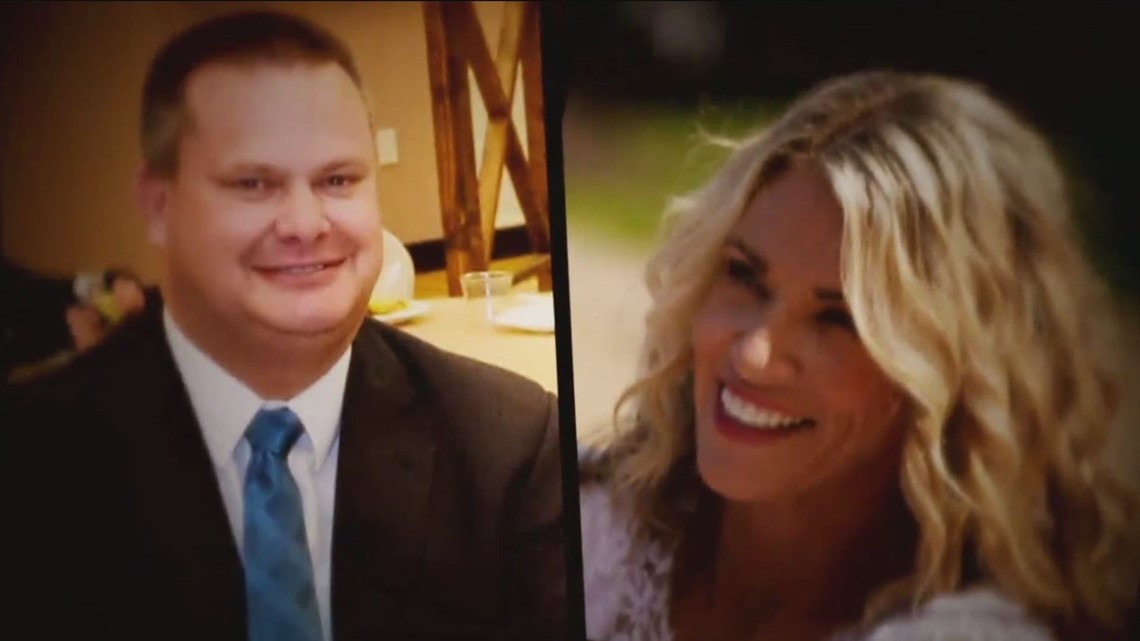 There are a few factors regarding why Chad Daybell's trial remains so far out: He could still face the death penalty and, unlike Lori Vallow, he has waived his right to a speedy trial. There is DNA evidence that has not yet been tested, but will be tested at the request of the defense. Prior talked about the DNA issue, but did not get into details. Starting the trial before May or June of next year could be problematic because some kind of pretrial hearing regarding the DNA evidence may be needed, he said. Prior also said that the defense still has about 100,000 pages of documents submitted by Special Agent Doug Hart
Prior and prosecutors Rob Wood and Lindsey Blake also discussed with Judge Boyce how long they expected the trial would take. Estimates on trial length ranged from eight or nine weeks to 12 weeks, including jury selection and, if Daybell is found guilty, the penalty phase. The death penalty is still on the table for Chad Daybell.
3:38 p.m.: We may hear from Hart on Monday, but the trial will resume tomorrow morning and, Boyce notes, the order of witnesses is up to the prosecution, which just brought up the possibility of having Hart testify on Monday rather than tomorrow. That's the trial for today. Meanwhile, a status conference for Chad Daybell begins in a few minutes. His trial date has not yet been set.
3:36 p.m.: Judge Boyce will exclude an excerpt of Hart's exhibit. He said it's not fair to have the defense go back through the 160-page exhibit to make sure it comports with the PowerPoint that will be shown in court. Amount of what he thinks is argumentative language used to tie it all together is, to him, like an opening statement or closing argument. The way it's been prepared and presented goes outside the scope of rules related to summaries of large volumes of information. Again, Hart will not be excluded as a witness.
3:30 p.m.: Judge Boyce said exclusionary rule is limited in focus, to a witness listening to testimony during the trial. He doesn't see a violation of the order with respect to former Special Agent Hart. So, we'll hear from him tomorrow.
3:16 p.m.: Defense attorney Jim Archibald makes motion to exclude former Special Agent Hart as a witness, in addition to excluding his report, which prosecutors have indicated is quite long and would have to be summarized. Archibald said Hart has met with and prepped many witnesses in the case, and has met with prosecution in preparation of witnesses. Archibald said when the defense asked for a recording of witness prep meetings, he was told those meetings weren't recorded. Archibald said Hart has done exactly "what we don't want witnesses to do," which is talk to other witnesses.
3:05 p.m.: The jury was excused for the day just before 2:30 p.m., but court reconvened without the jurors as the court considered an objection from Vallow's defense attorney, Jim Archibald, related to an exhibit from an upcoming witness, former FBI Special Agent Douglas Hart, who has reviewed every report done by any member of the FBI in this case.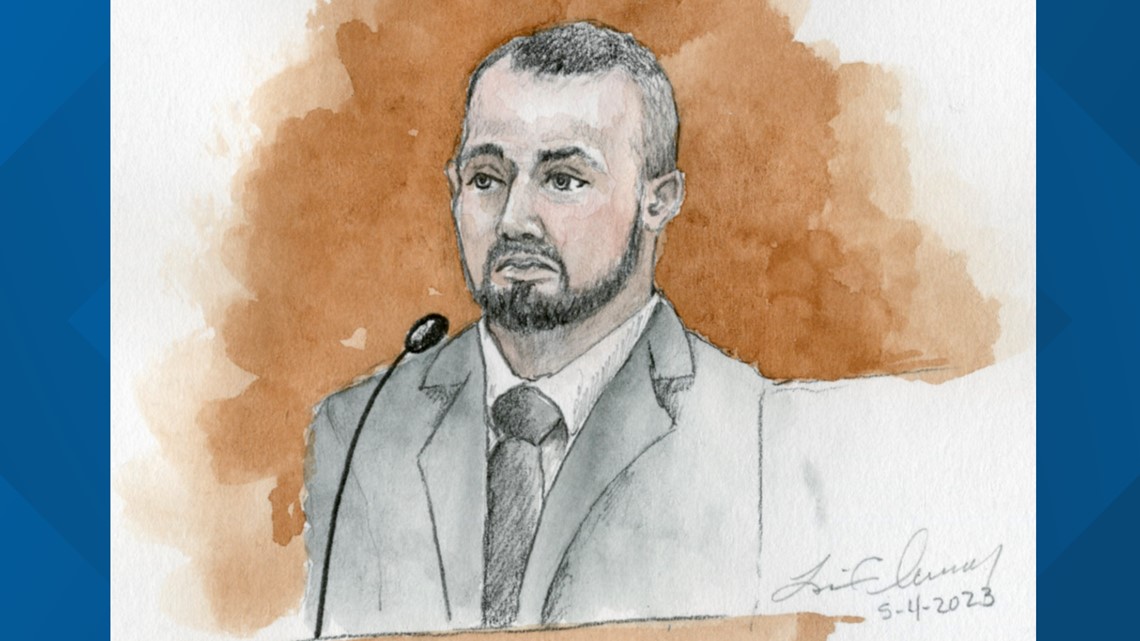 2:26 p.m.: The last witness of the day was Officer Ryan Pillar with the Gilbert Police Department in Arizona. He's one of the officers who investigated a shooting that apparently targeted Brandon Boudreaux on Oct. 2, 2019. Boudreaux, who was not hit by any gunfire, drove away and called 911.
Alex Cox, Lori Vallow's brother, became a person of interest. During the investigation, Pillar said he had learned that Boudreaux and Lori's niece, Melani (now married to Ian Pawlowski), were still in the process of finalizing the divorce and that Cox was involved in the death of Charles Vallow, which occurred in July 2019. Gilbert Police contacted police in Chandler, where Charles Vallow was killed, and learned that Lori Vallow, JJ Vallow and Tylee Ryan were at the scene as police investigated Charles Vallow's death.
A Jeep Wrangler registered to Charles Vallow became a primary piece of evidence in the investigation of the shooting that targeted Brandon Boudreaux, Pillar said. Tylee Ryan was known to drive the Jeep to and from school. Investigators found that Cox had used it, too.
Pillar testified that license plate readers revealed that the Jeep headed south from Idaho Falls on Sept. 30, 2019, continued to Arizona, and returned to Idaho Falls on Oct. 3, 2019, the day after Brandon Boudreaux was shot.
Pillar said he searched the Jeep on Nov. 18, 2019, and that police tried to locate Tylee. They never did. Pillar testified that photos were taken and that biological evidence and gunshot residue evidence were collected from the Jeep. The rear of the Jeep, Pillar said, had evidence that tested positive for chemicals associated with the discharge of a firearm.
Family members were concerned because they hadn't been able to see or communicate with Tylee or JJ at all, via electronic means or otherwise.
Rexburg Police made a welfare check Nov. 26. The next day, Thanksgiving, they completed more intensive search of property where Cox, Lori Vallow, Chad Daybell and Melani Boudreaux lived.
Rexburg Police told Gilbert Police that Lori Vallow had said JJ was in custody of Melanie Gibb, a friend who lived in Gilbert, but police couldn't find JJ or Tylee at either location Lori gave them..
Pillar testified that police continued to look for JJ and Tylee in Arizona; they had set up pole cameras to monitor the area around Gibb's home and contacted people who might have known the children through school.
There was no evidence of Tylee enrolling in college, and no evidence that she drove the Jeep after September 2019.
Pillar wrote search warrants for cellular phone data, which showed that in December 2019, the device associated with Tylee's number was in Hawaii and had briefly been in Missouri.
When asked if there was any evidence that cash had been exchanged between Melani Boudreaux (now Pawlowski), Chad Daybell, JJ Vallow or Alex Cox, Pillar testifed that yes, Venmo exchanges had been made and substantial amounts were referenced in text messages.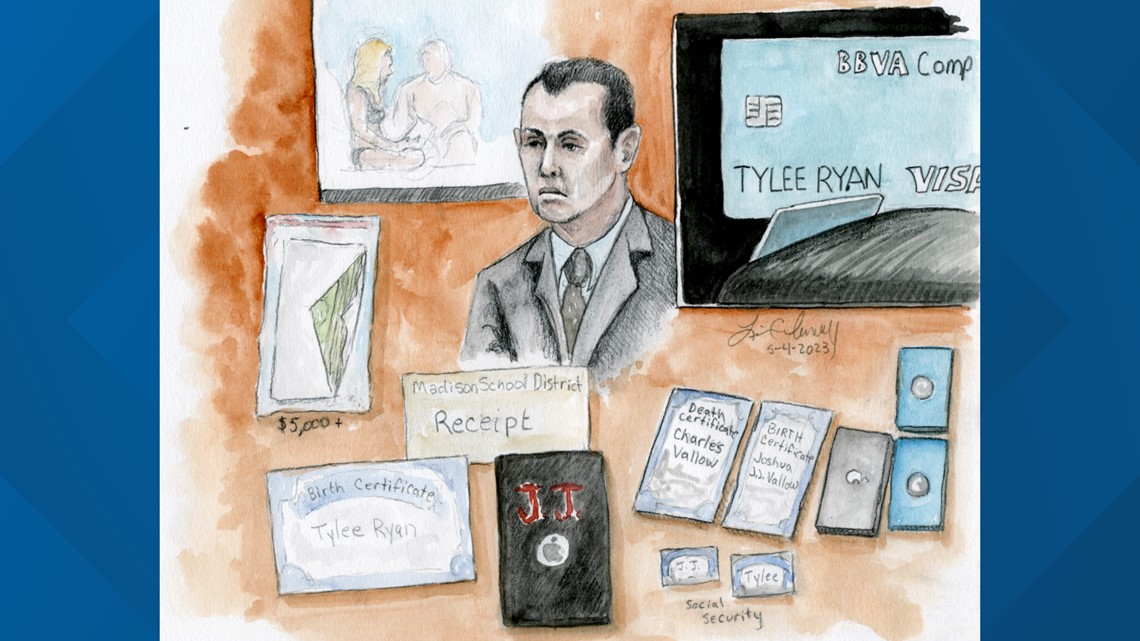 1:34 p.m.: Cross examination of Detective Nesbitt is underway. On questioning from defense attorney John Thomas, Nesbitt testifies that when searching Lori Vallow's car, he did not take any trace evidence from the car. Thomas displays photo of Tylee's credit card, which Nesbitt had inadvertently knocked off the front seat, and asks if he sees anything in the photo that could be trace evidence.
"I see some hairs," Det. Nesbitt said. When asked if the hairs might be Tylee Ryan's he said it's possible. Nesbitt indicated that he did not collect any hairs.
Thomas later displays a tote bag, which Nesbitt indicated was where officers executing the search warrant found the birth certificates and Social Security cards; also found inside the bag were the iPad tablets, including the one with JJ's initials on the case, as well as file folders and papers, a book called "Visions of Glory," and one page from the patriarchal blessing written from Chad Daybell to Alex Cox. Nesbitt said he doesn't recall if more than one page of the blessing was in the bag.
Regarding the envelope with cash found during the search, Nesbitt said on cross examination that he estimated the amount to be around $5,000 or maybe $5,500.
On follow-up questioning from the prosecution, Nesbitt said he did not find any evidence of any children staying at the condo on Kauai.
1:15 p.m.: Lunch break, scheduled to last until 1 p.m., should be ending soon. The judge, the attorneys and Lori Vallow have not yet come in and taken their seats. When things get going again, John Thomas will begin the defense's cross examination of Detective Nesbitt.
12:06 p.m.: Prosecutor Rachel Smith has wrapped up questioning of Kauai Police Detective Colin Nesbitt, and court is in recess for lunch. Nesbitt said his first contact with Lori Vallow was Jan. 5, 2020, when assisting Rexburg Police Department with serving a legal document.
He said Lori Vallow was located with Chad Daybell in the swimming pool area at a condo complex. Another detective served the papers, but Nesbitt and a Kauai Police lieutenant were also present. Lori was provided a copy and asked if she had any questions.
We see a recording of the papers being served. Chad and Lori review the papers and don't have any questions. Officers say "have a nice day" and leave.
On Jan. 25, 2020, Kauai Police served papers ordering Lori Vallow to produce JJ. Nesbitt's next involvement was Jan. 26, when he was assigned to execute a search warrant on Lori Vallow and Chad Daybell, their car and their condo.
They were found driving about 30 minutes away from the condo, headed toward Kauai Beach Resort, when officers pulled them over. Lori was driving, Chad was in passenger's seat. Both were taken out of the car. The car was searched after police gave Lori some personal effects.
The prosecution presents exhibits labeled State's Exhibit 234 A through Z. It takes a while to go through all this, but in the search of the car, police found credit cards with Tylee Ryan's name on them.
Among other items taken as part of the search was a tablet that had the initials "JJ" on the back of the case. Two laptops seized from a backpack were turned over to Rexburg Police for analysis.
An envelope with cash also was found in the backpack. Nesbitt was not asked about and did not specify the amount.
In the condo, items found included "roughly 14 or 15 copies" of Charles Vallow's death certificate, copies of JJ's birth certificate from Louisiana bearing his birth name, Canaan Trahan, as well as birth certificates with updated information, Tylee's birth certificate, and Social Security cards for Tylee and JJ. Nesbitt testified that police also found a bag of silicone rings, which may be wedding bands designed for wearing while exercising or in the water.
Other papers shown in court included a lease agreement with names of Lori Vallow, Tylee Ryan, Joshua (JJ) Vallow signed in August 2019 for an apartment in Rexburg, and a written patriarchal blessing from Chad Daybell to Alex Cox dated Nov. 24, 2019.
11:46 a.m.: Detective Colin Nesbitt with the Kauai Police Department is on the stand, testifying about serving a search warrant on Lori Vallow and Chad Daybell, which was executed in a traffic stop on Jan. 26, 2020, as the couple was driving to Kauai Beach Resort. We're going through several exhibits right now.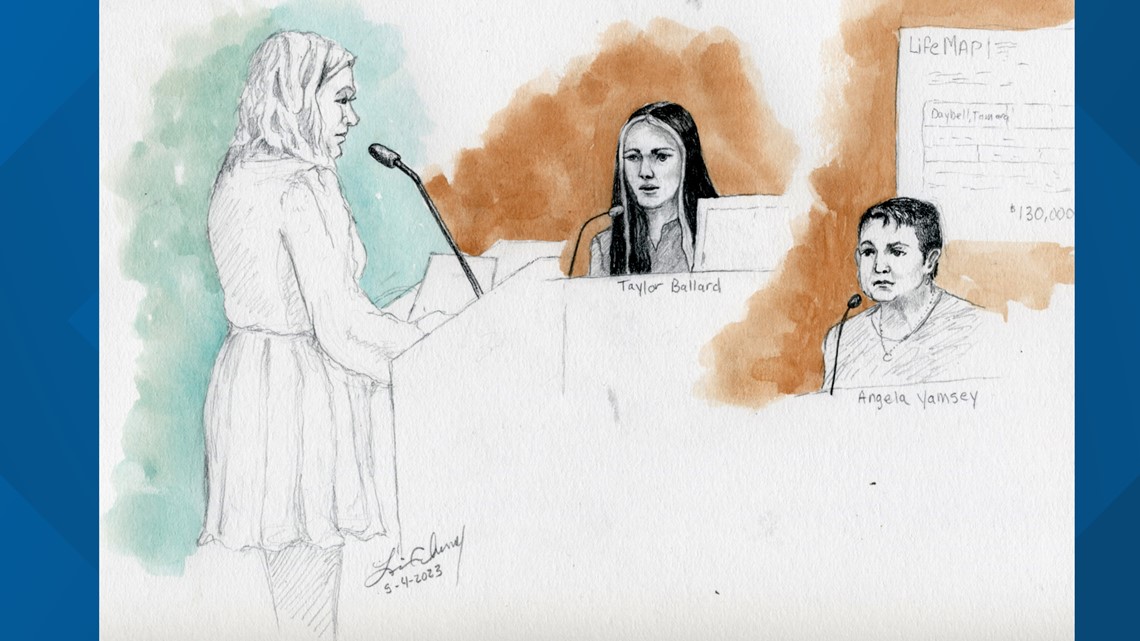 11:27 a.m.: We've heard more from Taylor Ballard as well as Angela Yancey, a Sugar-Salem School District employee who processed Tammy Daybell's payroll and benefits information. Tammy Daybell had worked as an elementary librarian beginning in 2017.
Tammy Daybell made a change to her life insurance in a form signed Sept. 8, 2019. Yancey processed that application. Prosecutors put the life insurance change form on projector. It's a request to increase voluntary life insurance amount from $10,000 to $80,000. Everyone is offered $50,000, so the change increased Tammy Daybell's total life insurance amount to $130,000.
The next form displayed is a beneficiary statement. Chad Daybell is listed as beneficiary.
Yancey testifies that Chad came into her office the Monday after Tammy died. That would be just two days after Tammy's death. Yancey said in her experience, it was unusual for a spouse to come in that soon. Yancey explained that she would need a copy of the death certificate. She testified that Chad said, "Don't worry, I've already ordered eight of them."
The certificate said Tammy died in her sleep. Yancey submitted statement and death certificate to the life insurance company.
Earlier, right after the court returned from recess, Ballard testified that on March 11, 2020, Chad came back into her office, asking about obtaining health insurance coverage for his new wife, Lori. She asked when they got married, he said it was Nov. 5, 2019. Ballard said she told him that was outside of the 60-day time frame, and it wouldn't be possible to add her to the policy.
Chad Daybell told Ballard that Lori was incarcerated, and that was a qualifying event. He also talked about moving from another state and losing coverage elsewhere. He said they had been living in Hawaii.
In November, he didn't ask for coverage for anyone else. He told Ballard that Lori was in Kauai, and they would live there half the year and in Idaho half the year. He said Lori was a widow and lived off her husband's (Charles's) Social Security death benefits.
When Ballard asked for the name of Chad's new wife, she said, Chad wrote on a sticky note, "Lori Ryan Daybell." When Ballard went through to verify information and asked if Lori had any kids, Chad said no.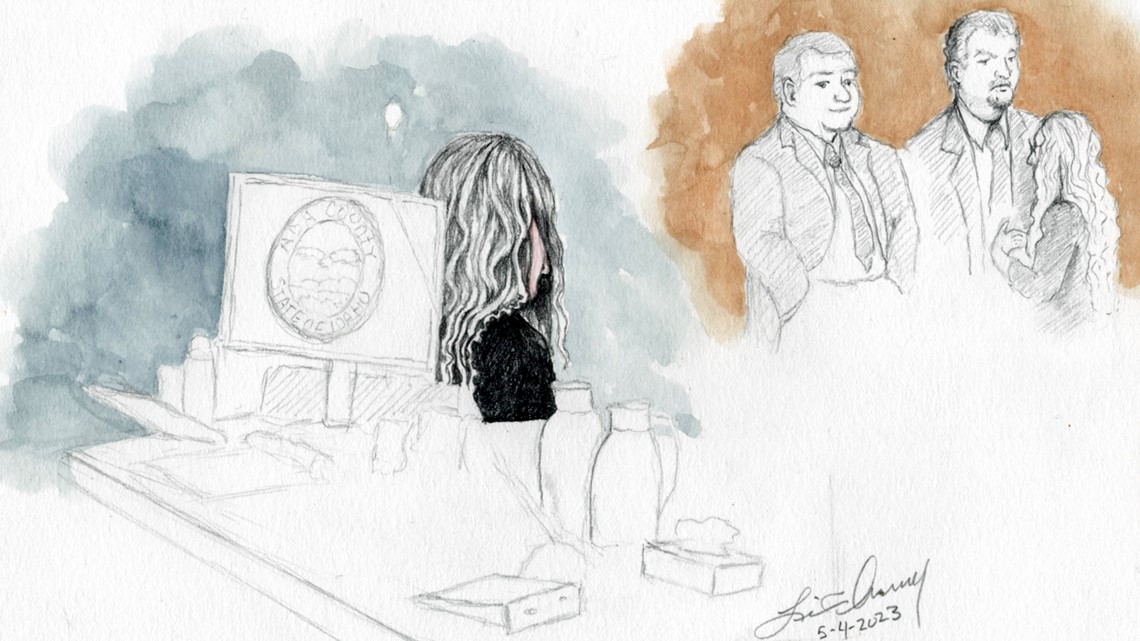 10:52 a.m.: Court back in session. We had an issue come up about discovery before the break. Judge Boyce said prosecution and defense were able to resolve the issue. The defense indicated Ballard's file may have been provided to previous counsel, but they were able to find that it was in their discovery material. Judge Boyce instructs jury that these types of arguments about rules of evidence are not be considered in their deliberations.
10:20 a.m.: Judge Boyce is going into chambers to consider defense claim of a discovery violation. We are on break until 10:45 a.m.
10:17 a.m.: Insurance broker Tammy Ballard has been testifying about her interactions with Chad Daybell, who came into Ballard's insurance office in Rexburg on Oct. 31, 2019, asking about obtaining a new policy, to take effect Nov. 1, because his wife (Tammy) had died. The policy would be for himself and three sons.
There was some discussion about whether Chad Daybell would qualify for Medicaid due to the loss of Tammy's income, Ballard said. He qualified for a tax credit, but not Medicaid. On Nov. 21, 2019, she showed him options for 2020. He asked if he were to get married, how hard would it be to get his wife on his policy? Ballard said it wouldn't be a problem, but they would need to do it within 60 days. At this point, Chad and Lori Vallow Daybell had married.
When asked when she heard from him again. Ballard asks to look at her notes. There have been multiple sidebars since this time.
Ballard provided information on her dealings with Chad Daybell to law enforcement, including 15 pages of day-by-day interactions via text message. The defense has objected, claiming they didn't have that information and that there was a discovery violation.
10:07 a.m.: Ian Pawlowski has been excused, with no redirect from the prosecution, and Taylor Ballard, a Rexburg health insurance broker is on the stand talking about dealings with Chad Daybell. Stand by for more on that. As for Pawlowski, the judge released him from the state's subpoena, but the defense indicated they may call him back. Judge Boyce said he would authorize a new subpoena if that ends up being the case.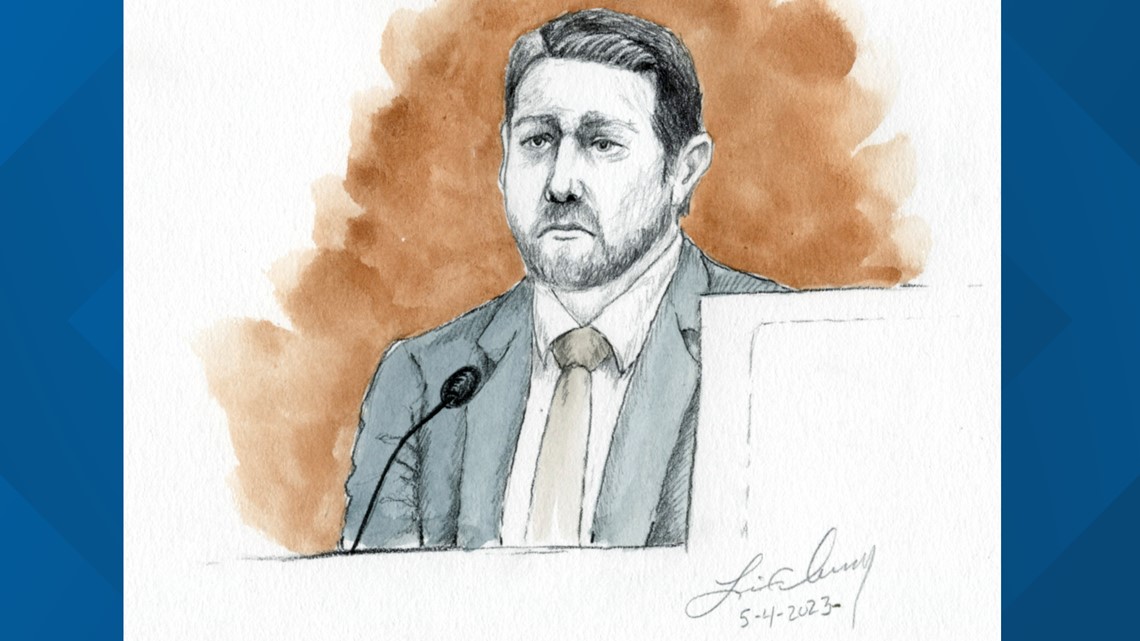 9:50 a.m.: Defense attorney John Thomas continues questioning of Ian Pawlowski, husband of Lori's niece, Melani. Ian Pawlowski confirms he met Melani in November 2019, and that they married in Las Vegas 10 days after they met. Thomas asks if he went to court during proceedings involving her former husband. Pawlowski says no, he was not permitted to because of COVID restrictions.
Chad and Lori were closest relatives Melani had, Ian said, adding that she trusted them more than anybody else she had in her life.
Pawlowski said he recorded calls between his wife and Lori and Chad at the request of FBI. He said he stopped working with the FBI after about two weeks. He said wife didn't know he was recording, but she knows now.
Pawlowski said he made recordings and turned them over to law enforcement... trying to obtain some kind of evidence. He said he didn't know what the FBI knew, and the mutual hope was to get anything that would help them find Tylee and JJ.
"I believe there were nine" recordings, Pawlowski said.
One of the calls was from Dec. 12, 2019, the day Alex Cox died. Pawlowski said he knew he had recorded a phone call that day, but doesn't remember the specifics. From what he does recall, Pawlowski said, Melani had been told by Chad and Lori to go to a place of safety. She went to the temple in Rexburg.
Pawlowski said he doesn't remember if Chad gave Melani a comforting blessing that day, but it's possible. "Blessings were flying around like flies," he said.
When asked if he felt like he was being manipulated, Pawlowski said that more than anything, it felt like Melani was being manipulated at one of the darkest times in her life. He said it felt like Lori was trying to get something out of Melani, but there's "no hard evidence."
Lori was telling Melani that law enforcement officers were dark, trying to impede their mission, Pawlowski said, when in reality they were trying to find two missing children.
9:20 a.m.: Jury entering courtroom following judge's determination that recordings by Ian Pawlowski of Melani Pawlowski on the phone with Chad and Lori will not be played at this time.
9:14 a.m.: Court is back in session. Judge Steven Boyce finds the recordings inadmissible at this point, as they would constitute hearsay. Case law, he said, provides a limited exception, but this doesn't meet it in his determination. If the witness (Ian Pawlowski) were, on cross examination, to contradict the contents of those recordings, that would open up another opportunity for them to be played.
9:06 a.m.: Court still in recess. Judge Boyce about to say if the recording shall be played. Lori Vallow and her attorneys have been standing behind their table, appearing to converse. She's wearing a black suit.
9:00 a.m.: Archibald at podium now to continue cross-examination of Ian Pawlowski. He would like to play recording of Ian Pawlowski on December 12 or 13, conversation "secretly recorded" by Ian, his new wife (Melani Pawlowski, nee Boudreaux) on phone with Chad and Lori, discussing several issues: death of Alex Cox, religious issues and blessing from Chad.
"I would remind the court that these religious issues are charged by the state as an overt act," Archibald said, going on to say the conspiracy his client is being accused of is due in part to religious beliefs.
Prosecution objects to playing of recordings on grounds that it would violate rules of evidence regarding hearsay; said it was unfair of Archibald to refer to as a "snitch," which he did a moment ago. If recordings are not going to "be used to get to truth of the matter," there's a question of whether they're relevant. Religious beliefs are not an "overt act" as charged by the state, but the theory is that they used those beliefs to manipulate or control others.
Archibald rebuts: In a conspiracy case, "what Chad says here is not hearsay." Alex is named in the indictment as a co-conspirator, and his statements are not hearsay. He said nobody but Ian and law enforcement knew Lori was being recorded.
Judge Boyce is taking brief recess to chambers to discuss whether to allow the recording to be played in court. At this point, the jury has not yet entered the courtroom.
8:45 a.m.: Prosecution and defense are seated. Lori Vallow is sitting between her attorneys, Jim Archibald and John Thomas.
Lori Vallow trial sketches