EAGLE CREEK, Ore. — The Portland Police Bureau (PPB), in a response to social media posts and reporting about six women who have been found dead in the past several months in and around Portland, said in a Sunday news release that it "has no reason to believe these 6 cases are connected."
PPB said it continues to investigate the death of one of the women, Kristin Smith, and is working with the Clackamas County Sheriff's Office (CCSO) on the investigation into the death of a second woman, Ashley Real. Portland police said Sunday the medical examiner has not determined the cause and manner of Smith's death, and though CCSO described Real's death as "suspicious," PPB said a conclusion has not been made that she was a homicide victim.
Portland police also said Sunday that foul play is not suspected in the case of an unidentified woman who was found dead on April 24 near Interstate 205 and Southeast Flavel Street in Portland.
PPB said it has communicated with law enforcement agencies investigating three other deaths in Multnomah County, Polk County and Clark County, but they are not working with those agencies on those death investigations. "As of now we are not actively participating in them," police said in Sunday's news release.
Portland police said social media posts and news media articles about the women's deaths "have led to some anxiety and fear in our community, and we want to provide reassurance that the speculation is not supported by the facts available at this point."
'Women are dying at awful numbers'
The fact remains that six women have vanished and been found dead in the past six months. The women's remains were all found within 100 miles of each other in and around Portland, and in most cases, they were discovered in forested or rural areas.
On Thursday, June 1, KGW reached out to detectives with the agencies investigating these disappearances and deaths. The Polk and Clackamas County Sheriff's Offices responded that day and said they're talking to partner agencies to see if their respective cases are connected to any others. As detailed at the top of this article, PPB responded in a Sunday news release and said it doesn't believe any of the cases are connected.
Real's remains were discovered by deputies on May 7 in a forested area off Southeast Judd Road in rural Clackamas County. The 22-year-old had last been seen in late March at a fast food restaurant and transit center in Portland. Surveillance photos of Real were some of the last before she turned up dead in that heavily wooded area near Eagle Creek.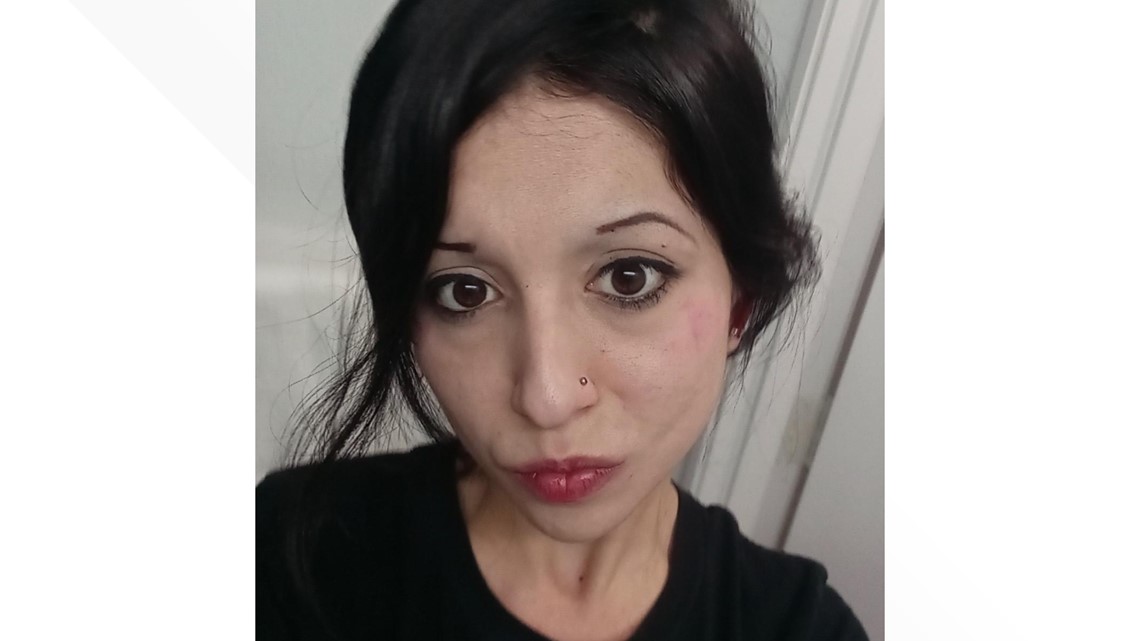 "It's just so heartbreaking and it's really hard to put into words, I guess, how heartbreaking it is," Robyn Speaks told KGW on June 1. "No matter the circumstances that's someone's baby."
Speaks did not know Real, but she is following her case closely. Like Real, Speaks' sister, Joanna Speaks, vanished in late March only to turn up dead on April 8 in a rural area of Clark County.
"We've gotten through the celebration of life and we were able to come together for that and it was really awesome, but now it's kind of hitting us more that it's real and we keep seeing on the news all these new girls," Speaks said.
Joanna Speaks died of blunt head and neck injuries, according to the Clark County Medical Examiner's Office. The medical examiner classified her death as a "homicide" and said in a news release she was "injured by other person(s)."
"I don't want to ever scare people but reality is there are women dying at awful numbers," Speaks added.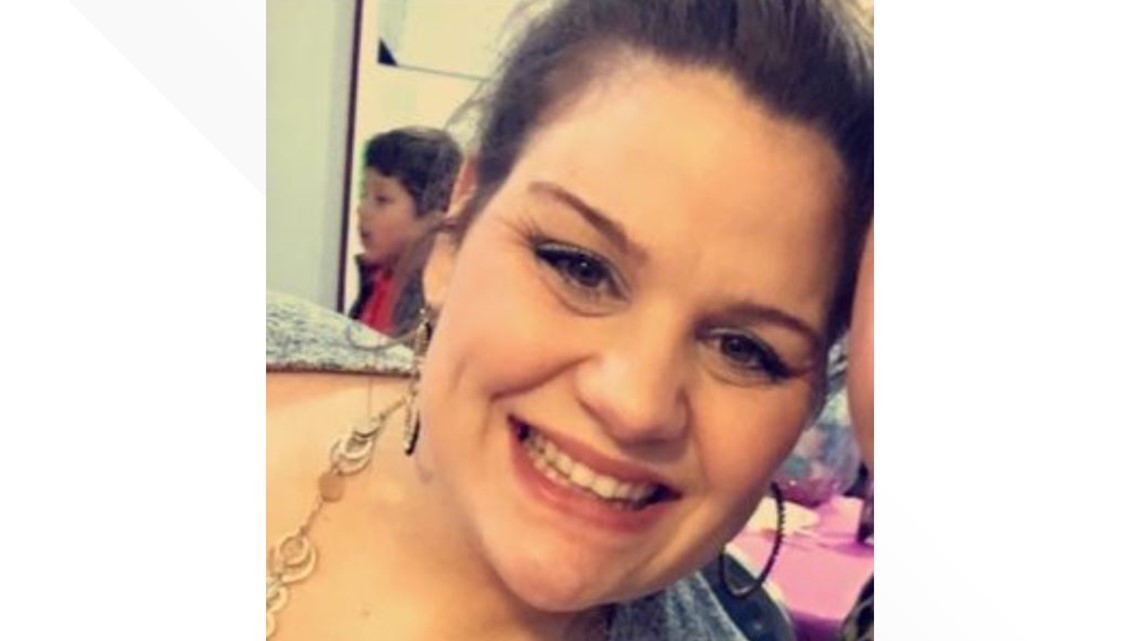 Real and Speaks were two of the six women. The body of a third woman, Bridget Webster, was found April 30 in Polk County. Webster had been known to frequent Portland, Oregon City and Milwaukie, the Polk County Sheriff's Office said.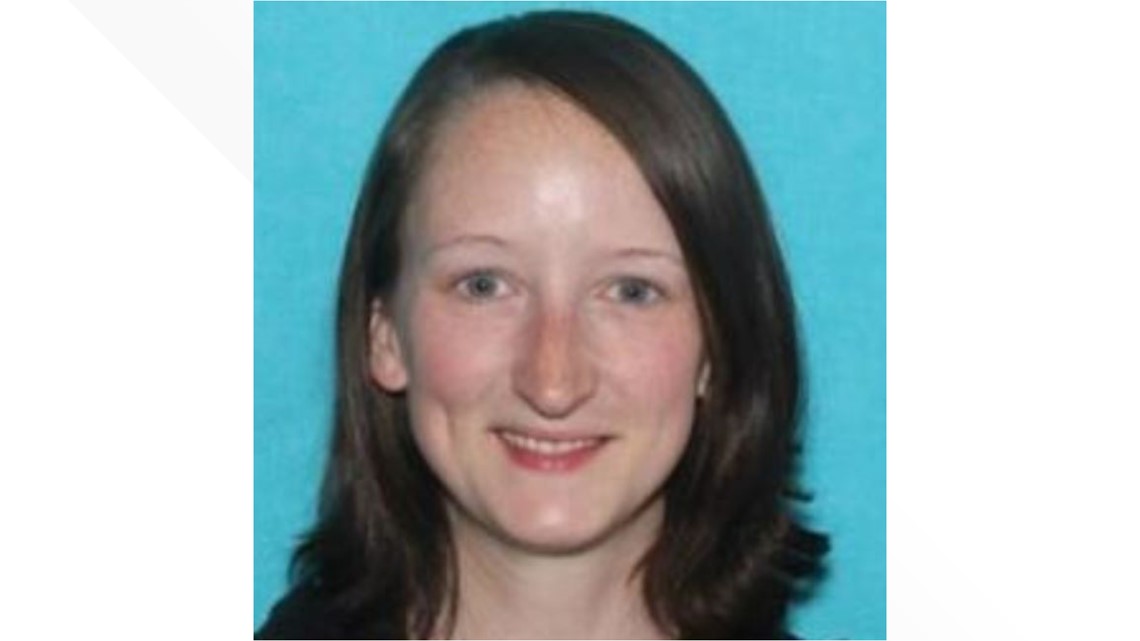 About a week before Webster's remains were found, authorities discovered the body of Charity Perry in Ainsworth State Park. Perry had been missing since early March. Her body was found April 24.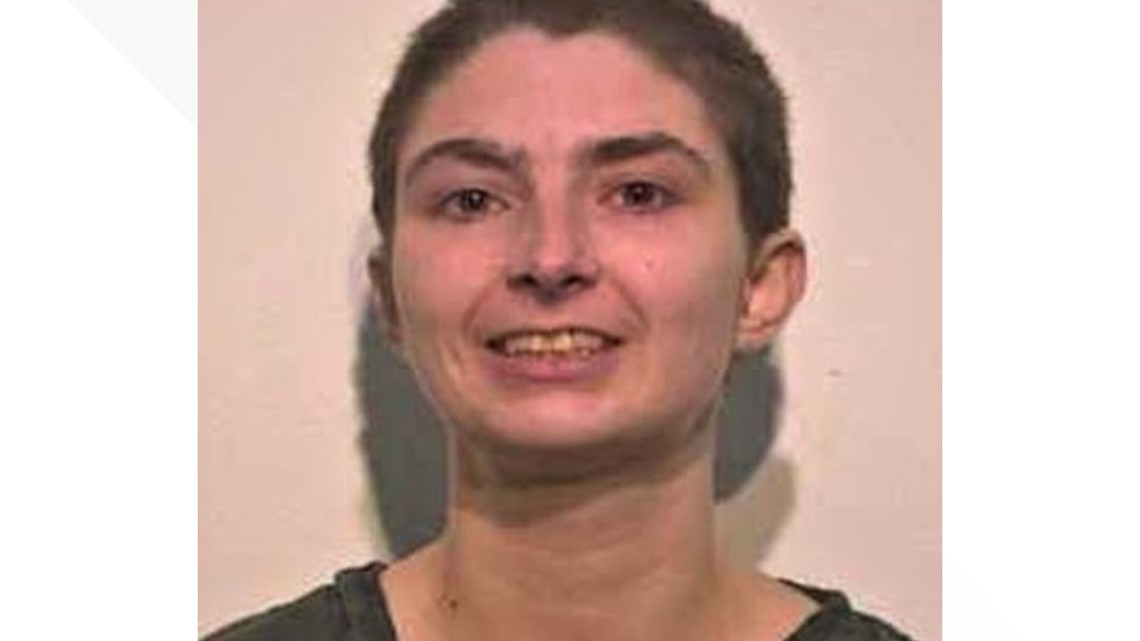 There's also the case of Kristin Smith, who vanished in December 2022. The 22-year-old's body was found Feb. 19 near Southeast Deardorff Road and Flavel Street in Portland. In Sunday's news release, PPB said her death remains under investigation and no additional information is available. As of Sunday, the medical examiner had not determined her cause of death.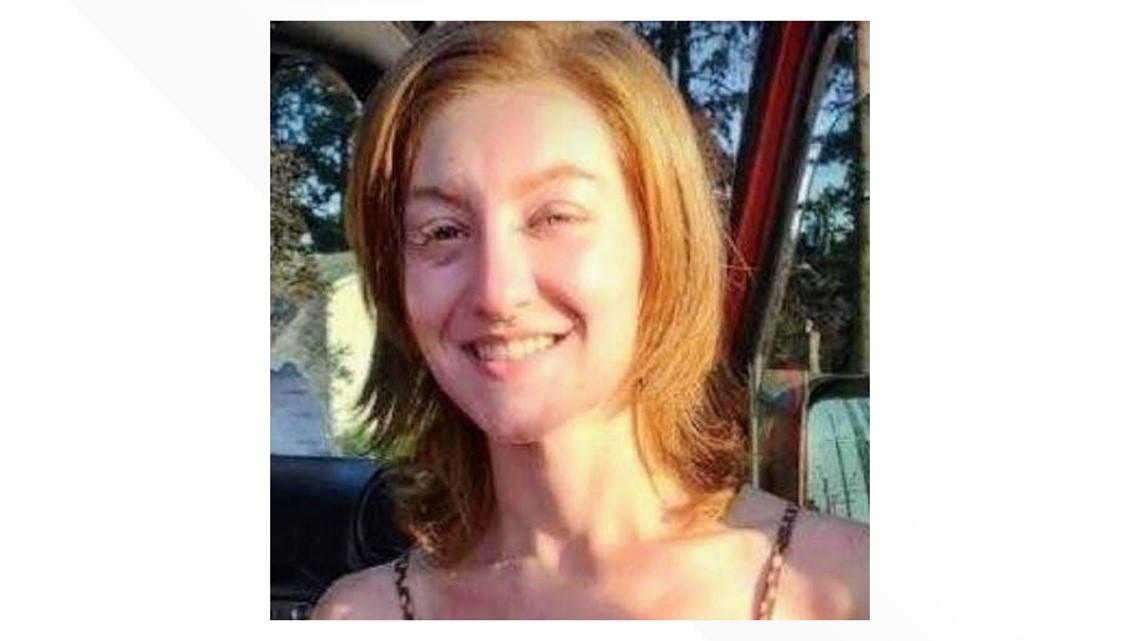 On April 24, the same day Perry's remains were found, an unidentified woman's body was found near Interstate 205 and Southeast Flavel Street in Portland, less than three miles from where Smith's body was discovered. In Sunday's news release, PPB said the woman was found dead inside a tent and police said they don't suspect foul play.
The Multnomah County Sheriff's Office said the woman was possibly Native American or Native Alaskan and between the ages of 25 and 40. She was about 5-foot-1 and 135 pounds with medium-length black hair. The sheriff's office said she had two scars on her left lower leg and two tattoos, a black music note with the letter V on her upper chest and the Buddha on her right upper back on her shoulder blade. She was wearing a green, long-sleeved shirt, a black and white zip-up long-sleeved jacket, blue jeans and black and white Adidas cleats. She was also wearing rings and bracelets.
Anyone who knows this woman is asked to call the medical examiner's office at 503-988-0055 and reference case No. MU-230424-999.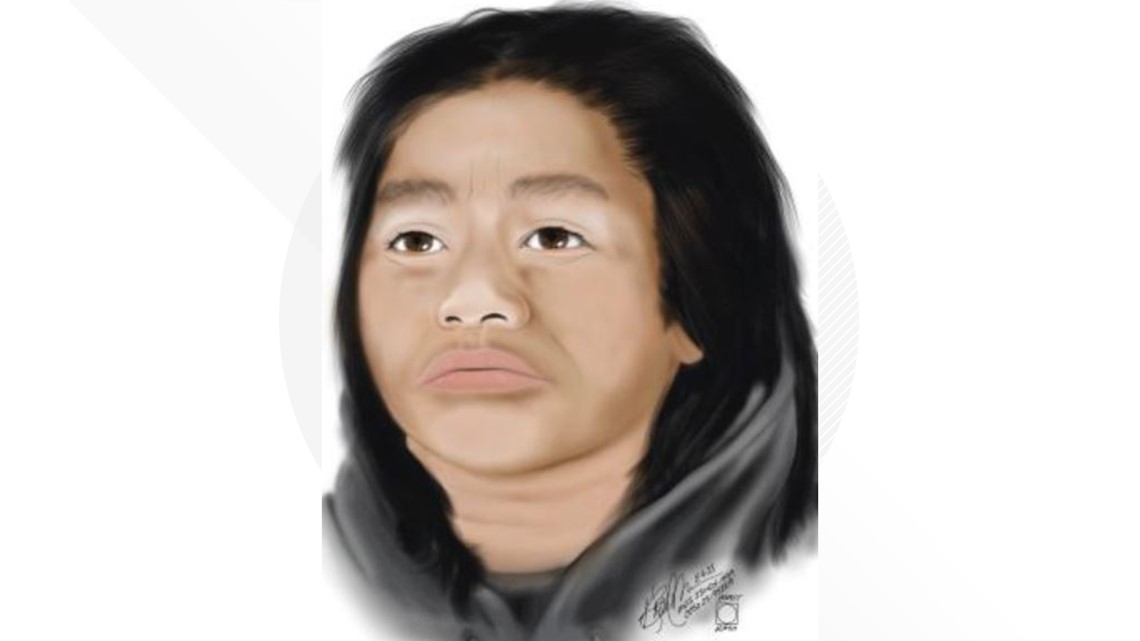 "With each one, we as a family, we've talked about it, shared it, looked at the details," Speaks said Thursday. "We've talked to the detectives to see if there are any similarities."
While it's unclear if any of these cases will turn out to be connected — and Portland police said Sunday it does not believe they are — Speaks is adamant about one thing.
"Women need to pay attention and they need to know there are dangers and they're clearly taking the lives of people we love," she said on June 1.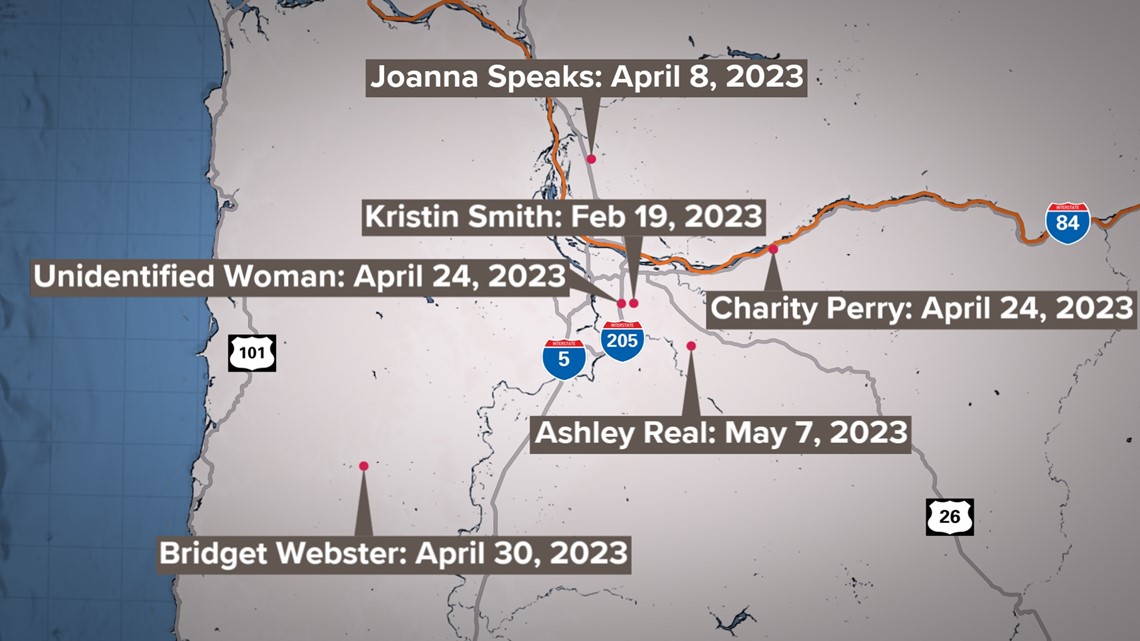 How to contact law enforcement with information
Anyone with information about any of these cases is urged to contact authorities at the following law enforcement agencies:
Case of Kristin Smith: Contact Portland Police Bureau Detective Jeff Pontius at jeffery.pontius@police.portlandoregon.gov or call 503-823-0433 or Detective Kristina Coffey at kristina.coffey@police.portlandoregon.gov or 503-823-1081.
Case of Joanna Speaks: Contact the Clark County Sheriff's Office Major Crimes Unit tip line at 564-397-2847.
Case of Charity Perry: Contact the Multnomah County Sheriff's Office tip line at 503-988-0560.
Case of unidentified woman: Contact the Multnomah County Medical Examiner at 503-988-0055 and reference case No. MU-230424-999.
Case of Bridget Webster: Contact Polk County Sheriff's Office Detective Martin Watson at 503-623-7550.
Case of Ashley Real: Contact the Clackamas County Sheriff's Office tip line at 503-723-4949 or use the online email form and reference case No. 23-009521.