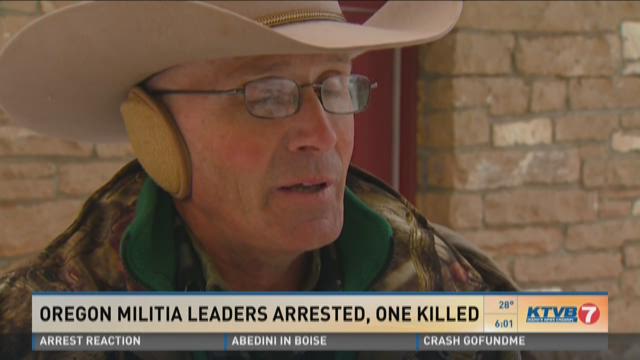 BURNS, Ore. - Authorities say shots were fired during the arrests of members of an armed group that has occupied the Malheur National Wildlife Refuge in Oregon for more than three weeks.
    
In a statement Tuesday, the FBI said one individual "who was a subject of a federal probable cause arrest is deceased."
The FBI said authorities arrested Ammon Bundy, 40, his brother Ryan Bundy, 43, Brian Cavalier, 44, Shawna Cox, 59, and Ryan Payne, 32, during a traffic stop  Tuesday afternoon on U.S. Highway 395. 
Oregon State Police issued a news said late Tuesday night that said a shooting during the traffic stop involving OSP troopers was being investigated by OSP and the Harney County District Attorney's Office. The Deschutes County Major Incident Team will assist with the investigation.
Arizona rancher LaVoy Finicum, 54, was killed, his daughter, Challice Finicum Finch, confirmed to NBC News on Tuesday night. He was a spokesman for the group, and he was the first member of the group to talk to KTVB after the occupation of the refuge. 
Authorities said another person, Joseph Donald O'Shaughnessy, 45, was arrested in Burns. 
The FBI also arrested Peter Santilli, 50, of Cincinnati, Ohio, in Burns. Santilli has been operating an online talk-radio show during the occupation of the refuge.
The occupiers are charged with felony conspiracy to impede officers of the United States through use of force, intimidation or threats.

U.S. Highway 395 is currently shut down between Burns and John Day, Ore. Officials have set up checkpoints around the  Malheur National Wildlife Refuge, and say anyone who tries to enter will be arrested. Oregon Governor Kate Brown called for patience as the situation at the refuge unfolded.
"My priority is the safety of all Oregonians & communities," she tweeted Tuesday night. "I ask for patience as officials continue pursuit of a swift & peaceful resolution."
Jason Patrick, a member of the standoff, said some occupiers are still at the refuge, although he declined to say how many were left. 
Patrick criticized the way the arrests of his fellow protesters were handled. 
"Peaceful resolution - that's what you hear over and over and over again, and now one of my friends is dead," he said. "It doesn't sound very peaceful resolution. They say you can leave, yet somebody has left and now they are arrested."
Bundy's group, which has included people from as far away as Arizona and Michigan, seized the headquarters of the Malheur National Wildlife Refuge on Jan. 2 as part of a long-running dispute over public lands in the West.
    
Bundy is the son of Nevada rancher Cliven Bundy, who was involved in a high-profile 2014 standoff with the government over grazing rights.
The Oregonian reported that there had been a meeting scheduled between some members of the group and local residents in John Day on Tuesday night.
KGW reported that a hospital spokeswoman said that the St. Charles Bend Hospital was placed into lockdown and an AirLink helicopter was sent to Harney County on standby to transport patients if needed.
St Charles told KTVB that the hospital is not receiving any patients from Harney County. AirLink is dispatched to be on standby should any patients need to be transported or need the medical attention, she said.
KTVB has a crew in Burns now. A news conference with the FBI, U.S. Attorney Office, and Harney County Sheriff's Office is scheduled for 12 p.m. Mountain Time. Watch it live here or on KTVB.