WASHINGTON, D.C., USA — All four members of Idaho's delegation condemned Trump supporters who stormed the U.S. Capitol Building Wednesday, halting the session to confirm President-elect Joe Biden as the next president of the United States.
Members of the crowd, who support President Donald Trump's baseless claim of voter fraud, physically fought with Capitol Police before forcing their way into the building.
Lawmakers from both the House and Senate have been evacuated.
Idaho's senators and representatives called for the mob to disperse.
Rep. Simpson said he would not vote to try to overturn the Electoral College, which was the main reason pro-Trump supporters went to the U.S. Capitol, because doing away with the Electoral College would lessen Idaho's power in the presidential election process.
"I will not usurp states' power," he said in a statement. "Absent the designation of new electors by the states, Congress' sole role, as set by the Constitution, is to count and certify the electoral slates that have been presented today, and that is what I voted to do."
Senator Jim Risch called the riot at the Capitol Building "unpatriotic and un-American in the extreme."
He added that he is thankful that law enforcement was able to regain control of the area and he and his fellow senators and representatives could get back to work. Sen. Risch also said that because of the deep mistrust of government that was on display and faith in the election process must be restored.
"I am committed to pursue that so all of America has the benefit of what we enjoy in Idaho - solid confidence in the outcome of our elections," Sen. Risch said in a statement. "An open, transparent system with clear guidelines and rigorous safeguards is vital."
Fulcher, who was among lawmakers to file an objection to the Electoral College's confirmation election results in Arizona, also issued a statement.
Sen. Mike Crapo released a statement late Wednesday evening, stating that any effort by Congress to undermine the Electoral College would diminish Idaho's power in the election process.
"To undercut this system would inevitably lead to federalizing our election process and remove the authority of states under the Constitution. This is an outcome many have sought for years, but it would be a serious mistake. It would gravely diminish Idaho's role in electing future presidents. I took a solemn oath to support and defend the Constitution of the United States, to bear true faith and allegiance to the same, and to faithfully discharge the duties of the office I represent. That is why I will not join efforts to have Congress reject validly certified Electoral College votes. "
The senator added that the violence at the U.S. Capitol is completely unacceptable and those who were involved in the riot "should be prosecuted to the fullest extent of the law."
Idaho Gov. Brad Little also addressed the situation at the Capitol, calling the violence "inexcusable."
"Today's activities will undoubtedly bring a reaction - and for good reason. But as often is the case, the unintended consequences will be less access, fewer students, fewer citizens seeing the sometimes-messy constitutional process of government," he said in part. "I mourn for the lack of access that was there when I spent part of a summer in 1973 as a student with unfettered access to our congressional branch. We can replace unfettered access with technology, but there will be a loss. Unfortunately, there will be fewer students with a passion for the process because of their first hand exposure."
Idaho Attorney General Lawerence Wasden issued a strongly worded statement on Wednesday night, condemning the riot at the Capitol.
"At its core, America is a nation built on the rule of law and not personalities. I condemn today's acts that sought to override our rule of law, and those whose actions attempted to trample the Constitution. There is no place in the United States for the attempted mob rule that occurred at the Capitol. America is the solution to mob rule, it should never be the source of it," he said.
Tom Luna, the chairman of the Idaho Republican Party, released a statement Thursday morning saying that while many people are frustrated with the government, violence is never the answer.
"A peaceful transfer of power should be cherished as an American ideal," he wrote. "Today we are a nation that is deeply divided. We must find ways to accept our differences and unite. While it is obvious that our national wounds will not heal immediately, each of us, all of us, must be better if we are to expect better of others."
Photos: Trump supporters storm US capitol during Electoral College affirmation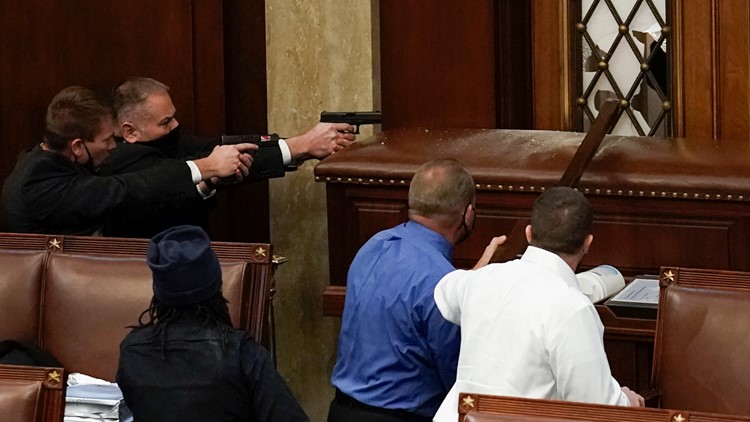 Idaho Democratic Party Chairwoman Van Beechler laid the blame for the violence at the feet of Idaho's delegation, charging that they had contributed to the scene by backing the president's false claims that he had won re-election.
"Because our Republican leaders in Washington have encouraged and refused to stand up to President Trump's deliberate attack on the Constitution and the legitimacy of our elections, they are responsible for the unrest that is occurring," she wrote. "Congressman Russ Fulcher, Congressman Mike Simpson, Senator Jim Risch and Senator Mike Crapo all share responsibility for today's events, along with every Republican official who chose to prioritize political power over preserving our democracy. We hope Idahoans will stay safe and remain peaceful during this time, and that state officials are prepared to keep our legislators safe as we approach the legislative session."
Idaho dealt with a smaller scale of the unrest happening at the U.S. Capitol in August during the Legislative Special Session when protesters shoved Idaho State Police troopers and shattered a glass door as they forced their way into the House gallery.
Officials have said that lawmakers will continue the formal electoral college confirmation process once the unrest is quelled. Biden won 306 total electoral votes, while Trump won 232 votes.
Trump told his supporters in a Wednesday speech that he would never concede to Biden, and called on them to march to the Capitol.
"After this, we're going to walk down - and I'll be there with you," he said. "We're going to walk down, we're going to walk down, we're going to walk down, anyone you want and we're going to the Capitol."
"I know that everyone here very soon will march down to the Capitol to peacefully and patriotically make your voices heard," he added.
Later, after his supporters had broken into the Capitol, overwhelming police forces and forcing evacuations, Trump called for the group to remain peaceful.
About an hour later, the president issued another statement, saying the election had been "stolen from us" but asking the demonstrators to disperse.
"Go home, we love you, you're very special," the president said.