Parents of a 2-year-old with spina bifida have turned a unique medical invention into a gift for other children living with the condition.
Brody Moreland was born with spina bifida, a birth defect that causes the spine and spinal cord to develop incorrectly. As a result, he is paralyzed from the chest down.
His parents, Ally and Taylor Moreland of Centralia Mo., noticed their son wasn't progressing as he should despite physical therapy and other treatment.
Brody relied on a baby wheelchair to get around, which hindered his development, according to Ally. He wasn't able to crawl on the ground, reach for toys, or play with his cousins.
So in August of 2018, Taylor got to work developing a device that would help Brody crawl with his hands. Despite not having any previous engineering or carpentry experience, Taylor developed a test device out of leftover hardwood flooring.
Over time, Taylor and Ally developed the design to fit Brody's needs. The final product was a wooden rocker with wheels that allowed their son to pull himself with his arms, while his legs bounced freely behind him. They named the device "The Frog."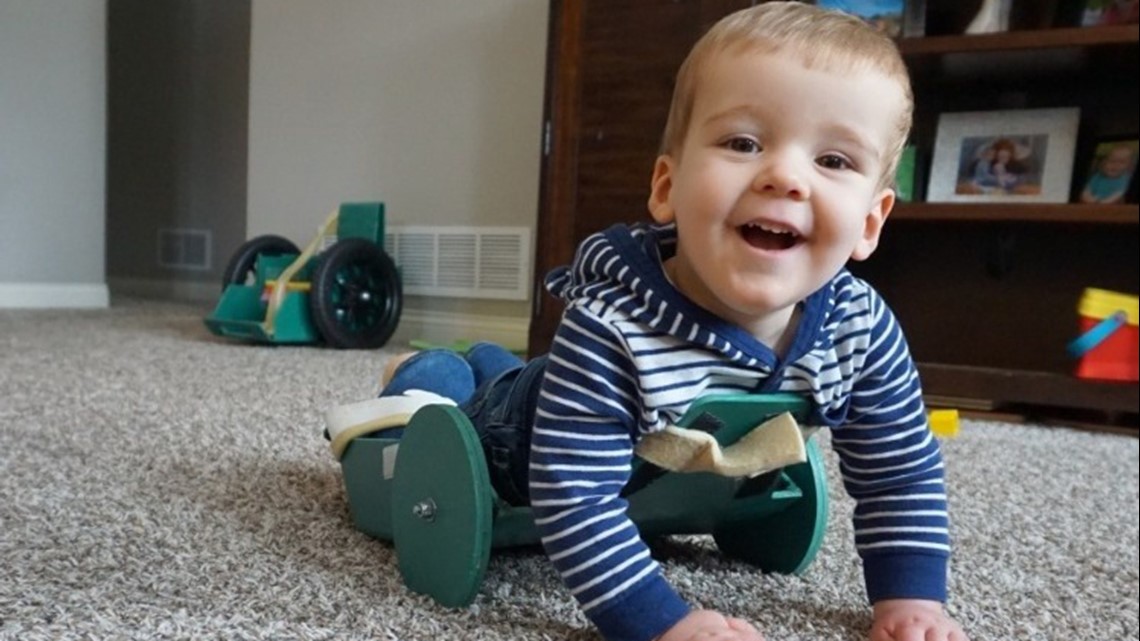 The invention was "life changing" for Brody, Ally said.
"It provides a whole new experience," she said.
Thanks to The Frog, Brody's cognitive development has improved, according to Ally. It's helped him interact more with his surroundings and develop his personality.
After seeing their son's improvement, the Morelands wanted to share their invention with other babies living with spina bifida.
They started building more Frogs to give to other families. One Frog takes them about three hours to make and costs $300, but they didn't want to burden other parents who may be dealing with hefty medical bills.
So Taylor and Ally started a GoFundMe page to offset the cost for families that couldn't spend $300 on a Frog. Today, the fundraiser has generated more than $100,000 in donations. The couple asks families to simply pay what they can for the device.
Ally and Taylor have sent 25 Frogs to kids across the country, and are working to fill more than 40 additional orders.
Their goal is to "get to as many kids who can benefit as possible," Ally said.
HeartThreads are the best stories about the best of us. Want more? Follow us!