PORTLAND, Ore. — It was a happy reunion Sunday when three Clackamas County Sheriff's Office deputies visited the baby whose life they saved a week earlier.
On Sunday, Sept. 30, baby Audrey Harmon, less than a week old, stopped breathing at the portrait studio at J.C. Penney at Clackamas Town Center.
"You can't describe what it's like to see your child turn blue. Not really know how to help or what the hell's going on," Kaylob Harmon, Audrey's father, said.
Audrey's mother, Jessie Siefer, called 911, while the father, Kaylob Harmon, tried to administer infant CPR. Surveillance video shows deputies Dan Olson, Jonah Russell and Jonathan Zacharkiw running through the mall to reach baby Audrey. When they arrived, the parents were distraught and the infant was pale and not responding.
"[The] deputies immediately went to work," said Clackamas County Sgt. Brian Jensen.
PHOTOS: Deputies visit family after using CPR to save baby's life at mall
Photos: Deputies visit family after using CPR to save baby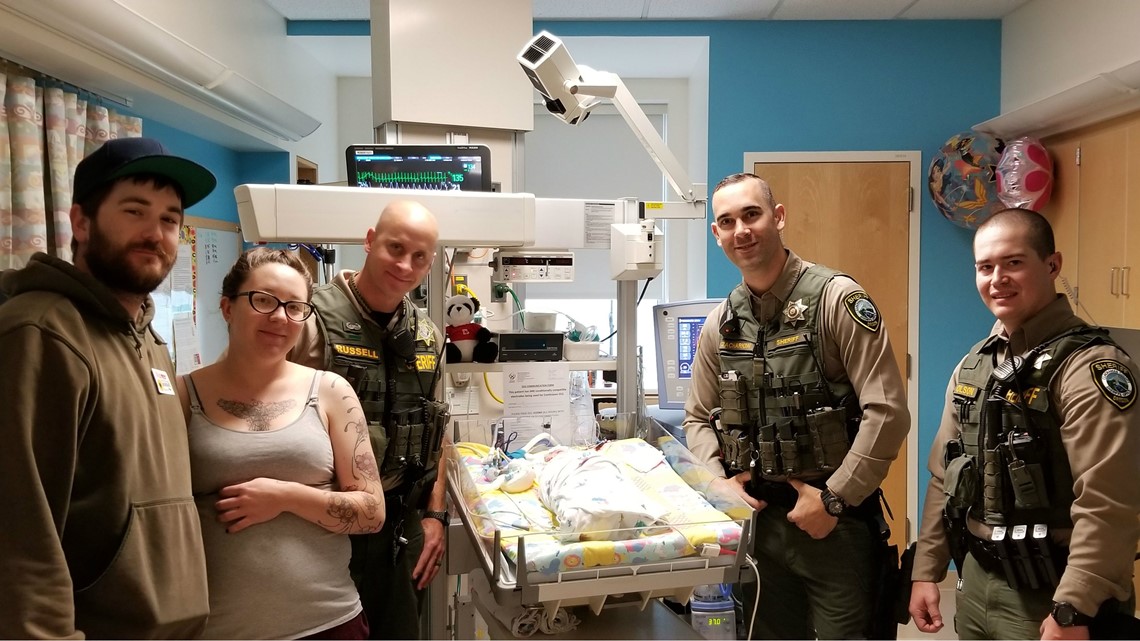 While Zacharkiw performed chest compressions, Olson used his finger to check the infant's airway as Russell stabilized her head, keeping her neck arched and airway open. Zacharkiw then turned Audrey on her stomach and used a burping chest pat to remove fluid from her airway. After he turned the baby back over, Russell used a bulbous nose sucker to extract fluid from baby Audrey's nose.
After about two minutes, paramedics from Clackamas Fire arrived and took over CPR. Baby Audrey was taken to OHSU, where she remains in intensive care.
"Her condition is steadily improving," Jensen said.
On Sunday, Oct. 7, Harmon and Siefer invited the three deputies to visit baby Audrey at the hospital.
"Kaylob told us he wanted a picture to show Audrey one day of the guys who saved her life," Zacharkiw said. "It was unbelievably heartwarming to be invited back and amazing to see how far she has progressed since last Sunday."