BOISE, Idaho — Editor's note: The video above this article was published August 11.
Wednesday's clouds brought cooler conditions and moisture to the area of the Woodtick Fire, officials with the Salmon-Challis National Forest said Thursday.
Crews will have more "favorable" weather for reducing fire behavior Thursday, with damper conditions expected. Officials expect smoke to be less visible for communities in the area, as the weekend's forecast shows rain, light winds and thunderstorms.
As of Thursday, August 11, the fire has burned 5,531 acres and remains uncontained. It started July 14 after a lightning strike about 27 miles northwest of Challis and 6 miles west-northwest of Meyers Cove on the Middle Fork Ranger District.
The U.S Forest Service said the Woodtick Fire's behavior was quiet Wednesday, thanks to precipitation over the fire and cooler conditions in the afternoon. Officials expect the fire to stay active around its edge due to dry pockets of fuel covering the fire from moisture.
Firefighting crews are monitoring the Woodtick Fire along Camas Creek from the ground. Cameras have been installed at nearby peaks to monitor the fire.
On Wednesday, a hot spot was seen near Camas Creek Ranch, but crews responded quickly to extinguish the area. To prepare for potential fire operations in the future, stage supplies are in the area to take action if needed.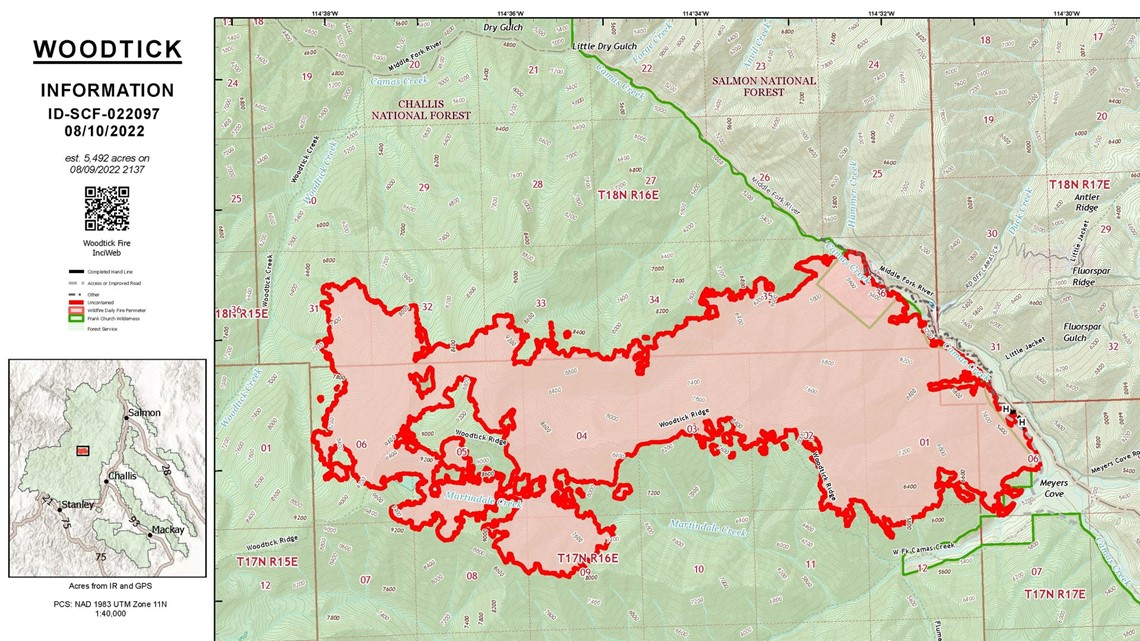 After the fire was spotted, crews made multiple attempts to directly attack the fire, but have been unable to effectively engage due to safety reasons, according to a news release from the Salmon-Challis National Forest. Fire managers switched strategies to a combination of point protection and confine-and-contain.
Point protection is a strategy that protects specific assets or highly valued resources without directly stopping the continued spread of the fire.
A confine-and-contain strategy is when firefighters will implement response actions such as line construction, burnout, or bucket drops to connect natural barriers in the area. It's an attempt to restrict the fire to a defined area as much as possible by using those natural barriers.
While the weather has permitted, crews have continued to drop water on the fire from above using helicopters. However, Temporary Flight Restrictions (TFR) is in effect over the fire area.
See the latest news from around the Treasure Valley and the Gem State in our YouTube playlist: