BOISE, Idaho — Updated: As of Thursday, the Salmon-Challis National Forest (SCNF) is lifting all area, road, and trail closures associated with the Woodtick fire.
SCNF said that recent weather patterns over the fire have resulted in moderate fire activity and reducing the risk to public safety and believe the public can return to the area with "minimal safety concerns."
"Although we are rescinding these closures, we urge people to use caution and stay out of the actual fire perimeter," said Heath Perrine, Agency Administrator, "Fires in this fuel type will continue to burn until a season ending event and pose risks with burning trees, falling snags, and hot ash pits." Hunters, hikers, and other recreationalists should make a cognizant effort to avoid the fire area.
More than a month after the Woodtick Fire on the Salmon-Challis National Forest was first spotted, the fire continues to burn with "creeping" activity in the Martindale drainage, forest officials said Saturday.
As of Tuesday, Aug. 23, the fire has burned 5,737 acres since it started on July 14. It is located about 27 miles north-northwest of Challis, in the Middle Fork Ranger District. The Norton Fire, a few miles to the west, has burned 1,266 acres since Aug. 1. Both fires are uncontained.
The fires have only grown by about 100 acres in the past week, according to fire managers, and seems to be backing slowly into the wet drainage at the bottom of Woodtick Creek.
The Norton fire continues to progress south into areas with previous fire scars, which will reduce the spread in that direction.
Aug. 12 marked the last shift for some firefighters in the Meyers Cove and Camas Creek areas. Officials said they do not plan to fill the resources as wetter conditions continue.
The Lemhi County Sheriff's Office posts updates on evacuation status using the "READY, SET, GO" system. Residents in the Silver Creek, Castle Creek and Camas Creek areas were moved back to "READY" status Friday, Aug. 19.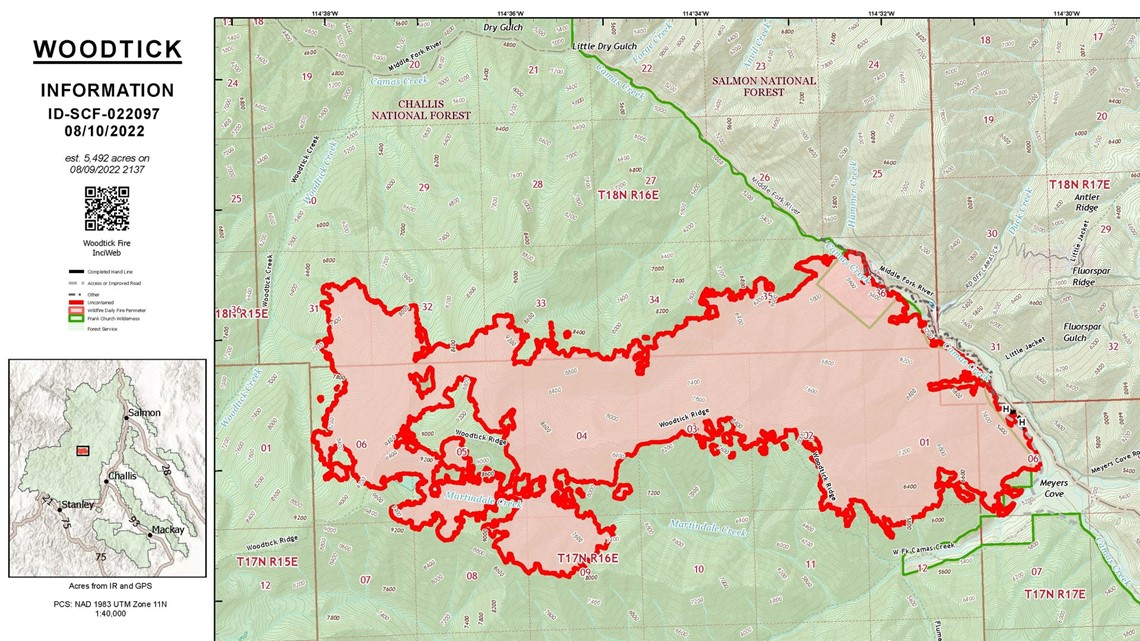 After the Woodtick Fire was first spotted, crews made multiple attempts to directly attack the fire, but were unable to effectively engage due to safety reasons, according to a news release from the Salmon-Challis National Forest. Fire managers switched strategies to a combination of point protection and confine-and-contain.
Point protection is a strategy that protects specific assets or highly valued resources without directly stopping the continued spread of the fire.
A confine-and-contain strategy is when firefighters will implement response actions such as line construction, burnout, or bucket drops to connect natural barriers in the area. It's an attempt to restrict the fire to a defined area as much as possible by using those natural barriers.
While the weather has permitted, crews have continued to drop water on the fire from above using helicopters. However, Temporary Flight Restrictions (TFR) is in effect over the fire area.
See the latest news from around the Treasure Valley and the Gem State in our YouTube playlist: