VENETA, Ore. — A wildfire is burning about 10 miles Southwest of Veneta, Oregon near a region that experienced an east wind event, according to the Oregon Department of Forestry's Western Lane District.
Crews have been working to build containment lines and have done so around 75% of the fire, which remains an estimated 300 acres as of Monday morning.
"We have 75% of the fire line where we have physically dug a line in the dirt and created just a barrier between the fire and other vegetation where it can spread. The goal in that is to keep it at the size that it's at," said Natalie Weber, with the Oregon Department of Forestry.
Due to high humidity and cooler temperatures overnight Saturday, the fire drastically decreased around midnight, allowing firefighters to make progress in working to put out the flames.
During the day Monday, many crews assisted in continuing to put out the flames, including 12-20 person crews, eight engines, fice water tenders, two bulldozers and one faller, totaling 300 personnel.
"The aircraft line up on the fire remains the same as Saturday, including three Type 1, one Type 2 and two Type 3 helicopters. These air resources are extremely helpful on the steep terrain of the fire, especially in areas that are proving nearly impossible to get firefighters into safely," the Department of Forestry said.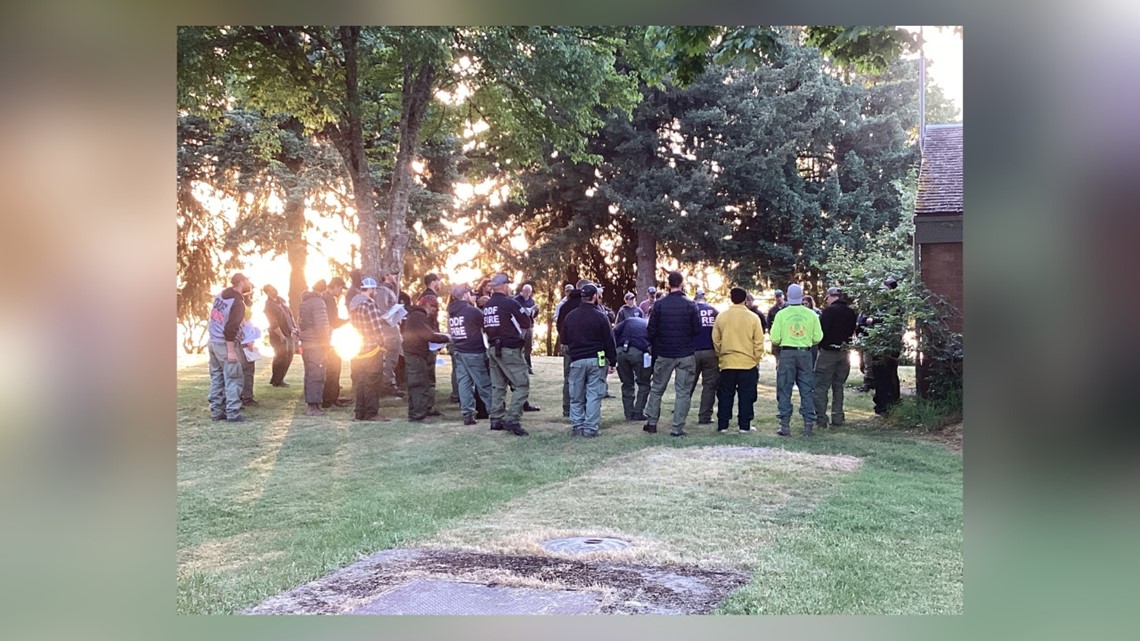 Crews will continue to work towards holding existing containment lines, preventing the fire from growing in size, and keeping the fire threat away from nearby communities.
"The fire was able to spread across neighboring mountain ridges quickly because of continuous strong winds," Oregon Department of Forestry spokesperson Natalie Webber stated in an interview to KEZI 9 News.
Fire crews have been faced with an environment with steep terrain, narrow roads, brushy vegetation, and risks of falling trees and debris. The steep terrain has been making it hard for crews to have a direct line up against the fire's perimeter in some areas.
"It really just brought it from that hill over to this one up through these trees down this area all the way up here and then around this side of the cliff, and that's where we ended up getting the spot fires further down that way," said Webber.
"That's such a top priority for us we want to keep it as small as possible and the first step is getting that line around it to keep it at this size where we're at right now," Webber said.
Perkins Peninsula County Park is currently closed to the public. Fire officials are asking the public to be aware of the closure and stay away from the area.
The cause of this fire is still under investigation. No evacuations have been ordered at this time.
This is a developing story and will be updated as needed.