SALMON, Idaho — Editor's note: The video above this article was published Aug. 9.
The Moose Fire northwest of Salmon, currently Idaho's largest wildfire, has grown to an estimated 80,096 acres -- more than 123 square miles, an area nearly one-and-a-half times the area of the Boise city limits. However, containment has increased this week, evacuations are being scaled back, and public use is returning to the Salmon River corridor.
Firefighters worked through the night to ensure the fire stayed within the perimeter. Monday, crews will use rafts to shuttle equipment across the river to help with containment operations.
Saturday morning, isolated thunderstorms brought rain to the north side of the fire. By the afternoon, cloud coverage had dissipated and temperatures rose to 101° at the Indianola Remote Weather Station.
The weather for the next few days is forecasted to be dry with humidity levels in the low teens, but strong winds are not anticipated.
Smoke may be visible around the Haystack Mountain, Beaver Creek and Pine Creek areas, as the most active part of the fire is centered around Pine Creek to the ridge above the Salmon Breaks.
Previously, a new fire was reported near Panther Creek and the Salmon River, but crews dropped 46 buckets and were able to stop the spread of the fire.
Regarding evacuation status, the Lemhi County Sheriff's Office, Salmon River Road south along Panther Creek to Trail Creek is now in "READY" Status. Squaw Creek to Pine Creek Bridge and Fairgrounds to Tower Creek west of Highway 93 remain in "SET" status. All other zones in the region are in "READY" status. For the latest updates, click HERE.
Vehicles are again allowed to travel unescorted on the Salmon River Road. Pilot car operations have ceased, but may be reinstated as needed if fire situations change.
The main Salmon River is open to rafters and the Spring Creek Boat Launch is open to public use. The Morgan Bar Campground remains closed to public use in order to provide a flight pathway for firefighters working out of a mobile retardant base in the area. Questions on river launches can be answered by emailing middlefork@fs.fed.us. For river access updates, call 208-756-5587.
The Moose Fire was first detected July 17 on the Salmon-Challis National Forest in Lemhi County, and was 34% contained as of Tuesday, August 16.
After recent rain and somewhat cooler temperatures, firefighters have been working 16-hour days this week to take advantage of the conditions and increase containment.
Structure protection work is ongoing in the Pine Creek Ranch, Panther Creek, Spring Creek, Beaver Creek, Wallace Lake and Highway 93 corridor areas, including Tower Rock, Diamond Subdivision and Jesse Creek. Crews in those areas are assessing structures and surrounding vegetation, and working with property owners to reduce fire threats.
The Salmon-Challis National Forest has issued an updated closure order. As of Saturday, August 16, The Salmon River Road between Spring Creek and Panther Creek will be closed for until further notice. Panther Creek Road is an alternative route to Corn Creek; however, officials are asking people to drive carefully as the road is curvy and unpaved with fire-related traffic present.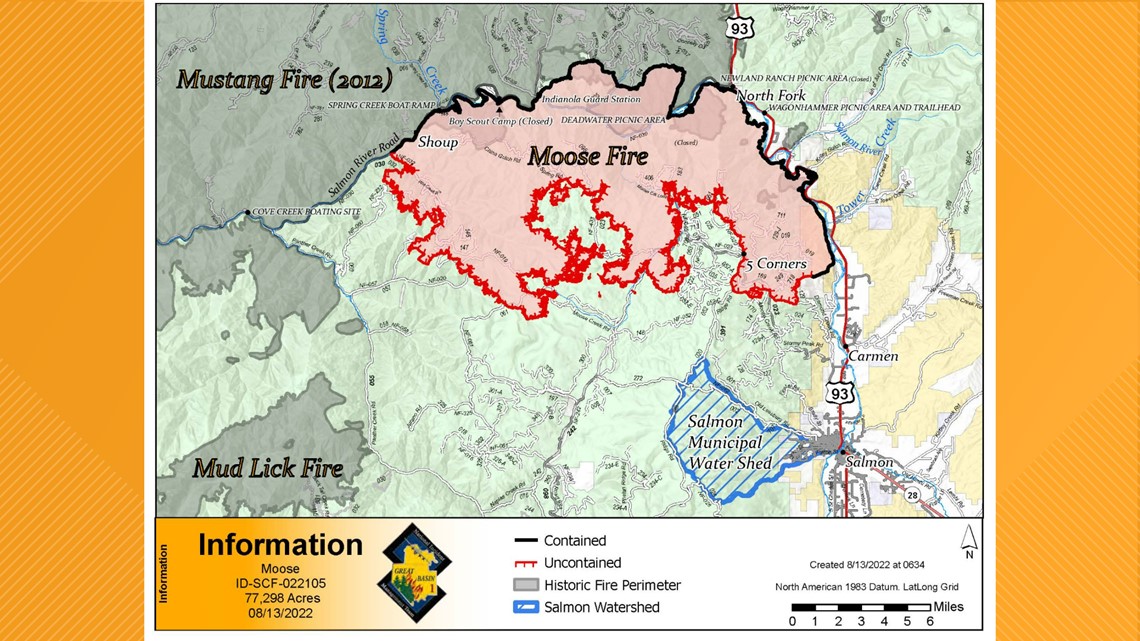 1,232 firefighters are fighting the Moose Fire, which is burning grass, brush and timber -- much of it dead and downed fuel. It started near the confluence of Moose Creek and the Salmon River.
Fire resources also include 59 engines and seven helicopters -- three Type 1, two Type 2 and two Type 3.
Great Basin Team 1 assumed command of the Moose Fire on Wednesday, Aug. 3, replacing Great Basin Team 2.
The sheriff's office said they died after being extricated and taken to medical facilities. An online fundraiser in Hayes's honor has been created to help his father pay for a funeral and to make a donation to the Boise-based Wildland Firefighter Foundation in his memory. An online fundraiser for Bird's family is also underway. GoFundMe has verified both fundraisers.
Stage 1 Fire Restrictions
The following acts are prohibited on state and federally managed or protected lands, roads, and trails:
Building, maintaining, attending, or using a fire, campfire or stove fire except within a designated recreation site and in a permanent concrete or metal fire ring, or on private land, and only within an owner-provided structure.
Smoking, except within an enclosed vehicle, building, or designated recreation site or while stopped in an area at least three feet in diameter that is barren or cleared of all flammable materials.
The following are exemptions to the Stage 1 Fire Restrictions:
Persons with a written permit that specifically authorizes the otherwise prohibited act.
Persons using fire fueled solely by liquid petroleum or liquid petroleum gas (LPG) fuels. Such devices, including propane campfires, may be used only in an area cleared of flammable material.
Persons conducting activities in those designated areas where the activity is specifically authorized by written posted notice.
Any federal, state, or local officer or member of an organized rescue or firefighting force in the performance of an official duty.
All land within a city boundary is exempted.