BOISE, Idaho — The Horseshoe Collective is about to toast its first batch of golden ale, thanks to a partnership with the award-winning Western Collective.
In the latest bubbling Name, Image and Likeness (NIL) opportunity – crafted to benefit Boise State student-athletes – Western Collective will debut their newest brew on Saturday. The Horseshoe Golden Ale is bound to be a Boise favorite.
All proceeds from the Horseshoe Golden Ale will go to The Horseshoe Collective, which will then be able able to compensate Bronco athletes.
The Horseshoe Collective was originally launched in September 2022 to benefit the Broncos' football team. A month later, the collective added Boise State men's basketball to its NIL efforts.
Saturday's launch marks a first-of-its kind type of agreement, that has everyone excited to pop the top.
"We've actually been pretty stoked on this release. The beer is fantastic. Also just the collaboration there with the Horseshoe Collective is really cool," Western Collective Brewer and Packaging Technician, Brennan Weaver said. "We're all a bunch of big sports guys here, but also we've all taken that moral ground on paying guys that are making money for other people. So, obviously they deserve it."
On top of the quality of the beer, its Bronco-based look and its mission to support Boise State's playmakers, the Horseshoe Golden Ale also comes with a few unique features.
The can includes a play drawn up on the hardwood by Boise State men's basketball head coach Leon Rice.
It also features a gridiron scheme that Bronco head football coach Andy Avalos drew up. Fans will love the fact it is a defensive play with hashmarks included.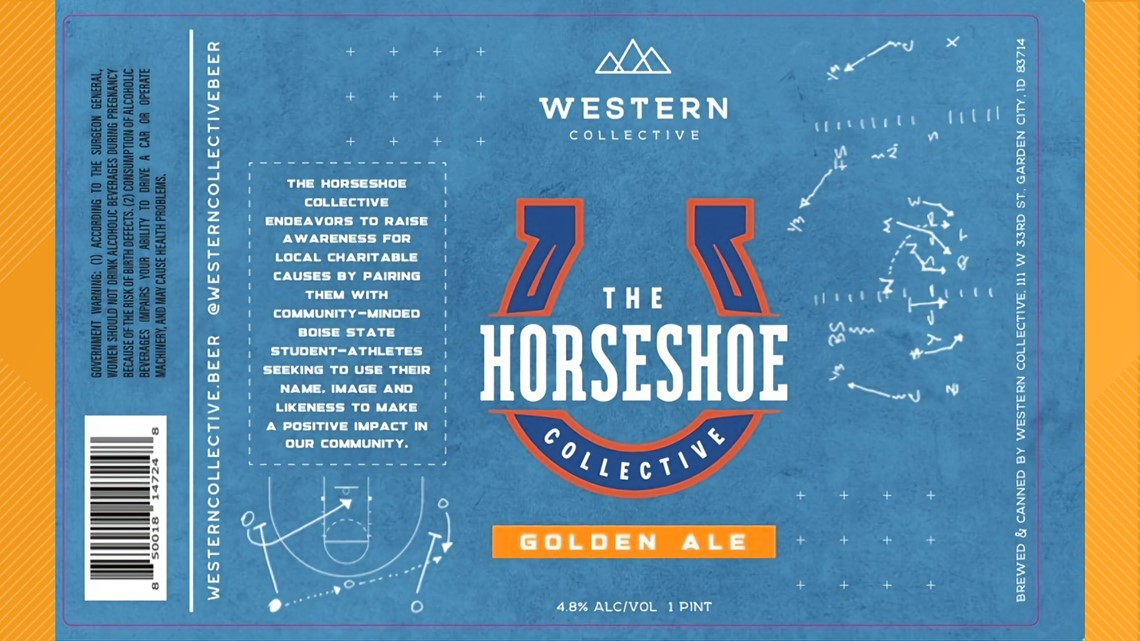 The Horseshoe Collective is on a mission to pair Boise State student-athletes with local charitable causes and companies to use their NIL to earn compensation and impact the Treasure Valley community.
Former Boise State Associate Director of Athletics, Joe Nickell, runs the nonprofit's day-to-day operations and serves as executive director. The Horseshoe Collective has a 501 (c)(3) status, so donations and contributions are considered "charitable donations."
Bronco Nation is invited to attend the official release of the Horseshoe Golden Ale on Saturday at Western Collective, located at 111 West 33rd Street in Garden City.
The launch event runs from 1 p.m. to 4 p.m. Saturday, with music, food trucks and more, according to The Horseshoe Collective.
To donate to The Horseshoe Collective and student-athletes with the Broncos' football and basketball teams, click here.
See the latest news from around the Treasure Valley and the Gem State in our YouTube playlist: