BOISE, Idaho — Domestic violence and polio. There's no direct link between the two, except on this Sunday morning's Viewpoint on KTVB Channel 7. We're looking at separate efforts to end both of these issues.
One organization is taking a stand against domestic violence. Another is using push-ups to help beat polio.
October is Domestic Violence Awareness Month.
The Centers for Disease Control says 1 in 5 women and nearly 1 in 7 men have experienced severe physical violence by an intimate partner in their lifetime, 1 in 11 women have been raped by a current or former intimate partner and about 9% of women and 2.5% of men have been stalked by an intimate partner in their lifetime.
"People don't want to talk about it. Even if they know about it, they don't want to talk about it. It's like it's not my business. It's too scary," Canyon County Sheriff Kieran Donahue said. "So what we really want to see in the month of October is people talking about it and encouraging those who are in those situations to get help."
Sunday morning on Viewpoint, Sheriff Donahue talks about the services Canyon County has to offer victims and how his organization, The Man Up Crusade, is working to break the cycle of domestic violence and help victims of it.
Also during the taping of this Sunday's Viewpoint, Maureen O'Toole with the Boise Rotary Sunrise Club explained why she's doing push-ups to help beat polio. She even challenged Doug Petcash to do a few with her, and they pumped out 10 right there on the KTVB set.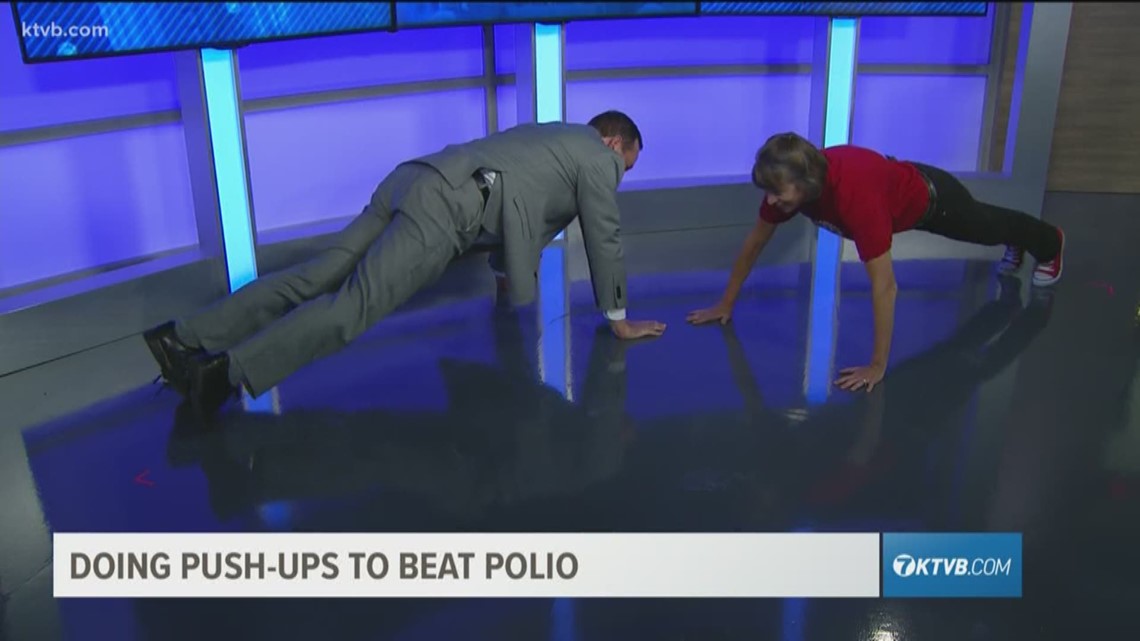 With World Polio Day coming up on October 24, the club is raising money to support Rotary International's efforts to end polio in the last remaining pockets around the world. Rotary says only three countries still have cases of polio: Afghanistan, Pakistan and the Philippines.
O'Toole is doing push-ups for every dollar the club raises for polio vaccines and education efforts. The club's goal this month is $5,000.
O'Toole is a retired U.S. Army lieutenant colonel who lived in many places throughout her career.
"I have three passions in life; abused pets, veterans because I'm a veteran, my son is a veteran, my dad's a veteran, and kids," O'Toole said. "When you live in a country where kids don't have access to medical care you start to see what happens when they don't have what I take for granted, which is vaccinations. So I'm very passionate about helping kids."\
For more than 30 years Rotary International has been part of the effort to eradicate polio.
For more information on efforts to end polio and make a donation, check out www.endpolio.org.
Viewpoint airs every Sunday morning at 6:30 a.m. on KTVB.