MOSCOW, Idaho — A vigil for the four students who were murdered in a home near the University of Idaho (UI) campus is scheduled for Wednesday, Nov. 30.
According to the University of Idaho, the candlelight vigil that was scheduled for this Wednesday night will be postponed until after fall break, as most students are out of town for Thanksgiving break. The time the vigil will take place is still yet to be determined.
As of Wednesday, Nov. 16, Moscow Police are still investigating the deaths of the four students, identified as 20-year-old Ethan Chapin from Conway, Wash., 21-year-old Madison Mogen from Coeur d'Alene, 20-year-old Xana Kernodle from Post Falls and 21-year-old Kaylee Goncalves from Rathdrum.
According to police, early in the evening, Xana Kernodle and Ethan Chapin were at a party on campus away from the crime scene. Madison Mogen and Kaylee Goncalves were at a bar, and came home at 1:45 a.m.
When police arrived on scene for a wellness check, officers found four victims and other people who were not hurt. Officers say there were no signs of forced entry into the residence. When police arrived, the door was still open.
Police are still saying that this was an isolated, targeted attack. The suspect is still on the loose. They also can't say there's no threat to the community. There was no attempt at robbery. Officers did not reveal who the 911 caller was.
Moscow Police don't know an accurate timeline of where the victims were before their deaths. The location of the weapon at this time is unknown.
Anyone with information is asked to contact Moscow Police at 208-883-7054.
Here is what we know about the four students' ties to the university:
Ethan was a UI freshman majoring in recreation, sport and tourism management and was a member of the Sigma Chi fraternity.
Madison was a UI senior majoring in marketing and a Pi Beta Phi sorority member.
Xana was a UI junior marketing major and Pi Beta Phi sorority member.
Kaylee was a UI senior majoring in general studies and a member of the Alpha Pi sorority.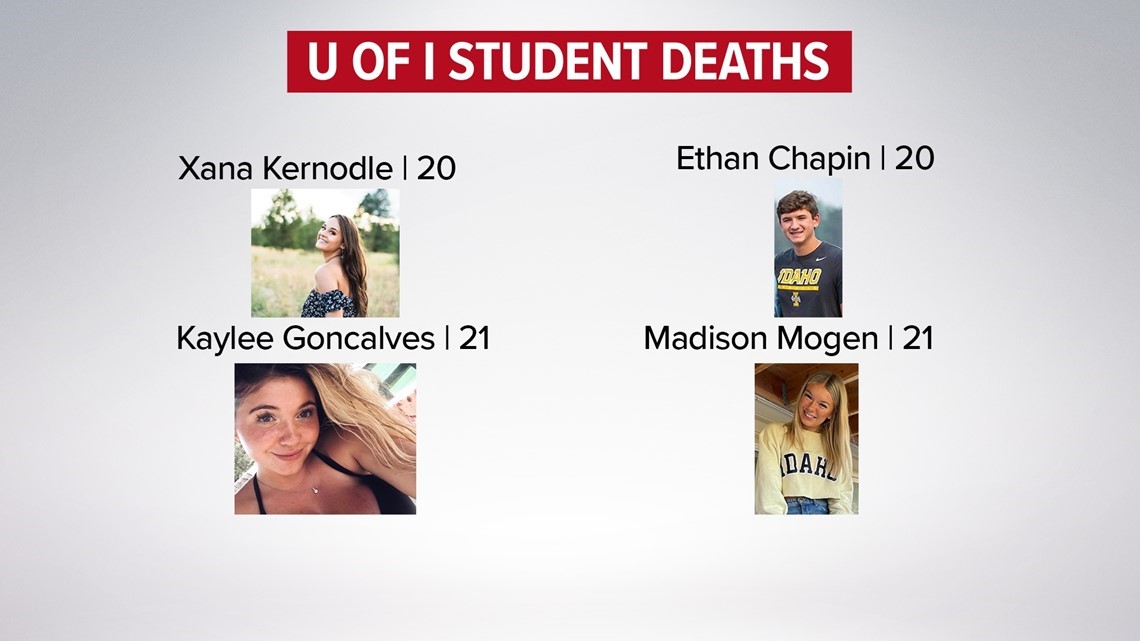 DOWNLOAD THE KREM SMARTPHONE APP
HOW TO ADD THE KREM+ APP TO YOUR STREAMING DEVICE
ROKU: add the channel from the ROKU store or by searching for KREM in the Channel Store.