BOISE, Idaho — St. Luke's Hospital in Boise was placed on lockdown Tuesday afternoon for more than an hour after a group of protesters massed outside.
"THIS IS NOT A DRILL," read an automated message sent to employees shortly after 1:30 p.m. "An external threat has been identified at Boise hospital location and a lockdown is in progress."
Nurses, doctors, and other employees were instructed not to enter or exit the building, and not open the doors to anyone. Incoming ambulances carrying patients were diverted away from St. Luke's to Saint Alphonsus and other area hospitals.
People seeking medical attention were asked to go to other facilities, while the general public was urged to avoid the area entirely.
The lockdown was lifted, with the hospital resuming normal operations, just before 3 p.m.
"With the safety of patients and staff as its priority, St. Luke's is grateful to local law enforcement for their support and response to today's security incident," St. Luke's wrote in a statement.
St. Luke's public relations manager Christine Myron sent another statement Wednesday evening, saying leaders at St. Luke's Boise Medical Center made the decision to implement a temporary lockdown and divert incoming patients to other medical providers Tuesday "in response to growing safety concerns after a large group of protesters gathered along Avenue B/Broadway Avenue and along the sidewalk surrounding the building... The lockdown forced St. Luke's to temporarily pause emergency department services, and impacted Emergency Medical Services, redirecting ambulances to other Treasure Valley providers and sites. At least four known patients had to be transported elsewhere by ambulance during the divert."
Patients and visitors who were inside the hospital during the lockdown were asked to remain inside until they were advised the security concerns had been addressed and it was safe to leave. The lockdown and divert were lifted and St. Luke's Boise returned to normal operations at about 3 p.m., Myron said.
"While St. Luke's recognizes and appreciates the recent questions and many expressions of concern that have been shared, we are unable to provide any additional information related to this security incident," she said, concluding Wednesday's statement on behalf of St. Luke's.
Boise Police officers on Tuesday stood outside the hospital doors as dozens of protesters gathered, holding umbrellas and signs decrying the "medical kidnapping" of a 10-month-old baby who was taken from his parents and brought to St. Luke's after investigators determined this weekend that he was in "imminent danger."
Tuesday marked the fourth straight day that demonstrators have protested outside of a St. Luke's facility.
Far-right activist and gubernatorial candidate Ammon Bundy has helped rally the demonstrators. In a video posted online about an hour before the lockdown, Bundy directed his followers to return to St. Luke's, saying he had heard from someone that officials planned to transport the baby from the hospital to a foster placement.
"Go back to the hospital and begin, you know, making noise," Bundy says in the video.
Specifics about the threat received by St. Luke's have not been released.
However, Myron issued another statement Thursday, in which St. Luke's condemned the actions of the protesters. That statement is as follows:
"Earlier this week, security threats generated by the actions of a few elements of our community forced St. Luke's Boise Medical Center into lockdown, diverting patients in need of care to other facilities and locations. For a brief time, all medical services were redirected elsewhere.
"All of this followed multiple days of noisy and hazardous crowds, protesting on the grounds of the Boise hospital. These threats and related activities have caused undue stress and anxiety for patients, their families, St. Luke's staff members and providers, and others having legitimate business and needs at and around the hospital. They have also strained the resources of our community's first responders; multiple agencies have been involved to ensure public safety, safe passage for health care users and other needs.
"St. Luke's phone lines have received a surge in calls, tying up resources, disrupting services and preventing people in need of reaching their caregivers, staff members and others. St. Luke's team members have been, and continue to be, subjected to harassment and profanity-laced calls; in some cases, their personal information has been shared online, resulting in hateful language and very visible and alarming threats on social media.
"While we respect the right of community members to peacefully demonstrate, we will and we must always draw the line when safety is at risk. Together with our health care, public safety and other civic colleagues, we exist to protect and serve, and to improve the health of the people in our communities.
"We forcefully condemn threats, harassment and actions that undermine the safety of our communities, first responders, health care providers, justice system officials, patients and neighbors.
"We will act in all instances when it comes to attempts to intimidate public servants, including but not limited to health care workers, who are dedicated to serving our communities. The behavior we have seen over the past week is dangerous, and it must stop."
The boy, identified as 10-month-old Cyrus Anderson, was originally brought in to the hospital March 1, where medical personnel determined he was "was suffering from severe malnourishment," according to Meridian Police. The baby stayed in the hospital until March 4, when he was determined to have gained enough weight under medical care to go home.
But by the time he was brought to a follow-up appointment last week, police say, Cyrus had again lost a significant amount of weight. The baby's parents, Levi and Marissa Anderson, canceled the next follow-up, then failed to show for another examination, even as police were informed that the infant could die without treatment, the department said.
Officers went to a home in Meridian to look for the child, but the occupants refused to let them in to check on Cyrus. By the time they returned with a warrant, Meridian Police said, the baby and his parents were gone.
Levi Anderson was later pulled over on Chinden Boulevard; officers declared the baby to be in "imminent danger" and took him to St. Luke's in Meridian for treatment.
Bundy and a group of his followers staged the first protest outside of the hospital Saturday, carrying signs proclaiming that the couple's parental rights were being violated and that Cyrus should be returned. One protestor, who did not give his name, told KTVB that he was there because he believed Child Protective Services had been infiltrated by a pedophile ring that was trying to take the baby.
Bundy, Marissa Anderson, Wendy Kay Whitaker and Miranda Chavoya were all arrested on misdemeanor charges ranging from trespassing to obstructing officers.
Diego Rodriguez, Cyrus' grandfather and a friend of Bundy, said at a Monday press conference that he believes the baby was previously fine but is now "deteriorating" under the care of doctors.
"He was very healthy, he was strong, he was not malnourished," he said, adding that the family is concerned that the baby may have been secretly vaccinated while in the hospital.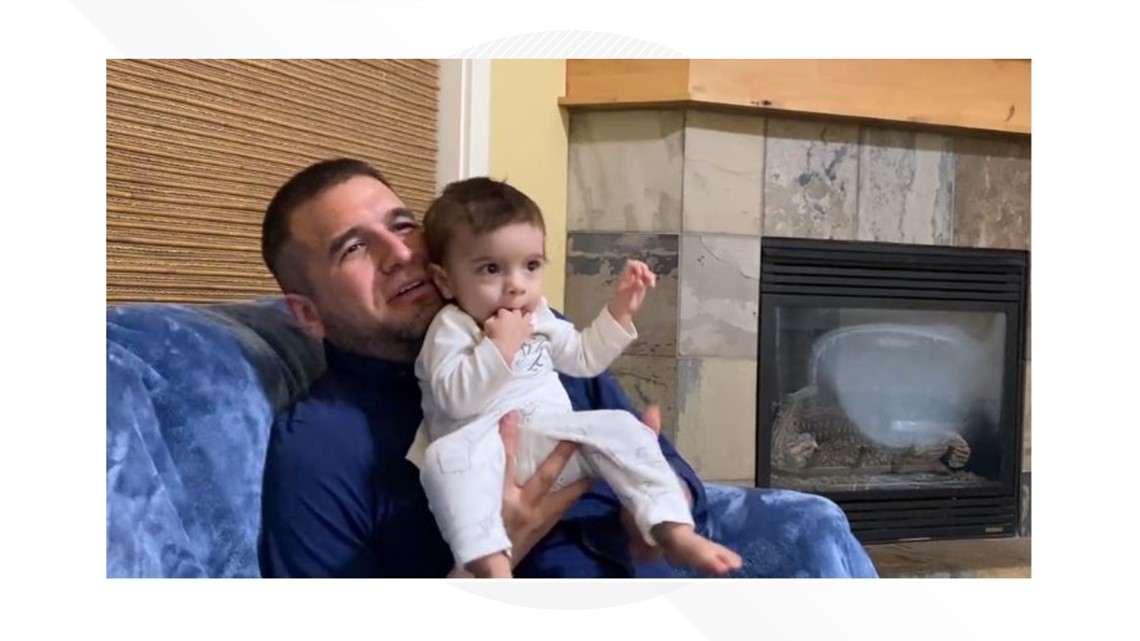 "This hospital, law enforcement, and everybody, Child Protective Services, they are harming baby Cyrus, they are not helping him," Rodriguez said.
KTVB has tried to reach out to the Anderson family through Rodriguez, who is acting at the family's spokesperson, but we have not heard back.
Meridian Police Chief Tracy Basterrechea and Ada County Sheriff Matt Clifford, who has reviewed the case, doubled down on the decision to determine Cyrus was in imminent danger.
Deputies handle such difficult and complex cases "more often than I would like," the sheriff said, writing that ACSO investigators declared a child to be in imminent danger in 40 separate cases last year.
"Each case was unique and complex — and there was clear and comprehensive evidence for investigators to declare a person to be in imminent danger in every one of those cases," he wrote.
Clifford also told people who were upset with the officers' decision to stop calling 911 and non-emergency dispatch to voice their complaints, saying these calls were taking away from dispatchers' abilities to coordinate emergency response for police, fire, and EMS services.
"On rare occasions either the living conditions or the health of the child is so dire, police declare the child to be in imminent danger and they remove the child from the custody of the parents," he said. "It is always the goal to ultimately keep these families together," the police chief wrote.
Within days, a court hearing is set to determine whether the child can be safely returned to their parents' care, or should remain in the custody of Health and Welfare.
"These decisions are not made lightly by any of the professionals involved," Basterrechea said. "They cannot allow their investigations be influenced by someone's standing in the community, by the loudest people in the room or by those who recklessly endanger the lives of our officers and their families by posting their addresses and disrupting their neighborhoods. Our investigators have to remain objective, focusing on the health and wellness of the involved child."
"The Meridian Police Department is determined to stop this from ever happening again," he said.
See the latest news from around the Treasure Valley and the Gem State in our YouTube playlist: