KUNA, Idaho — Did you have the chance to see the St. Jude Dream Home in Kuna, in person? Tours wrapped up over the weekend. 27,777 tickets for the St. Jude Dream Home Giveaway sold out in just hours back in April. We will draw the winner June 4th live here on KTVB.
Berkeley Building Company built this year's home, again. It's in Kuna, right across from a golf course.
"It's just so serene and beautiful out here in Kuna in the Valor Community, right on the golf course at Falcon Crest," Joe Atalla, Division President for Berkeley Building Company said. "The dream home, it's always special, three bedrooms, three baths, a little over 2600 square feet, and it also includes a theater room."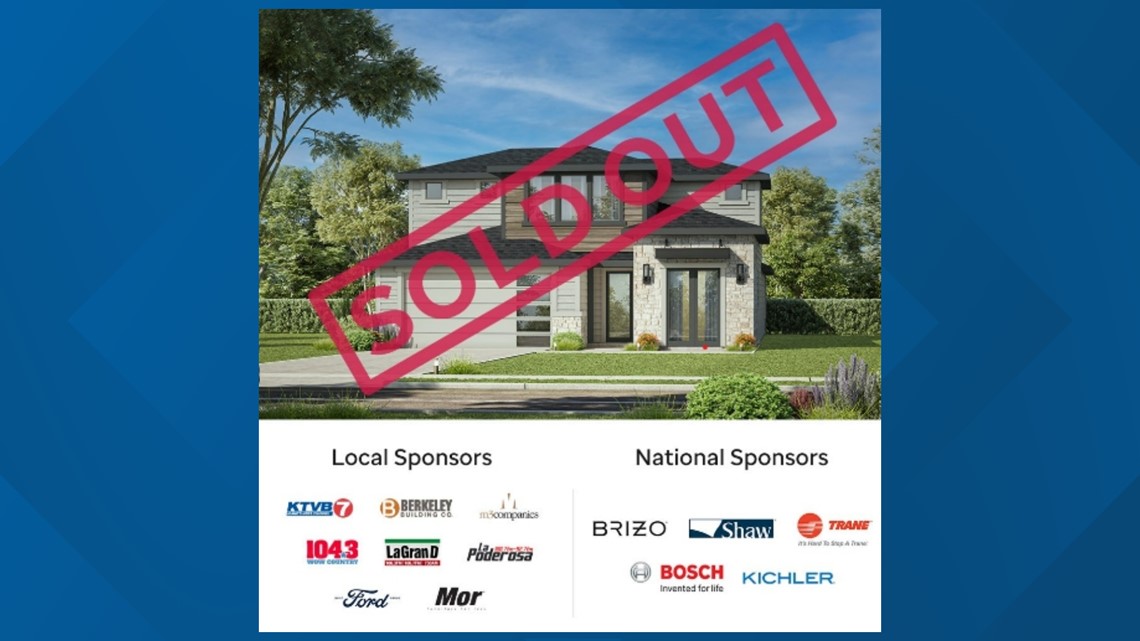 This is the eleventh year that Berkeley has built the St. Jude Dream Home. Atalla just can't believe how big the campaign has become here in the Treasure Valley.
"The Dream Home program here in Idaho has just grown and grown. It's amazing to think back to when we barely sold out of tickets the first year we started, to how much growth we've had now," Atalla said. "The tickets sell out in hours. I feel our community has really gotten behind St Jude and the mission."
Atalla said visiting the hospital in Memphis was life changing for him and his team.
"Going to the actual St Jude campus is a transformative experience," Atalla said. "When you go to St Jude and you are able to walk through the halls, it's not what you would consider as a typical hospital space, it's hopeful. The staff is so great, and the way they interact with the patients, it really speaks to their mission of creating hope for the families and the children at St Jude. Cancer is a terrible disease and too many people have been affected personally by it, and when I think about a child dealing with it, it's heartbreaking. Being able to give back to St Jude and to fight that means so much to us."
Building the home each year is truly a labor of love because the home is built at no cost to St. Jude.
"Berkeley Building Company is considered a Zero Hero to St Jude," Atalla said. "What that means is that we are basically able to build the home for zero cost to the hospital. So, all the money generated from the ticket sales goes directly to St Jude for treatment and research. We have a great team of suppliers, trade partners, and consultants that help us achieve that. They are able to donate their time and their effort, and materials."
Being a Zero Hero is something really special. St. Jude is so grateful, but so are all the local businesses and people who make this home come to life year after year. Atalla says it just feels good to be a part of something so big, and so meaningful.
"This is what we do for a living, being able to do that, and to be able to raise so much money for St Jude, it just feels so great." Atalla said.
This year, the ticket sales from the dream home campaign raised almost $2.8 million. All of that money goes directly to St. Jude.
A reminder, we will draw the winner of the house plus the winners of all the other amazing prizes Sunday, June 4th at 6:30 p.m. on KTVB. There are other prizes too! Those prizes include a new Ford truck, four club seats to a Boise State Football game, and a 10-thousand-dollar shopping spree at MOR Furniture for Less! Watch us on June 4th to find out who wins.
See the latest news from around the Treasure Valley and the Gem State in our YouTube playlist: