BOISE — Peter Vasquez has overcome a lot of adversity. He spent years in prison after a life of crime, gangs and violence.
He's not proud of his past, but he served his time, and then he took advantage of a second chance at life. Now, years later, he's in the Treasure Valley devoting his life to other people who need that second chance, too.
"It was pretty rough in there, and pretty lonely," Vasquez said. "Without human contact you can think of a lot of bad things to do in your head."
Vasquez spent years in solitary confinement in a California prison. He was filled with anger.
Then something changed in him.
"I just started reading the Bible, just as a book, I didn't know God," he said. "It's the first Bible I read in my life and it's in pieces because I read it so much. But it really changed my life and that's why I do what I do."
He dedicated himself to turning his life around, and helping others just like him. In 2006, he started a nonprofit in Idaho called Second Chance Grace.
"Our motto is to comfort, encourage and strengthen people and leave them with a sense of hope," he explained.
In addition to conducting church services at prisons in southwest Idaho, Vasquez also mentors at-risk youth, and speaks at local schools.

"I go in there with a heartfelt story and hopefully that can comfort strengthen and encourage them and leave them with a sense of hope," he said.
One of the other programs he offers is tattoo removal.
"These tattoos sometimes have caused chaos in people's lives, from gang life," Vasquez said. "Some people, it reminds them of their addictions.
"These guys and gals really want their past removed, so to speak," he added.
That's where Gia Swope, a family nurse practitioner and tattoo removal specialist, comes into the picture. She met Vasquez 10 years ago.
"[He] told me his story about being a former gang member and how his heart changed and how he came up here to help others change their hearts and change their ways, and I just said 'yeah, I'll do it,'" Swope said. "I have the opportunity and the means to help these people do something different with their lives."
Michael Wilson is one of those people.
"I just did about 15 years [in prison] and I just gave my whole life to a cause - a gang - and the [tattoos] that I want to get removed off are all gang related," Wilson said. "It's just a reminder of a dark period of my life, and I just want to start over."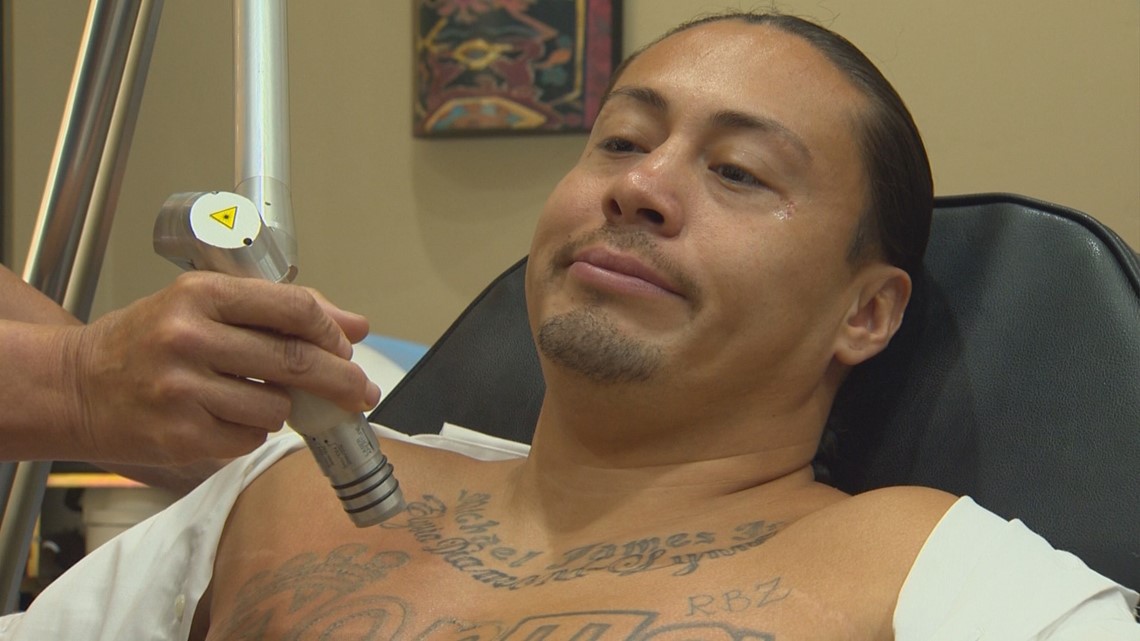 The removal comes with strings attached. Recipients have to do community service, be working or in school, and they also must pay a portion of the fees.
"They've got to be doing something," Vasquez said. "We don't just remove tattoos."
Swope says removing the visual reminders of a person's checkered past is an important part of getting a second chance.
"Just to see that removed from their life in an instant is amazing," she said. "I feel like it's my responsibility to pay it forward and pay it back."
"It's about loving and caring about people," he said. "And making sure they experience the hope and the grace that I have."