BOISE - Amy Rhoades of Middleton has a tattoo. The familiar pink breast cancer awareness ribbon and the words "No Bad Days" decorate the top of her foot.
"That kind of became our motto throughout my treatment," Rhoades said.
She got the tattoo a couple years after chemotherapy, when a weakened immune system was no longer a threat, but the concern about cancer was still fresh.
"Things can be positive," Rhoades said. "You've got to keep working and stay driven and focused on what the goal is, and there won't be any bad days moving forward."
KTVB
It all followed a bad morning in September of 2007. She got a call from her doctor saying she'd been diagnosed with stage two breast cancer. Rhoades was just 20 years old; a student and softball player at the College of Idaho.
"At 20, it's kind of hard to conceptualize what your life is anyway," Rhoades said. "So then now to take this big detour, I was hyperventilating and then kind of calmed myself down and was like, ok, what do we got to do?"
What she did was have a lump in her breast removed, then chemotherapy and eventually a double mastectomy.
"To be sure, and then to just reduce the risk of recurrence with my type of cancer," Rhoades said of why she chose to undergo a double mastectomy.
Amy Rhoades beats breast cancer, helps others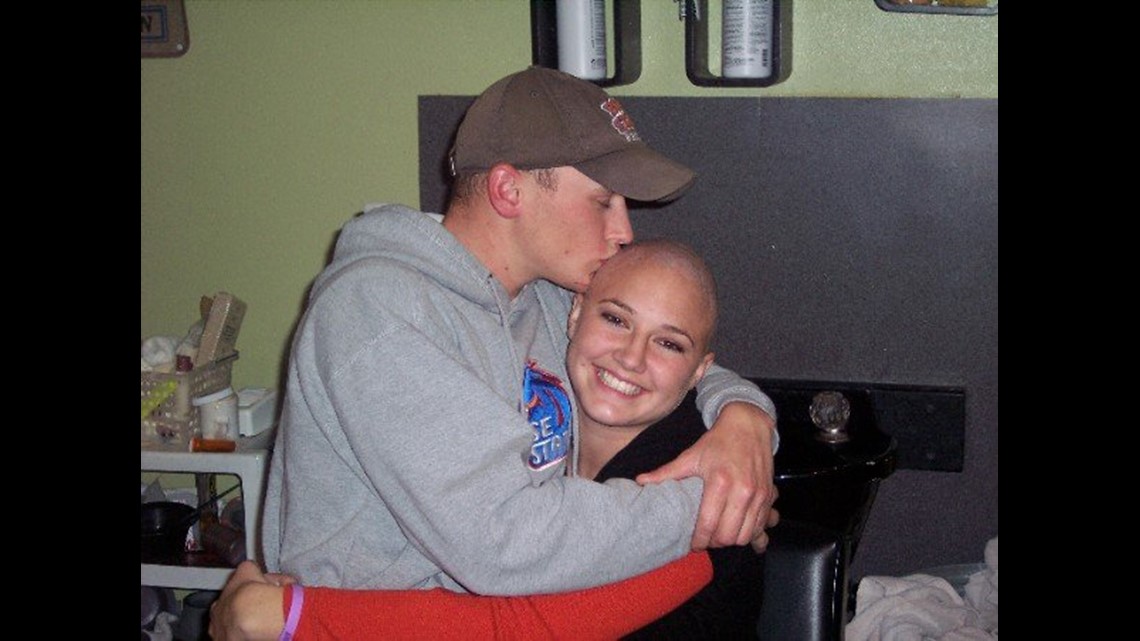 The 2018 Susan G. Komen Boise Race for the Cure is Saturday, May 12. This is a big year for the event that raises money for breast cancer screenings and mammograms, services for people with breast cancer and for research. It's the 20th annual Race for the Cure in Boise.
EVENT GUIDE: Race for the Cure 2018
Rhoades took part in her first Race for the Cure in 2008 just a few days after her double mastectomy. Taking part so soon after a major operation shows her grit in facing the disease.
"Doing that walk and then crossing the finish line that first time, as a survivor they put a ribbon and a medal over your neck," Rhoades said. "I just kind of got teary in that moment knowing I am part of this group now that you don't necessarily want to be a part of, but we all call each other sisters."
Through the treatment and tough times, she relied on that determination and humor.
"We shaved every kind of haircut that you can imagine into my head," Rhoades said. "We did a mullet. We did bangs only. We did steps, a bowl cut!"
She also leaned on her family and friends, and never stopped going to school or playing softball.
"Because that was the place that made me feel at home," she said.
Now, nearly 11 years later, Rhoades feels at home as a pediatric care coordinator at St. Luke's. She helps families of children with complex conditions - such as cerebral palsy or autism - navigate what can be a medical maze of appointments and travel. It's a maze she mastered during her own treatment with a solid network of help.
"After I was diagnosed I wanted to kind of give back that experience that I received at St. Luke's," Rhoades said. "Being a big advocate for somebody like that there's no better feeling than knowing that you provide a little bit of relief for families that are overwhelmed."
Her experience with cancer played a major role in her choice of career. It also played a major role in her choice of a charity to support. In January of 2017 she joined the board of directors of Komen Idaho Montana and is now the vice president.
"I saw so many positive things about the organization and things that we can really give back to," Rhoades said. "It's a huge organization, but in Idaho we can really serve a lot of families, and that's neat."
And over the last decade she's helped, supported and counseled many other women who found themselves facing an uncertain future.
"I didn't have a ton of support[ers] my age, especially, when I was going through this, and so I don't want another woman to go through that process and not have that option," Rhoades said.
Sharing some hard-earned wisdom with them. Maybe like the three words in the tattoo on the top of her foot, "No Bad Days," her motto still today.
"My 30s are going to be the good times," she said, smiling.
Her one big piece of advice for someone who gets a cancer diagnosis and may not have a close network of family and friends to lean on is to reach out and find someone you are comfortable with.
And Komen Idaho Montana is a great place to start.
If you'd like more information on the Boise Race for the Cure and the services provided by Komen Idaho Montana, visit the organization's website, or check out our event guide.
Organizers expect about 5,000 runners and walkers to take part in the 2018 Boise Race for the Cure.
This year's fundraising goal is $100,000.